LEGO is the latest company facing boycott calls amid outrage over its A-Z of Awesome campaign, which supports the LGBTQ.
Last year, the LEGO Group announced the launch of its campaign as part of Pride Month—which takes place every June.
With the current discourse surrounding other companies' campaigns in support of the LGBTQ, attention has been turned to LEGO.
British influencer Oli London—who previously identified as transracial, gender neutral and transgender—shared one of LEGO's videos on Twitter over the weekend. The clip gave further insight into the A-Z of Awesome campaign.
The video was introduced as "the A-Z of awesome—a LEGO celebration of the beautiful, powerful language of the LGBTQIA+ community."
A voiceover in the clip said: "We invited members of the community to build LEGO creations to represent their true stories."
The line of LEGO "offers a universal, but most importantly a safe space to express yourself and be who you are," said one participant, while another commented that the concept behind their build was "you see this colorful unique LEGO brick to represent a happy, healthy intersex person."
A participant called Jeannie explained: "What I built here was a transgender garden, so all these different aspects of gender have their place in that garden."
Captioning the clip, London, who serves as a spokesperson for Caitlyn Jenner's political action committee Fairness First, wrote: "LEGO turns TRANS!"
"Children's toy maker LEGO has released an LGBTQI+ range featuring transgender building sets for kids age 5+," London continued. "Lego described the new range as 'a colourful alphabet of identities and definitions made from LEGO bricks.'"
LEGO Group spokesperson told Newsweek: "The information on Twitter is false. We have not released any LGBTQIA+ sets aimed at children. A-Z of Awesome was a marketing campaign released last year that featured sets built by our amazing adult fans. None of these sets are for sale."
London's post sparked furor, with one Twitter user commenting that they were "adding […] #boycottlego" to their "collection of boycotts."
"I have three nephews and two grown brothers who request LEGOs every birthday/Christmas. Not now. Never buying again," wrote another.
"Not @LEGO_Group too!" said another detractor. "We loved you, LEGO, for being fun and staying out of politics. I guess my four kids and I will be going elsewhere for innocent kids' toys going forward."
"Please let @LEGO_Group be the next company to lose billions," urged another. "Go woke, go broke."
LEGO has dedicated a section of its website to its A-Z of Awesome campaign, which is described in a video as "an alphabet of builds created by LGBTQIA+ LEGO fans. Each build is an interpretation of a meaningful word."
The company announced in April that its A-Z of Awesome LEGO creations would go on display at LEGO House in Billund, Denmark. The display will debut on June 8.
View this post on Instagram
Back in April, a video went viral on social media showing an enraged LEGO store customer accusing the company of having an LGBTQ+ agenda. The customer berated multiple store employees for wearing LGBTQ+ badges, alongside the others they had on as part of their uniform.
Reacting to the clip, a LEGO Group spokesperson said: "The safety, wellbeing and security of our LEGO retail colleagues is our absolute priority, and we will not tolerate abuse of any kind.
"We are committed to building a more kind, empathetic and understanding society now, and for future generations, and stand by all our colleagues who do that every day by making everyone feel welcome in our stores."
LEGO joins a host of companies facing boycott calls, including Target, which has been criticized for its clothing and accessories for LGBTQ+ Pride Month. Critics have called for the retailer to receive "the Bud Light treatment."

⬇️ Top Picks for You ⬇️
Senate Democrats Authorize Supreme Court Ethics Subpoenas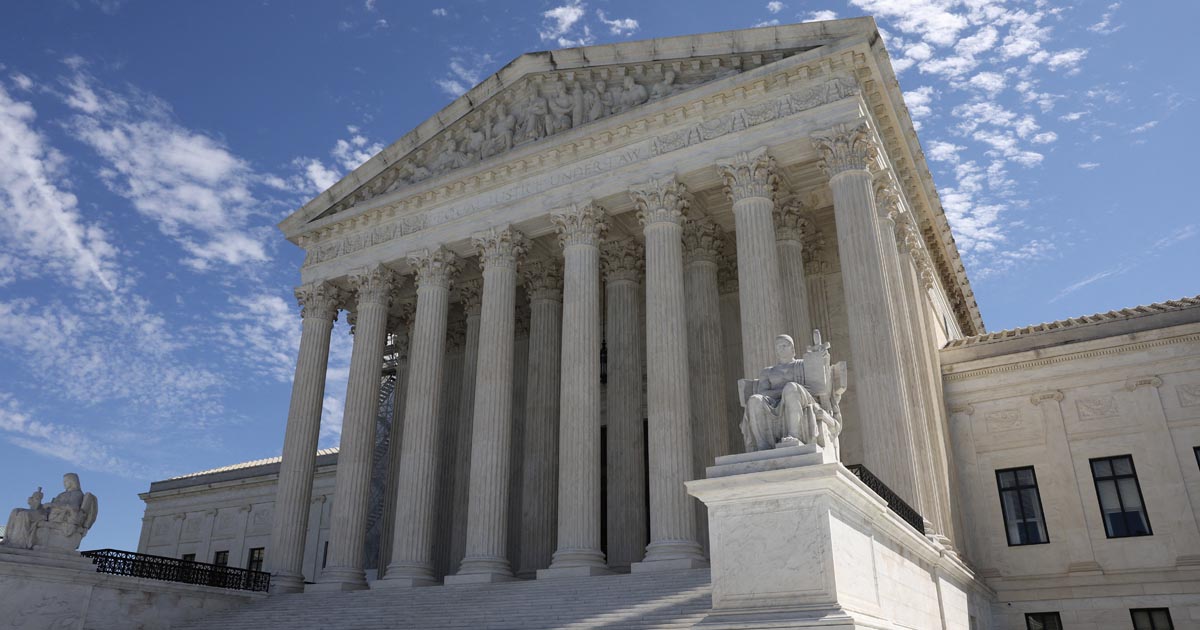 A Democratic-led U.S. Senate panel on Thursday authorized subpoenas to two influential conservatives – Harlan Crow and Leonard Leo – as part of an ethics inquiry spurred by reports of undisclosed largesse directed to some conservative Supreme Court justices.
The Judiciary Committee voted to authorize the subpoenas for Crow, a billionaire Republican donor and benefactor of conservative Justice Clarence Thomas, and Leo, a legal activist who was instrumental in compiling Republican former President Donald Trump's list of potential Supreme Court nominees.
Republican senators walked out of the contentious committee meeting in protest while Democrats cast votes. Some Republicans later questioned the vote's legitimacy, accusing Democrats of violating procedural rules.
"The subpoena clearly wasn't legal," Republican Senator John Kennedy, a committee member, said after the vote.
Senator Dick Durbin, the panel's chairman, said subpoenas were necessary due to the refusal by Crow and Leo for months to voluntarily comply with its previous requests for information. This included itemized lists of all gifts, transportation and lodging provided to any Supreme Court justice.
Durbin also renewed his criticism of a new code of conduct announced by the court on Nov. 13 and promised to continue to pursue the committee's ethics investigation.
"Without an enforcement mechanism, this code of conduct, while a step in a positive direction, cannot restore the public's faith in the court," Durbin said.
Senator Lindsey Graham, the committee's top Republican, told the meeting that Democrats were engaged in a "jihad" against the Supreme Court, whose 6-3 conservative majority has handed major defeats to liberals in recent years on matters including abortion, gun rights and student debt relief.
"When you say you don't want to destroy the Roberts Court, I don't believe you," Graham said, referring to the court under the leadership of conservative Chief Justice John Roberts. "I don't believe a word you're saying."
The committee vote authorized Durbin to issue the subpoenas, which he could do unilaterally, according to a Democratic committee staffer.
If the subpoena recipients fail to comply, Democrats would need 60 votes in the 100-seat Senate to initiate a civil enforcement action, meaning they would need the support of some Republicans. The Democrats also would have the option to make a referral to the U.S. Justice Department, which could choose to pursue criminal contempt proceedings against the subpoena recipients.
Lawyers for Leo and Crow in letters to the committee have criticized the committee's information requests as lacking a proper legal justification. Crow's lawyer had proposed turning over a narrower range of information but Democrats rebuffed that offer, according to the panel's Democratic members.
The news outlet ProPublica reported this year on Thomas's failure to disclose luxury trips and real estate transactions involving Crow, a Texas businessman.
The outlet also reported that Leo helped organize a luxury fishing trip in Alaska attended by conservative Justice Samuel Alito, who failed to disclose taking a private jet provided by billionaire hedge fund manager Paul Singer. Trump chose all three of his appointees to the court from lists of candidates that Leo played a key role in drawing up.
Thomas has said he believed the Crow-funded trips were "personal hospitality" and thus exempt from disclosure requirements, and that his omission of the real estate transaction was inadvertent.
Alito, regarding the flight, said that Singer had "allowed me to occupy what would have otherwise been an unoccupied seat."