Kat Von D is happier in her life as a Christian.
The former tattoo artist and star of reality series "L.A. Ink" spoke about finding and restoring her relationship with God on the "Relatable with Allie Beth Stuckey" podcast.
She explained that in her 20s, she had a "free-thinking mentality to question everything, especially authority."
That led her to look into new age practices like witchcraft, meditation and yoga.
"I was just searching for answers and meaning in so many of the wrong places, like most people do," Von D said.
After also struggling with alcohol and drugs, she became sober almost 17 years ago, but still found the non-Christian spirituality wasn't helping her, comparing it to "short-lived band-aids on a sinking ship."
One night, she decided to throw away all her books on witchcraft and other new age practices, describing them as "crutches."
"I don't want these crutches in my life anymore, and that's what really I saw them as," the 41-year-old said. "I just want Jesus, and it's a very narrow road. I feel like all these other, these breathing techniques, or spell work, nature worship, all these things, they're just crutches. They're not really my answer."
"And so for me, I would rather eliminate any distractions. And this is just what works for me," she added.
Just before the lockdowns, she continued to work on "re-evaluating" her life, and her friend sent her a sermon that she "loved" and felt it "answered a lot of questions" she had.
"I'm on fire for Jesus. I don't plan on this dimming out," Von D said. "The more and more I learn, the more excited I get about things and the more at ease I am about what's happening in this world and what's happening in my marriage, in all of it."
She noted she still has friends into new age practices like tarot, witchcraft and mediation, but feels like they are "miserable" and admits she was "one of them."
"I would look around at my Christian friends, they're not perfect by any means, but I want what you have. Like I love the light that you have," she said.
Von D recently moved to Indiana, where she joined a Baptist church and decided to get baptized.
She shared a video of the day on her social media, but says she faced backlash from non-Christians and Christians alike.
"It went from, 'Well, her hand wasn't completely submerged in water, so this is fake, it doesn't count…' Other people were like, 'She's faking it, this is just for a PR stunt,'" the author recalled.
"I'm not an idiot," she continued. "I knew that when I posted that video, people would have questions."
Von D said her choice to film the ceremony was "intentional" as a way of atoning for her past.
"There's the symbolic gesture of baptism, but also a part for me is a bit of making amends with my followers because for so many years, I've been putting out a certain message that makes me sad I was ever even a part of," she explained.
"To publicly proclaim this was me setting some things right. Just for me. It has nothing to do with, my church isn't involved in that thought process. It was important to me to share that."
"This is something I want to celebrate. I want to be open and honest about it," she added.
Born Katherine von Drachenberg in Mexico, she was raised by Christian missionary parents, but rebelled because "I had a lot of questions as a kid and I don't think my parents were equipped with the answers."
She ran away from home at 14, and she said she put her parents "through a literal hell that I've made amends for now."
But their faith also helped her find her way back to God.
"I think I was very lucky I had parents that were Christian," she said. "I do credit my dad for everything because I remember finding myself in very dark moments and intuitively I was praying. And it wasn't because my dad made me, because He'd been waiting, that's all.
"When you can fall in love and learn as an adult, it's so much more meaningful and real than it is when you're a child just doing it because this is what we do. And this is how we do it."

⬇️ Top Picks for You ⬇️
4th Republican Debate Highlights: GOP Rivals Clash on Stage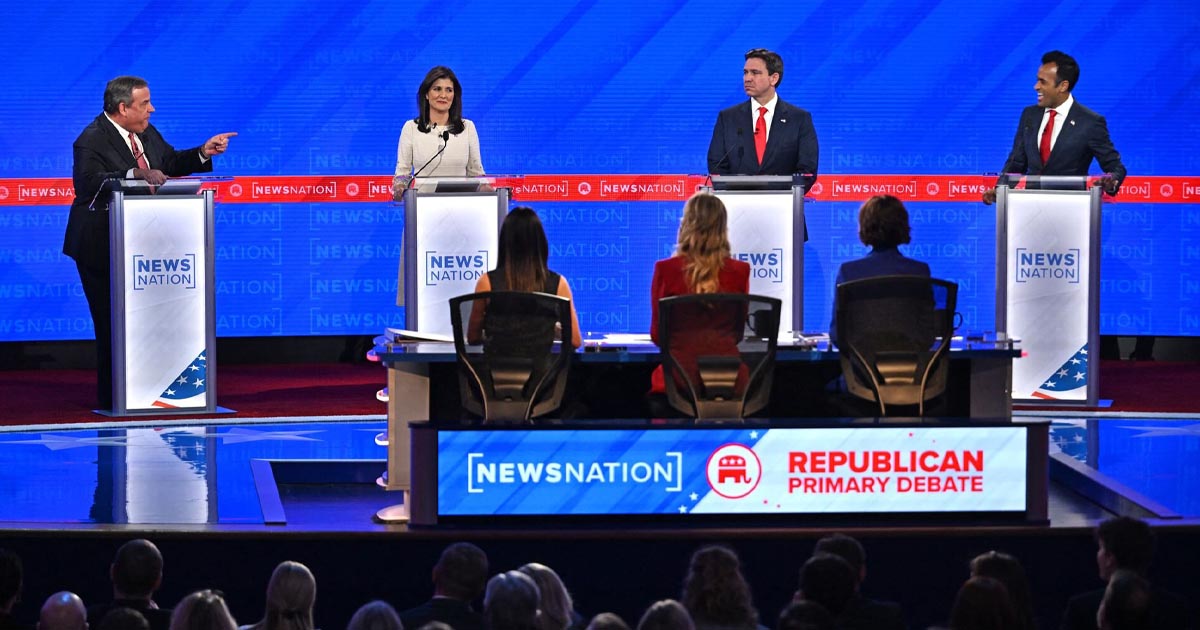 The smallest field yet of GOP candidates faced off Wednesday in the fourth Republican presidential debate of 2023 in Tuscaloosa, Alabama, with the first salvos of the night aimed at former Ambassador to the U.N. Nikki Haley, while former President Donald Trump, who leads the field by a wide margin in the polls, held a closed campaign fundraiser in Florida.
NewsNation hosted the fourth debate with three moderators: NewsNation's Elizabeth Vargas, former Fox News host Megyn Kelly and the Washington Free Beacon's Eliana Johnson.
Four candidates appeared on stage:
Former New Jersey Gov. Chris Christie
Florida Gov. Ron DeSantis
Former U.N. Ambassador Nikki Haley
Businessman Vivek Ramaswamy
The first three debates have not done much to change the dynamics of the race among Republican primary voters. The latest CBS News poll, from early November, showed Trump winning 61% of likely GOP primary voters nationwide, more than all the other candidates combined. DeSantis polled at 18%, Haley at 9%, Ramaswamy at 5%, Sen. Tim Scott at 4% and Christie at 2%.
Here are the highlights from the debate below.
DeSantis and Ramaswamy team up to attack Haley: "I love all the attention, fellas"
DeSantis and Ramaswamy were quick to take shots at Haley, who is rising in the polls as the race for second place heats up.
"She caves anytime the Left comes after her, anytime the media comes after her," DeSantis said.
Ramaswamy later joined in, questioning Haley's wealth since she left government service.
"Nikki, you were bankrupt when you left the U.N. After you left the U.N., you became a military contractor," he said, referring to Haley's stint on the board of Boeing, "whose back you scratched for a very long time and then get foreign multinational speeches like Hillary Clinton is, and now you're a multimillionaire. That math does not add up. It adds up to the fact that you are corrupt."
Ramaswamy also criticized wealthy donors to Haley's campaign, saying they're funding "left-wing causes."
"In terms of these donors that are supporting me, they're just jealous," Haley responded. "They wish that they were supporting them."
DeSantis said, "Nikki will cave to those big donors when it counts."
The pair also went after Haley for proposing that all social media users should be verified by their names online.
"I love all the attention, fellas," Haley said. "Thank you for that."
Christie hammers Ramaswamy in defense of Haley: "The most obnoxious blowhard in America"
Christie offered a forceful defense of Haley against Ramaswamy's insults of her intelligence.
After Ramaswamy claimed that Haley could not name three provinces in eastern Ukraine where she would send U.S. troops, Christie accused the entrepreneur of habitually backing away from comments he makes on the campaign trail when he's confronted by political opponents about his positions.
"This is the fourth debate that you would've been voted in the first 20 minutes as the most obnoxious blowhard in America, so shut the hell up," Christie told Ramaswamy.
The former New Jersey governor accused Ramaswamy of insulting Haley's intelligence, rather than her policy positions — claiming, for example, that she can't identify regions in Ukraine or find Israel on a map.
"If you want to disagree on issues, that's fine, and Nikki and I disagree on some issues," Christie said. "I've known her for 12 years, which is longer than he's even started to vote in the Republican primary, and while we disagree about some issues and disagree about who should be president of the United States, what we don't disagree on is this is a smart, accomplished woman and you should stop insulting her."
Christie went on to criticize Ramaswamy's lack of experience and claimed that while he was serving as the top federal prosecutor in New Jersey, Ramaswamy was "learning about the provinces in Ukraine sitting with his smarta** mouth at Harvard."
"All he knows how to do is insult good people who have committed their lives to public service and not say anything that moves the ball down the field for the United States," Christie said.
Divisions emerge among Republican candidates on parental rights
A question about parental rights and gender-affirming care for young people showed a split between Christie and DeSantis over an issue that has gained traction with Republican voters.
Christie said he favors limited involvement from the government and believes parents should be empowered to make decisions about their children.
"I trust parents," he said.
The former New Jersey governor, who opposes state restrictions on gender-affirming care for transgender youth, asserted it's parents who should be making the decisions about this for their children. He made the point that he and his wife care more for their four children than a government official in a dysfunctional Congress.
"You look at these jokers in Congress — it takes them three weeks to pick a speaker, and up until two days ago, they couldn't promote somebody in the military in the United States Senate who earned their new rank. And we're going to put my children's health and my decisions in their hands for them to make those decisions? For Joe Biden to make those decisions?" Christie said.
He warned parents that if they cede those rights on gender-affirming care for their children to states, it would just be the beginning.
"You start to turn over just a little bit of this authority, the authority they're going to take from you next, you're not going to like," Christie said.
But DeSantis defended restrictions on gender-affirming treatment for minors he signed into law as governor of Florida and warned surgical procedures are "mutilating minors."
"We cannot allow this to happen in this country," he said.
Ramaswamy, meanwhile, suggested the federal government should take action on the issue of gender-affirming surgery.