Rep. Matt Gaetz officially nominated former President Donald Trump for House Speaker on Thursday during the chamber's 11th round of voting to see who would lead Congress and it's Republican majority. Gaetz was the only member of Congress to give his support to Trump for Speaker, as Trump has made plain that he would like McCarthy to take the post.
The nomination comes after Kevin McCarthy failed to win the 218 votes needed to become Speaker, with 20 GOP hold outs refusing to vote for McCarthy. Gaetz is among those 20, and has since Monday voted for Andy Biggs, Byron Donalds, and on Thursday, Trump. Those hold outs are Andy Biggs, Dan Bishop, Lauren Boebert, Josh Brecheen, Michael Cloud, Andrew Clyde, Eli Crane, Byron Donalds, Matt Gaetz, Bob Good, Paul Gosar, Andy Harris, Anna Paulina Luna, Mary Miller, Ralph Norman, Andy Ogles, Scott Perry, Matt Rosendale, Chip Roy, and Keith Self.
.@RepMattGaetz nominates Trump for Speaker: "We must make our country great again and he can start by making the House of Representatives great again." pic.twitter.com/vZzp8RA5pK

— The Post Millennial (@TPostMillennial) January 5, 2023
Donald Trump himself has told the Republican party on several occasions to vote for McCarthy, encouraging them to "take the victory and run" on Wednesday. Trump has endorsed McCarthy since the midterm elections that saw the GOP take the House. Georgia's Marjorie Taylor Greene, also of the Freedom Caucus along with Gaetz, also backs McCarthy.
Greene has slammed her fellow Freedom Caucus members for using the opportunity of blocking McCarthy's ascension to the speakership to gain power for themselves, and has expressed thar behind closed doors, these members sought to curry committee appointments for themselves in exchange for votes for McCarthy.
Gaetz reminisced fondly about the Trump presidency while nominating him on the House floor. Gaetz had voted for Trump in a previous round as well, despite Trump not having been nominated in that round.
"My friends, when Donald Trump was President, taxes were cut, regulations were slashed, energy was abundant, real wages were rising, capital was returning from overseas to fund the dreams and ambitions of our fellow Americans and the economy was roaring. What a contrast to what we have seen from this administration now," he said. "And so I rise to nominate Donald Trump for the position of Speaker of the House."
"We must make our country great again and he can start by making the House of Representatives great again," he added.
Until there is a House Speaker in place, the people's representatives cannot conduct the business they were elected to do. Democrats continue to give their support to Brooklyn's Rep. Hakeem Jeffries for Speaker, and he has earned their 212 votes during each of the 11 voting sessions.
A senior House staffer told The Post Millennial that it is uncertain as to whether McCarthy has a path to victory at this point, and that there are 7 stalwart hold-outs. McCarthy needs 16 of the objectors to vote for him if he is to win the speakership.

⬇️ Top Picks for You ⬇️
Biden Dog Bites Another Secret Service Agent; 11th Incident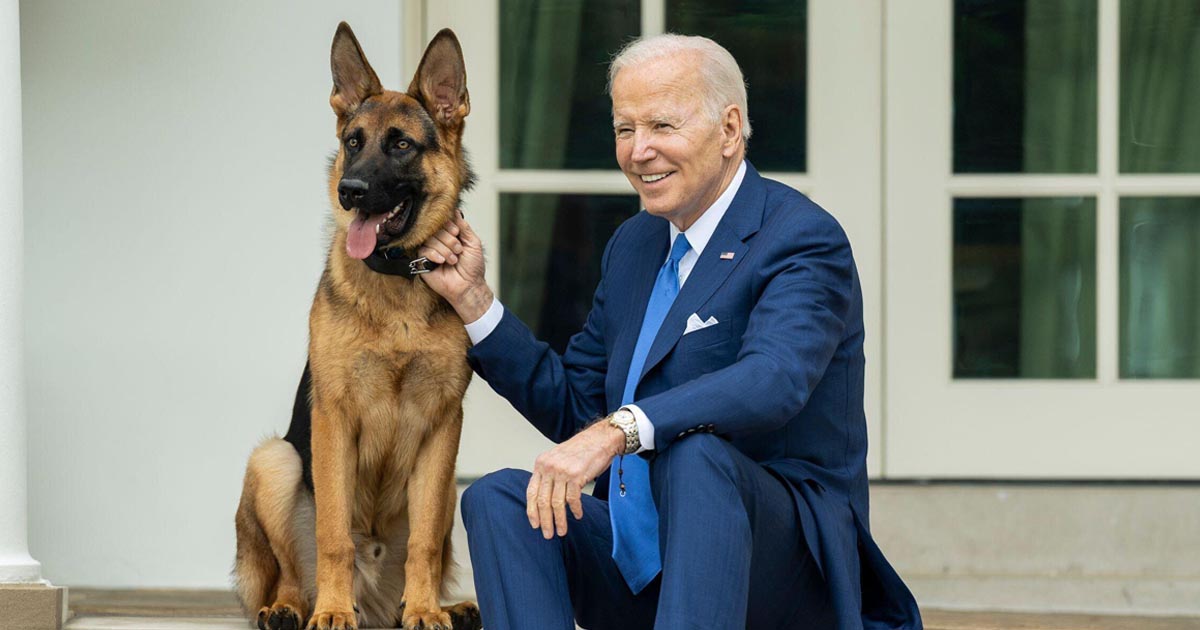 President Joe Biden's younger dog, Commander, bit another US Secret Service agent at the White House Monday evening, CNN has learned, the 11th known biting incident involving the 2-year-old German Shepherd.
"Yesterday around 8 p.m., a Secret Service Uniformed Division police officer came in contact with a First Family pet and was bitten. The officer was treated by medical personnel on complex," USSS chief of communications Anthony Guglielmi told CNN in a statement.
The injured officer spoke with Secret Service Uniformed Division Chief Alfonso M. Dyson Sr. on Tuesday and is doing OK, Guglielmi said.
Commander has been involved in at least 11 biting incidents at the White House and in Delaware, according to CNN reporting and US Secret Service email correspondence, including a November 2022 incident where an officer was hospitalized after the dog clamped down on their arms and thighs.
White House officials said in July that the Bidens were working through new training and leashing protocols for the family pet following the incidents.
Asked by CNN whether the new training had taken place or if any further action would be sought, Elizabeth Alexander, communications director for the first lady, said in a statement that "the First Family continues to work on ways to help Commander handle the often unpredictable nature of the White House grounds."
"The President and First Lady are incredibly grateful to the Secret Service and Executive Residence staff for all they do to keep them, their family, and the country safe," she continued.
Another of Biden's dogs, Major, was involved in biting incidents at the White House. The German Shepherd later moved out of the White House, and Commander arrived at the White House in 2021.
The July email correspondence, obtained through Freedom of Information Act requests by the conservative group Judicial Watch, reflected 10 incidents.
In one incident in October, first lady Dr. Jill Biden "couldn't regain control" of the dog as it charged a member of Secret Service staff.
"I believe it's only a matter of time before an agent/officer is attacked or bit," the staff member warned in an email.
While Secret Service agents are not responsible for the handling of the first family's pets, they can come into frequent contact with the animals.
"This isn't a Secret Service thing. This is a this is a workplace safety issue," CNN contributor and former USSS agent Jonathan Wackrow told CNN.
"There's uniqueness here where it's the residence of the president of the United States, but it's also the workplace for hundreds, thousands of people. And you can't bring a hazard into the workplace. And that's what is essentially happening with this dog. One time you can say it's an accident, but now multiple incidents, it's a serious issue," he added.
Wackrow called it a "significant hazard" for agents on duty at the White House residence.
"I'm sure that the Bidens love the dog. I'm sure that it's a member of the family like every dog is, but you're creating a significant hazard to those who support you – support the office of the president," he said.