George Soros has chosen a successor to take over his $25-billion nonprofit empire. Thirty-seven-year-old Alex Soros is replacing his father.
The elder Soros named his self-proclaimed "more political" son Alex as the new leader of the Open Society Foundations in June.
This follows after Alex was chosen to lead his father's enormous political action committee — Democracy PAC — in 2022. Alex then oversaw at least $32,648,000 spent during the midterm elections to support leftist candidates.
Alex's extreme views are evident because of the politicians and organizations he supports.
He could well be more radical than his father on everything from abortion to climate change to the weaponization of race to demonize his political opponents.
Alex Soros Led Father's Super PAC, Which Spent $32 Million to Help the Left and Defeat Republicans in the 2022 Midterms: Alex was tapped to lead his father's enormous political action committee — Democracy PAC — in 2022 and oversaw at least $32,648,000 spent during the midterm elections to help the left stave off the expected "red wave" while crushing the right.
The funds went to radical left-wing groups like Senate Majority PAC ($14 million) and Planned Parenthood Votes ($1 million). Onemillion dollars also went to the leftist Black Voters Matter Action PAC, which spent more than that in 2020 to oust Georgia Republican Senators Kelly Loeffler and David Perdue. The PAC also released a racist 2023 ad against Kentucky Republican Attorney General and gubernatorial candidate Daniel Cameron, calling him "Uncle Daniel Cameron" and railed that "skinfolk ain't kinfolk."
The racialized ploy apparently helped, as Cameron went on to lose his election bid against incumbent Democrat Kentucky Governor Andy Beshear. Alex's father also happened to claim the title of being the "largest donor" of the 2022 cycle, pouring at least $178 million into the midterms to support Democrats. A massive portion of that figure went specifically towards turbo-charging the elder Soros' super PAC that his son was leading to boost the left's electoral odds.
Sits on Boards of Radical Leftist Institutions Pushing to Overhaul Global Academia: Alex's father launched the global Open Society University Network (OSUN) in January 2020 with $1 billion to indoctrinate the next generation with his extremist "open society" worldview. He said he considered it "to be the most important and enduring project of my life." Alex is right in the thick of it.
The two leftist institutions spearheading OSUN — Central European University (CEU) and Bard College — also got another $1.3 billion from the elder Soros, bringing the total expenditures toward realizing his educational goals to at least $2.3 billion. OSUN has promoted everything from hatred against the state of Israel to legitimizing the radical anti-Western philosophy of "transnational feminism." Alex is a leading member of OSUN's "Management Committee" and also sits on the boards of both Bard and CEU.
His Personal Foundation Gave Over $4 Million to 10 Radical Leftist Groups: Alex Soros' own foundation donations are a clue to how he will run Open Society. His foundation funneled at least $4,097,465 between 2012 and 2021 to 10 radical leftist organizations like Bend the Arc: A Jewish Partnership for Justice, Global Witness, Center for a New American Security and Make the Road New York.
These groups have done everything from weaponizing race to demonize Republicans; to calling for defunding the police; to sensationalizing climate change as a military problem; to pushing for government and Big Tech censorship of speech and to championing transgenderism and promoting sex changes for children without parental consent.
47% of His Foundation Funding Went to Radical Groups: According to 990 tax data, nearly half (47%), or $4,097,465, of the roughly $8.8 million the Alex Soros Foundation spent on philanthropy between 2012 and 2021 went to hardcore leftist nonprofit groups pushing anti-American agendas.
For example, Alex stated in 2016 that his father always used to point to Global Witness — a group Alex personally funds that pushes radical climate alarmism and Big Tech censorship — "as an example of how a little money can go a long way in philanthropy."
Established Ties with Top Democrats, 43 Major World Leaders: Alex has spent years building his network both in the U.S and abroad. That means working with top Washington Democrats and visiting the White House at least 20 times, priming him for his rise to power.
MRC Business totalled at least 43 world leaders that Alex met with, most even before he controlled the powerful foundations, promoting a wide range of leftist policy initiatives. Those include Pope Francis, French President Emmanuel Macron, Canadian Prime Minister Justin Trudeau and UN Secretary-General Antonio Guterres.
Unhinged Hatred for the Right: MRC Business exposed a number of wild statements Alex posted on social media or elsewhere revealing his radical nature. He considered the overturning of Roe v. Wade as one of the "worst" days in U.S. history and even sees the Republican Party as "the Confederacy."
In a July 21, 2019, tweet, Alex asserted that former President Donald Trump's efforts against abortion were a threat to global health. He even prophesied the possible "end of democracy" "civil war" if Trump were to be reelected in 2024.
Finally! ceding the word freedom to the authoritarian right wing has been a strategic blunder! While we're at it, let's embrace the American flag and bring back the American dream! It's pretty clear the @gop is the Confederacy! This is our flag not maga's! 🇺🇸 🇺🇸 🇺🇸 https://t.co/1F03p1OHG2

— Alex Soros (@AlexanderSoros) July 28, 2022

⬇️ Top Picks for You ⬇️
Biden Got Recurring $1,380 Payment from Hunter's Firm Starting in 2018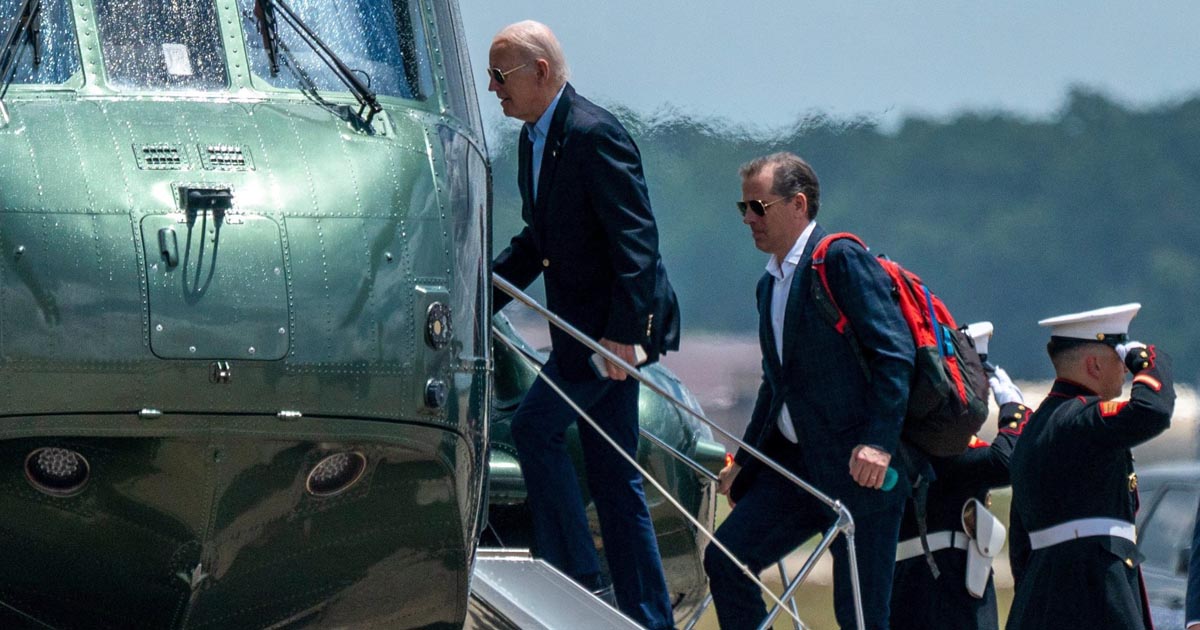 President Biden received a recurring payment of $1,380 from his son Hunter's law firm beginning in late 2018 shortly after a bank money laundering officer warned that the same account was receiving millions of dollars in Chinese government-linked funds without "any services rendered."
A bank order shows that Owasco PC set up a "monthly" transfer to then-former Vice President Joseph R. Biden Jr., with a voided check for the future president included in the documentation, which was released Monday by the House Oversight Committee.
A source told The Post that at least three recurring payments were made — on Sept. 17, Oct. 15 and Nov. 15, 2018 — totaling $4,140 to the elder Biden from Owasco PC, according to the bank records of the firm.
"President Biden and his family must be held accountable for this blatant corruption," Oversight Committee Chairman James Comer (R-Ky.) said in a video release.
"Today, the House Oversight Committee is releasing subpoenaed bank records that show Hunter Biden's business entity, Owasco PC, made direct monthly payments to Joe Biden. This wasn't a payment from Hunter Biden's personal account but an account for his corporation that received payments from China and other shady corners of the world," Comer said.
"At this moment, Hunter Biden is under an investigation by the Department of Justice for using Owasco PC for tax evasion and other serious crimes. And based on whistleblower testimony, we know the Justice Department made a concerted effort to prevent investigators from asking questions about Joe Biden. I wonder why?"
Earlier that year, a January 2019 email from assistant Katie Dodge to Hunter Biden annotated various expenses including "Ford Raptor — Reimbursement to JRB — $1380."
The provenance of the funds is unclear, however, and additional records show that Hunter Biden was knee-deep in two of his most controversial business relationships at the time, with Ukraine's Burisma Holdings and CEFC China Energy.
The evidence emerged as House Republicans prepare to question first brother James Biden on Wednesday and Hunter next week about the president's role in his family's dealings in countries such as China and Ukraine — with a possible floor vote to authorize the ongoing impeachment inquiry this month.
While a presidential candidate, Joe Biden denied that he ever discussed business with his relatives, but evidence has since shown that he met with his relatives' associates from both the Burisma and CEFC ventures.
Documents from the first son's abandoned laptop show that Burisma board adviser Vadym Pozharskyi sought "bank reference" information on Sept. 14, 2018 — one day before the initial transfer to Joe Biden was sought. However, the transaction was not executed for another two days, apparently due to a later-than-expected form submission.
Joe Biden met Pozharskyi at an April 17, 2015, dinner at DC's Café Milano. An unproven FBI informant tip said that Burisma owner Mykola Zlochevsky claimed in 2016 he was "coerced" into paying $10 million in bribes to the Bidens for their assistance in ousting prosecutor Viktor Shokin.
Hunter also was on the tail end of disbursing millions of dollars received from CEFC China Energy — one of two major Biden family dealings with Chinese government-linked firms.
On June 26, 2018 — less than three months before Joe Biden began to receive the monthly transfers — an internal Bank Secrecy Act expert warned colleagues that the institution should reconsider its relationship with Hunter as a result of Owasco PC seeming to receive Chinese funds without "any services rendered."
CEFC transferred $5 million to another Biden family-linked entity, Hudson West III, in August 2017 after Hunter warned a China-based associate of his father's wrath if a business deal was aborted. Much of the large transfer later went to Hunter's Owasco PC.
Prior bank records released by the Oversight Committee indicate that Joe Biden received payments of $40,000 and $200,000 from his brother James, who also was involved in the CEFC venture and other foreign-focused enterprises.
Comer alleged that the $40,000 transferred to Joe Biden's bank account on Sept 3, 2017, was from "laundered" Chinese funds.
James Biden paid Joe Biden $200,000 on March 1, 2018 — the same day that James received a $200,000 transfer from troubled rural hospital company Americore after pledging to use his political connections to secure a Middle Eastern investor, according to bankruptcy filings.
The White House says there's evidence that both transfers were loan repayments, but Republicans argue they have not seen loan agreement documents and note that the funds distributed to James came from a law firm, rather than Joe Biden himself, further clouding the picture.