Disgraced Rep. George Santos allegedly conned a disabled, homeless veteran out of thousands of dollars donated to save the man's dying service dog, according to a stomach-turning report.
The alleged account adds to Santos' growing list of shady behavior — from a largely forged resume to fabricated Jewish heritage — which has entangled the freshman congressman since he was elected to represent parts of Long Island and Queens.
The veteran, Richard Osthoff, told the local news site Patch that he met Santos, who introduced himself as Anthony Devolder, during a tough time in his life in May 2016.
Osthoff, who was honorably discharged from the Navy in 2002, was living in a tent on the side of Route 9 in Howell, New Jersey, with his beloved service dog Sapphire at the time, Patch reported.
Sapphire was suffering from a life-threatening stomach tumor that was growing by the day and surgery to remove the tumor would cost $3,000, according to the vet's estimate, Osthoff said.
The veteran, who couldn't afford the surgery, said a veterinary technician took him aside and offered assistance via a pet charity called Friends of Pets United run by Anthony Devolder, an alias used by Santos in the past.
Devolder set up a GoFundMe to raise funds for Sapphire and once it hit its goal of $3,000, he closed and deleted the fundraising page and became hard to reach before he disappeared altogether, Osthoff told Patch.
The Navy vet, now 47, never saw a penny of the donations and his beloved service dog died on Jan. 15, 2017, according to the outlet.
"Little girl never left my side in 10 years," Osthoff told Patch. "I went through two bouts of seriously considering suicide, but thinking about leaving her without me saved my life. I loved that dog so much, I inhaled her last breaths when I had her euthanized."
His account was corroborated by fellow veteran and retired New Jersey police Sgt. Michael Boll, who told Patch that when he heard what happened, he tried to help Osthoff by reaching out to Santos.
"I contacted [Santos] and told him, 'You're messing with a veteran,' and that he needed to give back the money or use it to get Osthoff another dog," Boll said. "He was totally uncooperative on the phone."
Osthoff said Santos requested he take Sapphire to a Queens veterinarian instead of the New Jersey practice because he had "credit" with the practice in the Big Apple.
The vet tech who told Osthoff about Santos' charity drove the pair to the Queens practice, where a vet said Sapphire's tumor was inoperable.
Santos claimed that he instead donated the $3,000 to other dogs in need because Sapphire wasn't a candidate for surgery and Osthoff didn't do things his way, according to a text exchange viewed by Patch.
After that, Osthoff was never able to reach Santos again.
There are no official records of Santos' animal charity "Friends of Pets United" being registered as a tax-exempt organization or charity, according to the New York Times.
Another woman told the paper that she was scammed by the animal rescue group as well.
She was supposed to be the beneficiary of a 2017 fundraising event in which Santos charged $50 per person, but never received any of the funds. She told the Times that Santos offered excuse after excuse when asked about the funding.
Santos denied even knowing Osthoff when asked about the veteran's claims.
"Fake," the embattled lawmaker texted Semafor. "No clue who this is."

⬇️ Top Picks for You ⬇️
Biden Dog Bites Another Secret Service Agent; 11th Incident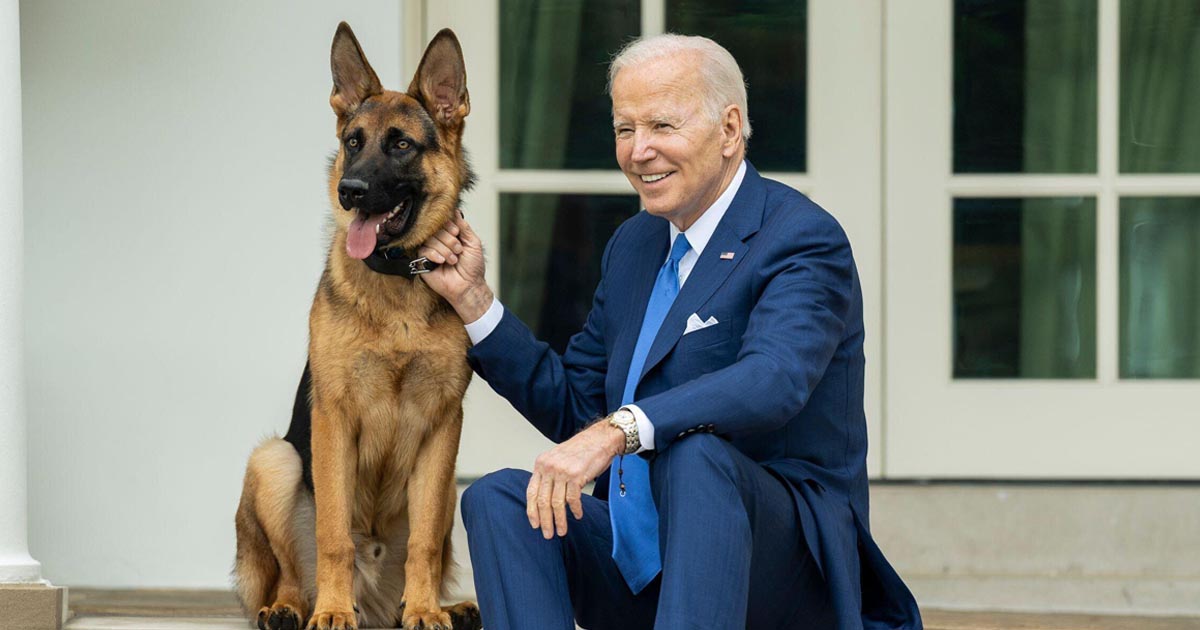 President Joe Biden's younger dog, Commander, bit another US Secret Service agent at the White House Monday evening, CNN has learned, the 11th known biting incident involving the 2-year-old German Shepherd.
"Yesterday around 8 p.m., a Secret Service Uniformed Division police officer came in contact with a First Family pet and was bitten. The officer was treated by medical personnel on complex," USSS chief of communications Anthony Guglielmi told CNN in a statement.
The injured officer spoke with Secret Service Uniformed Division Chief Alfonso M. Dyson Sr. on Tuesday and is doing OK, Guglielmi said.
Commander has been involved in at least 11 biting incidents at the White House and in Delaware, according to CNN reporting and US Secret Service email correspondence, including a November 2022 incident where an officer was hospitalized after the dog clamped down on their arms and thighs.
White House officials said in July that the Bidens were working through new training and leashing protocols for the family pet following the incidents.
Asked by CNN whether the new training had taken place or if any further action would be sought, Elizabeth Alexander, communications director for the first lady, said in a statement that "the First Family continues to work on ways to help Commander handle the often unpredictable nature of the White House grounds."
"The President and First Lady are incredibly grateful to the Secret Service and Executive Residence staff for all they do to keep them, their family, and the country safe," she continued.
Another of Biden's dogs, Major, was involved in biting incidents at the White House. The German Shepherd later moved out of the White House, and Commander arrived at the White House in 2021.
The July email correspondence, obtained through Freedom of Information Act requests by the conservative group Judicial Watch, reflected 10 incidents.
In one incident in October, first lady Dr. Jill Biden "couldn't regain control" of the dog as it charged a member of Secret Service staff.
"I believe it's only a matter of time before an agent/officer is attacked or bit," the staff member warned in an email.
While Secret Service agents are not responsible for the handling of the first family's pets, they can come into frequent contact with the animals.
"This isn't a Secret Service thing. This is a this is a workplace safety issue," CNN contributor and former USSS agent Jonathan Wackrow told CNN.
"There's uniqueness here where it's the residence of the president of the United States, but it's also the workplace for hundreds, thousands of people. And you can't bring a hazard into the workplace. And that's what is essentially happening with this dog. One time you can say it's an accident, but now multiple incidents, it's a serious issue," he added.
Wackrow called it a "significant hazard" for agents on duty at the White House residence.
"I'm sure that the Bidens love the dog. I'm sure that it's a member of the family like every dog is, but you're creating a significant hazard to those who support you – support the office of the president," he said.