Republican Utah Senator Mike Lee introduced two bills this week aimed at combatting online pornography.
Lee introduced the bills on Wednesday. The Shielding Children's Retinas from Egregious Exposure on the Net (SCREEN) Act would direct the FCC to mandate that all pornographic websites adopt age verification technology to keep children from accessing porn online. The Interstate Obscenity Definition Act (IODA) would establish a nationwide definition of obscenity, reforming the Supreme Court's "Miller Test" and enabling prosecution of obscene content transmitted across states or from foreign countries.
"Every day, we're learning more about the negative psychological effects pornography has on minors," Lee said in a statement unveiling the SCREEN Act. "Given the alarming rate of teenage exposure to pornography, I believe the government must act quickly to enact protections that have a real chance of surviving First Amendment scrutiny. We require age verification at brick-and-mortar shops. Why shouldn't we require it online?"
The SCREEN Act would direct the FCC to require commercial websites that regularly create or platform pornographic content to establish age verification technology, to ensure that users of those websites are not minors, and that minors are prevented from accessing the contents of such websites. Notably, the bill explicitly states that any proposed FCC regulation must make clear that simply asking a user to confirm that he or she is a legal adult is not a sufficient screening measure.
The IODA would establish a federal definition of obscenity that would apply to "a picture, image, graphic image file, film, videotape, or other visual depiction." The bill would define obscene content as content that:
(i) taken as a whole, appeals to the prurient interest in nudity, sex, or excretion;
(ii) depicts, describes, or represents, an actual or simulated sexual act or sexual contact, actual or simulated normal or perverted sexual acts, or lewd exhibition of the genitals, with the objective intent to arouse, titillate, or gratify the sexual desires of a person; and
(iii) taken as a whole, lacks serious literary, artistic, political, or scientific value.
In a one-pager describing the bill, Lee said that while obscenity is not protected by the First Amendment, it is difficult to prosecute under the "Miller Test," the legal test established by the Supreme Court in Miller v. California in 1973. Under the Miller Test, content is only obscene if:
(1) the average person, applying contemporary community standards, would find that the work, taken as a
whole, appeals to the prurient interest;
(2) the work depicts or describes, in a patently offensive way, sexual conduct specifically defined by the
applicable state law; and
(3) the work, taken as a whole, lacks serious literary, artistic, political, or scientific value.
"As we consider the application of the Miller Standard to the internet, we run into serious challenges," the one-pager reads. "Which 'contemporary community standards' should be applied? Or what 'applicable state law' should be applied to determine patent offensiveness?"
"Because the internet is a 'channel or instrumentality' of interstate commerce, Congress's current obscenity prohibitions are severely diminished," it added.
Lee previously proposed a bill in September to prevent sexual exploitation on porn sites. The Preventing Rampant Online Technological Exploitation and Criminal Trafficking (PROTECT) Act would require age and consent verification of those depicted in sexually explicit or intimate materials online. It would also allow victims of sexual exploitation to have their images removed and block re-uploads, including any altered or edited versions. Websites that fail to remove the reported content could face penalties of up to $10,000 per day. Victims could also file civil actions against these sites.

⬇️ Top Picks for You ⬇️
Trump Indicted in Classified Docs Probe — Here's Everything We Know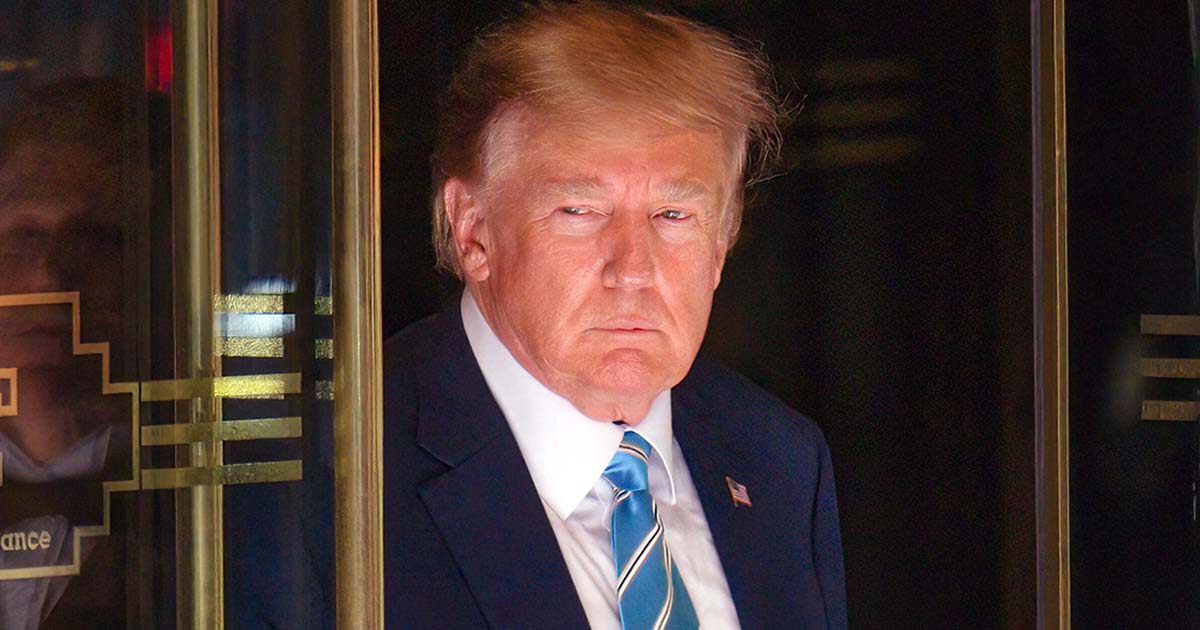 Former President Donald Trump said Thursday that his legal team has been told he's been indicted in an investigation into his handling of classified documents. Trump has been summoned to appear in federal court in Miami on Tuesday afternoon.
TRUMP STATEMENT:
The corrupt Biden Administration has informed my attorneys that I have been Indicted, seemingly over the Boxes Hoax, even though Joe Biden has 1850 Boxes at the University of Delaware, additional Boxes in Chinatown, D.C., with even more Boxes at the University of Pennsylvania, and documents strewn all over his garage floor where he parks his Corvette, and which is "secured" by only a garage door that is paper thin, and open much of the time.
I have been summoned to appear at the Federal Courthouse in Miami on Tuesday, at 3 PM. I never thought it possible that such a thing could happen to a former President of the United States, who received far more votes than any sitting President in the History of our Country, and is currently leading, by far, all Candidates, both Democrat and Republican, in Polls of the 2024 Presidential Election. I AM AN INNOCENT MAN!
This is indeed a DARK DAY for the United States of America. We are a Country in serious and rapid Decline, but together we will Make America Great Again!
7 CHARGES:
Trump has been charged with seven counts in the indictment, according to another source familiar with the matter.
"We're learning from our sources that there appears to be at least seven counts here. This ranges from everything from the willful retention of national defense information to conspiracy to a scheme to conceal to false statements and representations," ABC News' Katherine Faulders reported during a special report on the network.
MEDIA SWARMS MIAMI COURTHOUSE
Earlier today, dozens of out-of-town reporters, photographers and TV camera crews gathered in front of the downtown federal courthouse in hopes of getting a morsel of news from a secret grand jury which has been reviewing evidence in the Justice Department's probe into Trump's handling of classified materials at his Mar-a-Lago estate in Palm Beach.
THE BACKSTORY:
Special counsel Jack Smith has been overseeing the investigation into Trump's handling of classified documents since he was appointed to the role in November.
Trump's attorneys met earlier this week with Justice Department officials, including Smith. Experts widely viewed the meeting as a sign that Smith's investigation was winding down.
On May 6, 2021, the National Archives first alerted Trump that it was seeking approximately two dozen boxes of records be returned to it as required by the Presidential Records Act. The National Archives warned Trump in late 2021 that they could escalate the issue to prosecutors or Congress if he continued to refuse to hand over the documents. He was also warned by former Trump White House lawyer Eric Herschmann that he could face serious legal jeopardy if he did not comply.
In January 2022, about 15 of the boxes were returned, at which time officials discovered there were hundreds of pages of classified material in the boxes. Federal law enforcement was notified of the discovery and later came to believe that there were more materials that had not been turned over, and a criminal investigation was subsequently launched.
In May 2022, a federal grand jury issued a subpoena seeking additional classified documents and, a few weeks later, the DOJ visited Mar-a-Lago and Trump's legal team signed a written statement claiming that all the classified material had been returned. Over the course of the summer, investigators interviewed members of Trump's staff and subpoenaed surveillance footage from the property.
On August 8, the FBI raided Mar-a-Lago recovered 27 boxes, 11 of which contained classified documents. Four sets were marked "Top Secret," the highest level of classification the government can give information; three were marked "Secret," the second-highest level, while another three were marked "Confidential," the lowest classification level.  The remaining set was marked "Various classified/TS/SCI documents," which is the abbreviation for "top secret/sensitive compartmented information," a special category meant to protect the nation's most important secrets — which if revealed publicly would harm US interests.