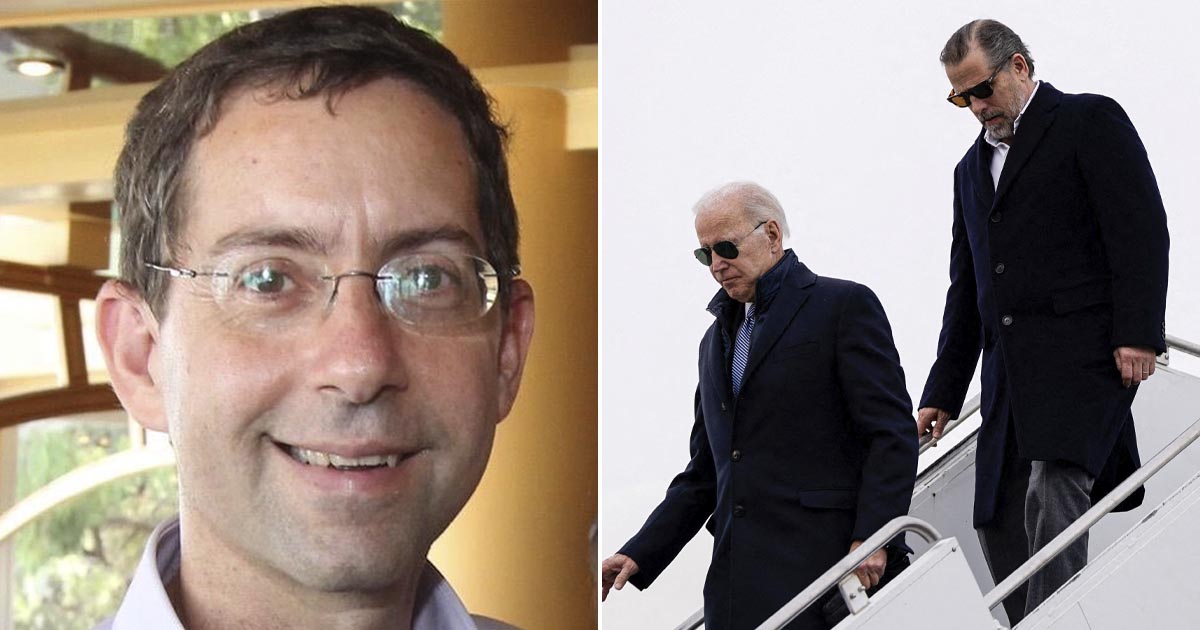 Missing' Biden Family Corruption Probe Witness Speaks Out, Living as Fugitive in Undisclosed Location
Gal Luft, the "missing" witness in the House Oversight Committee's Biden family corruption investigation, has told New York Post he is alive and living as a fugitive in an undisclosed location.
The former Israeli Defense Force colonel vanished from Cyprus last month while on bail awaiting extradition to the US on seven charges.
He denies the allegations, which include five charges relating to the Arms Export Control Act of conspiring to sell Chinese products to the United Arab Emirates, Kenya and Libya, as well as a violation of the Foreign Agents Registration Act, and of making a false statement.
Luft claims he was forced to skip bail because he is the victim of a political persecution by the US to protect Joe Biden and his son Hunter, and brother Jim.
"The chances of me getting a fair trial in Washington are virtually zero," he said in a call from an undisclosed foreign country, explaining why he skipped bail. "I had to do what I had to do."
He will not say how he escaped Cyprus because "I don't want to get people in trouble."
His car was found by police abandoned near the airport.
"I was charged for a thought crime," he says of the gun-running allegations, which date from email correspondence five years ago. "I was asked by a bona fide arms dealer, an Israeli friend, to inquire with a company I knew if they had an item and what would be the price of an item. This is where the conspiracy ended. No follow-up, no money, no brokering activity."
He sees sinister intent in the date of the extradition order, Nov. 1, 2022, seven days before the midterm elections when the Republicans were expected to win control of the House and start investigating allegations of Biden family foreign influence peddling.
House Oversight investigators were preparing to interview him before he disappeared.
"When it was clear the Republicans are going to win the House or the Senate, all of a sudden comes [GOP Rep. James] Comer and [GOP Rep. Jim] Jordan and the game is changing. There will be questions and subpoenas and investigations [so] they [the administration] have to discredit me. I never thought of coming forward. Through 2020 I sat quiet like a fish …
"I didn't want to get caught up in this game, but when they arrested me, I had no choice but to blow it up."
Luft attracted the attention of House investigators on Feb. 18 when a tweet appeared on his timeline after he was detained at the Cyprus airport.
"I've been arrested in Cyprus on a politically motivated extradition request by the US … claiming I'm an arms dealer … I've never been an arms dealer.
"DOJ is trying to bury me to protect Joe, Jim and Hunter Biden."
Info on Hunter payment
In March 2019, Luft met with four FBI officials and two DOJ prosecutors at the US Embassy in Brussels to provide information that Chinese state-controlled energy company CEFC had paid $100,000 a month to Hunter Biden and $65,000 to his uncle Jim, in exchange for their FBI connections and use of the Biden name to promote China's Belt and Road Initiative around the world.
Luft, who had a business relationship with a nonprofit think tank associated with CEFC, also told the FBI that Hunter had an FBI mole named "One Eye" who had tipped off his CEFC business partners Patrick Ho and Ye Jianming that they were under investigation; he said CEFC officials and one other person had been named in a sealed indictment.
Ye believed "the FBI were following him when he took walks in Central Park," says Luft.
Luft was worried he was on the indictment because Ho told him it named a "Jew."
Soon after the tip-off from One Eye, Ye offered Hunter $1 million to be his "private counsel" and flew to China, leaving his wife, daughter, son, mother and nanny in his $50 million Central Park West penthouse.
He was detained in Shanghai three months later and disappeared.
Ho told Luft that Hunter and Jim Biden flew to Hong Kong in the fall of 2017 to meet him.
"They were behaving very suspiciously and changing phones," says Luft. "Ye said send a million dollars and those guys will take care of you."
The only evidence on Hunter's laptop that he flew to Hong Kong in that period is an email receipt for a one-way first-class flight from Dulles Airport to Hong Kong on Aug. 25, 2017, with IFlyFirstClass.com.
In emails with the travel company a few days later, Hunter requested a return flight Sept. 8, 2017, from Koh Samui in Thailand to Baltimore-Washington Airport.
In Luft's view, Ho was a "naïve … patsy" who believed Ye's assurances that he would not be arrested if he returned to the US.
On Nov. 18, 2017, Ho flew back to the US and was arrested by the FBI on bribery and money-laundering charges.
Ho was convicted and sentenced March 25, 2019, to three years in prison, after which he was deported.
During Ho's trial, claims Luft, prosecutors removed all reference to the Bidens from emails between Ho and Hunter associate Vuk Jeremic, who was a CEFC advisory board member, a former Serbian foreign minister and ex-president of the United Nations General Assembly.

⬇️ Top Picks for You ⬇️
Venezuela Is Preparing to Invade Oil-Rich Neighbor Guyana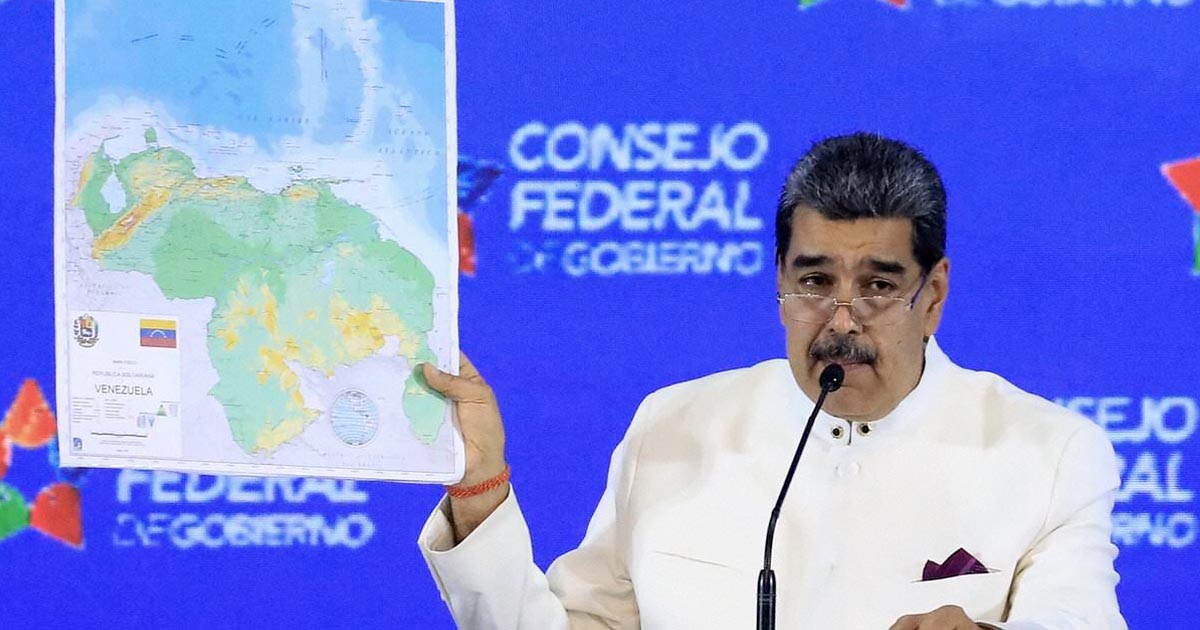 Venezuela's president on Tuesday published a new map of the region showing two thirds of neighboring Guyana 'reclaimed' by Caracas and ordered the state-owned energy companies to 'immediately' begin exploration in the area, as fears rose that Nicolas Maduro could start a war.
Venezuela has claimed Guyana's Esequiba region for over 100 years – ever since the border of the present-day country was drawn up, in 1899. But on Sunday, with his own popularity falling in the face of a newly-unified opposition, Maduro organized a 'referendum' on whether to pursue Venezuela's claim to the territory.
Voters were asked if they agreed with creating a Venezuelan state in the Esequiba region, providing its population with Venezuelan citizenship, and 'incorporating that state into the map of Venezuelan territory.'
The Maduro-controlled Venezuelan National Electoral Council said voters chose 'yes' more than 95 percent of the time on each of five questions on the ballot, and on Tuesday Maduro published his new map.
He has appointed a general, Alexis Rodríguez Cabello, as head of the region and on Tuesday dispatched him to the town of Tumeremo, a remote mining town in the jungle, 120 miles from the border.
Esequiba, about the size of Florida, is rich in minerals and accounts for two thirds of the territory of Guyana – an English speaking nation, which gained its independence from Britain in 1966. Guyana is the only English-speaking country in South America.
Venezuela protested an oil tender announced by Guyana in September, arguing that the offshore areas are subject to dispute and the companies awarded the fields will not have the rights to explore them.
Guyana has denounced Sunday's referendum as pretext to annex the land: in the days running up to it, the Venezuelan defense minister Vladimir Padrino Lopez, known for his ties to his counterparts in Russia and Iran, posted a video of Venezuela troops on parade, waving flags saying 'Guyana Esequiba', colored in the Venezuelan flag.
President Irfaan Ali called the move by Maduro 'reckless' and said his country plans to alert both regional and world leaders of Maduro's attempt to disrupt the peace in the hemisphere.
'It is unfortunate that President Maduro would choose the road of defying an international court order. This speaks volumes about the way in which President Maduro prefers to operate and also points to the fact that he's unconcerned about the peace and security of this region,' he told The Miami Herald.
'The order of the [U.N. court] made it very clear that Venezuela cannot act or take any action that would disrupt the status quo and the status quo is that Guyana exercises governance and control of Essequibo,' he said.
He added that he is seeking the support of the United Nations Security Council, the United States, the Caribbean Community, the Organization of American States and other countries to ensure Guyana's territory is 'not violated.'
'We once again call on Venezuela to retract from this reckless, adventurous move and to allow international law and the ruling of the [U.N. court] to guide our action,' Ali added.
El pueblo y su #FANB están movilizados, decididos e imperturbables a recuperar nuestra Guayana Esequiba, nos mueve el amor infinito a la patria y a cada milímetro del sagrado territorio venezolano, el cual defenderemos por todas las vías y por todos los medios que estén a nuestro… pic.twitter.com/B60slT8xSs

— Vladimir Padrino L. (@vladimirpadrino) November 29, 2023
Guyana has appealed to the International Court of Justice, the United Nations' top court, which on Friday ordered Venezuela not to take any action to change the status quo until the panel can rule on the two countries' competing claims. Any decision could take years.
Meanwhile, Guyana is nervously eyeing its giant neighbor to the north.
Venezuela's military, backed by Russia, Iran and Cuba, massively outnumbers tiny Guyana's: the Venezuelan military counts 123,000 active personnel versus only 3,400 for Guyana, according to an analysis in Brazil's Folha de Sao Paulo newspaper.
Guyana is also dwarfed by Venezuela in weaponry, with Venezuela having 514 armored vehicles compared to only six owned by Guyana.
Such an attack would draw a strong international response, with the lead likely played by Brazil, which borders both Venezuela and Guyana and whose military is significantly larger and more professional than either country's.
At the end of November, Brazil's defense ministry said it 'has intensified defensive actions' along its northern border.
'The Ministry of Defense has been monitoring the situation. Defensive actions have been intensified in the northern border region of the country, promoting a greater military presence,' it said in a statement.