The Biden White House pressured Twitter to both "elevate" and "suppress" users based on their stances on COVID-19 — ultimately "censoring info that was true but inconvenient" to policy makers, according to the latest edition of the "Twitter files" revealed Monday.
The coercion campaign during the pandemic began with the Trump administration — which asked Twitter to crack down on stories about panic buying and "runs on grocery stores" in the early days of the outbreak — but was stepped up under Biden, whose administration was focused on the removal of "anti-vaxxer accounts," according to The Free Press reporter David Zweig.
For example, in June 2021, hours after Biden publicly raged that social media companies were "killing people" for allowing purported vaccine misinformation to propagate, former New York Times reporter and noted vaccine doubter Alex Berenson was suspended from the site and was ultimately banned.
Berenson responded by suing Twitter, forcing the release of internal communications that showed the White House had pressured the company to squash his account.
1. THREAD:

THE TWITTER FILES: HOW TWITTER RIGGED THE COVID DEBATE

– By censoring info that was true but inconvenient to U.S. govt. policy
– By discrediting doctors and other experts who disagreed
– By suppressing ordinary users, including some sharing the CDC's *own data*

— David Zweig (@davidzweig) December 26, 2022
In a Slack message from April 2021, an unidentified Twitter employee said the adminstration "had one really tough question about why Alex Berenson hasn't been kicked off from the platform".
"It doesn't stop infection. Or transmission. Don't think of it as a vaccine," Berenson had tweeted.
"Think of it — at best — as a therapeutic with a limited window of efficacy and terrible side effect profile that must be dosed IN ADVANCE OF ILLNESS," he also wrote.
As recently as this month, Lauren Culbertson, Twitter's head of US public policy, had detailed the White House's pressure campaign in a series of meetings, according to Zweig.
Culbertson said in her notes that the administration was "very angry" that Twitter had not taken more aggressive action in silencing vaccine critics and wanted the company to do more, files showed.
Among those users whom Twitter did clamp down on was Dr. Martin Kulldorff, an epidemiologist at Harvard Medical School who tweeted in March 2021 that people "with prior natural infection do not need" the COVID-19 vaccine, "[n]or [do] children."
Kulldorff's tweet was flagged by the site as "misleading" — even though it was in line with the vaccine policies of "numerous other countries," Zweig wrote.
Another doctor, Andrew Bostom of Rhode Island, was permanently suspended after tweeting the results of negative studies about the vaccines and highlighting data that coronavirus was less dangerous in children than the flu — information that Zweig wrote was "legitimate but inconvenient to the public health establishment's narrative about the risks of flu versus Covid in children."
Bostom's account was reinstated on Christmas morning.
"Thanks to @davidzweig for exposing the grotesque injustice of @Twitter's suspension of many accounts, including my own, due to alleged covid "misinformation" i.e., evidence-based data rebutting the warped, but "accepted" narrative," the doctor wrote Monday.
Zweig's research found that much of Twitter's COVID content moderation was conducted by bots "too crude for such nuanced work," and contractors in places like the Philippines, whose non-medical expertise resulted in a "significant error rate."
"Individual and collective bias" also afflicted high-level employees at Twitter who were responsible for overseeing the process and "subjectively" escalating cases and suspending users, Zweig found.
When former President Donald Trump told his followers in October 2020 that he was "Feeling really good!" after undergoing COVID-19 treatment at Walter Reed Medical Center — and urged his supporters not to be afraid of the virus or let it "dominate your life," former FBI general counsel turned Twitter honcho James Baker asked the company's then-watchdog why the message wasn't flagged.
"Why isn't this POTUS tweet a violation of our COVID-19 policy? (Especially the 'Don't be afraid of Covid' statement)," Baker, then Twitter's deputy general counsel asked then-Head of Safety and Trust Yoel Roth and top legal executive Stacia Cardille.
Roth – who quit last month amid Elon Musk's November takeover – replied to Baker that optimism was not misinformation.
"It doesn't incite people to do something harmful, nor does it recommend against taking precautions or following mask directives (or other guidelines)," he replied.
The latest revelations came after previous "Twitter Files" found the FBI and CIA had meddled in the social media company, and prompted it to bow to political pressure — including convincing Twitter to censor The Post's exposé in the weeks before the 2020 election detailing how Hunter Biden used his father's name to secure questionable business arrangements overseas.

⬇️ Top Picks for You ⬇️
Pro-Life Father Arrested by FBI Acquitted on Federal Charges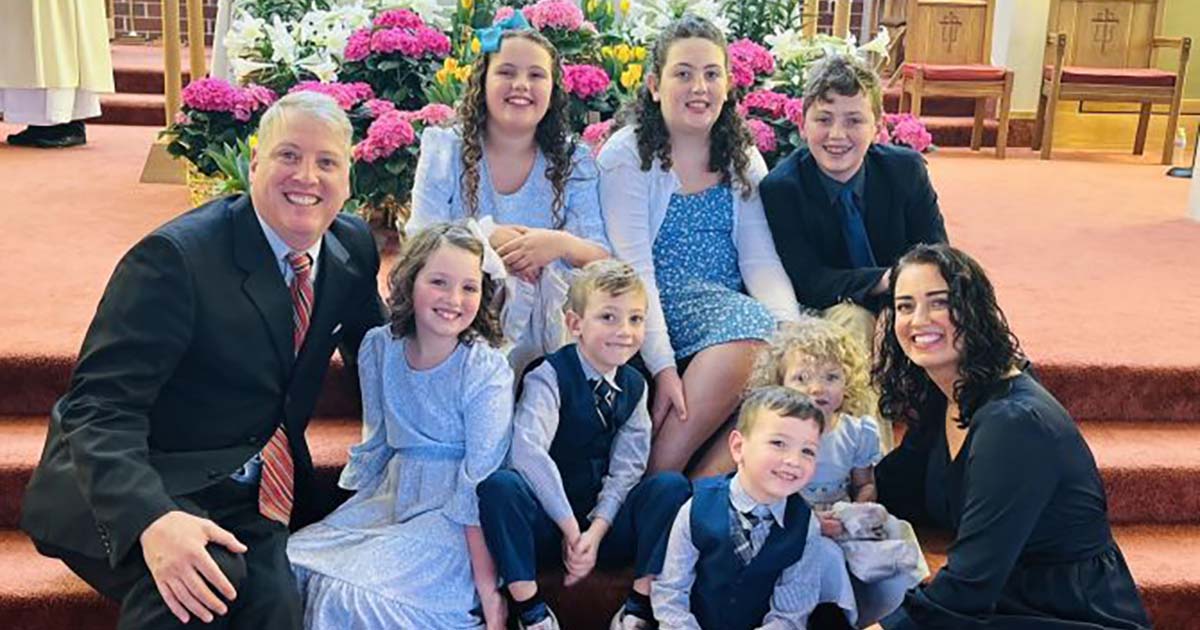 A Catholic pro-life activist facing 11 years in prison for allegedly violating a federal law prohibiting people from blocking others from entering an abortion clinic was acquitted on Monday following a week-long trial.
Mark Houck leads a nonprofit group that counsels women outside of abortion clinics in Philadelphia, Pennsylvania. He was providing sidewalk counseling when, the Department of Justice says, he assaulted an abortion escort twice "because he was a volunteer reproductive health care clinic escort."
"Assault is always a serious offense, and under the [Freedom of Access to Clinic Entrances] FACE Act, if the victim is targeted because of their association with a reproductive healthcare clinic, it is a federal crime," U.S. Attorney Jacqueline Romero said in a DOJ press release. "Our Office and the Department of Justice are committed to prosecuting crimes which threaten the safety and rights of all individuals."
The FACE Act makes it a federal crime to injure, intimidate, or interfere with anyone due to their status as a provider of reproductive health care.
Houck and his attorneys at the Thomas More Society argued, however, that this was "a political prosecution" meant to "send a message" to pro-life Americans.
"And what's clear from the Department of Justice at its highest levels, which is directing this case, [is] that they are trying to send a message to pro-life and people of faith: 'Don't mess with us,'" Thomas More Society vice president Peter Breen told Fox News. "They want to intimidate — they want to cause good people like Mark to stop praying and counseling at the abortion clinics of our country. And that's not going to happen."
Breen told the outlet that the case was thrown out of state court but revived by the Biden administration nearly a year after the incident. Further, Breen said, some 20 FBI agents raided Houck's home when they arrested him, treating him "as if he was a drug lord or a mafia boss."
"If he was truly a danger to the community, they wouldn't have waited a year to prosecute," Breen said. "Serious questions need to be asked of the attorney general. What was he thinking? Why did they do this obscene show of force against a peaceful pillar of the community?"
Houck's lawyers also argued that the DOJ's claim that the FACE Act protects anyone associated with an abortion clinic is inaccurate.
"The FACE Act was never intended to cover disputes between advocates on the public sidewalks outside of our nation's abortion clinics," Breen said in a statement earlier this month. "This new evidence shows clearly that Congress intended to limit the FACE Act to patients and staff working in the clinic, and not to take sides between pro-life and pro-choice counselors and escorts on the sidewalk. The Biden Department of Justice's prosecution of Mark Houck is pure harassment, meant solely to intimidate our nation's pro-life sidewalk counselors who provide vital resources to help pregnant women at risk for abortion."
Houck pleaded not guilty to the charges against him and testified at trial that he and the clinic escort, Bruce Love, had two altercations on the day in question. The first occurred while Houck was counseling two women crossing the street who left Planned Parenthood, Catholic News Agency reported. Love allegedly chased Houck about 100 feet in an attempt to stop him from counseling the women, Life News reported. Houck claimed that Love surprised and made contact with him, causing him to ask, "What are you doing?" and reflexively elbow the escort in the hip to move him out of the way. The prosecution argued that Houck elbowed Love unprovoked because of his status as a clinic escort.
After this, Houck said Love left the clinic and stood near Houck's 12-year-old son while taunting Houck Sr., saying, "You're hurting women. You don't care about women."
Houck said Love also repeatedly disparaged him to his son, who testified on Friday that Love stood about an arm's length away from him near the clinic.
"I moved away… because I was scared," the younger Houck testified, adding that Love told him, "Your dad's a bad person. Your dad's harassing women."
It was after Houck repeatedly told Love to stop harassing his son that Houck said he pushed Love away.
The jury deadlocked on Friday after two-and-a-half hours of deliberation, telling U.S. District Judge Gerald Pappert that they didn't think they could come to a conclusion given more time. Pappert sent the jury home but instructed them to return Monday morning and continue deliberations anyway.
On Monday, the jury acquitted Houck. Following the verdict, Breen released a statement condemning the Biden administration for pursuing his client.
"We are, of course, thrilled with the outcome," Breen said. "Mark and his family are now free of the cloud that the Biden administration threw upon them. We took on Goliath – the full might of the United States government – and won. The jury saw through and rejected the prosecution's discriminatory case, which was harassment from day one. This is a win for Mark and the entire pro-life movement. The Biden Department of Justice's intimidation against pro-life people and people of faith has been put in its place."