The Biden White House pressured Twitter to both "elevate" and "suppress" users based on their stances on COVID-19 — ultimately "censoring info that was true but inconvenient" to policy makers, according to the latest edition of the "Twitter files" revealed Monday.
The coercion campaign during the pandemic began with the Trump administration — which asked Twitter to crack down on stories about panic buying and "runs on grocery stores" in the early days of the outbreak — but was stepped up under Biden, whose administration was focused on the removal of "anti-vaxxer accounts," according to The Free Press reporter David Zweig.
For example, in June 2021, hours after Biden publicly raged that social media companies were "killing people" for allowing purported vaccine misinformation to propagate, former New York Times reporter and noted vaccine doubter Alex Berenson was suspended from the site and was ultimately banned.
Berenson responded by suing Twitter, forcing the release of internal communications that showed the White House had pressured the company to squash his account.
1. THREAD:

THE TWITTER FILES: HOW TWITTER RIGGED THE COVID DEBATE

– By censoring info that was true but inconvenient to U.S. govt. policy
– By discrediting doctors and other experts who disagreed
– By suppressing ordinary users, including some sharing the CDC's *own data*

— David Zweig (@davidzweig) December 26, 2022
In a Slack message from April 2021, an unidentified Twitter employee said the adminstration "had one really tough question about why Alex Berenson hasn't been kicked off from the platform".
"It doesn't stop infection. Or transmission. Don't think of it as a vaccine," Berenson had tweeted.
"Think of it — at best — as a therapeutic with a limited window of efficacy and terrible side effect profile that must be dosed IN ADVANCE OF ILLNESS," he also wrote.
As recently as this month, Lauren Culbertson, Twitter's head of US public policy, had detailed the White House's pressure campaign in a series of meetings, according to Zweig.
Culbertson said in her notes that the administration was "very angry" that Twitter had not taken more aggressive action in silencing vaccine critics and wanted the company to do more, files showed.
Among those users whom Twitter did clamp down on was Dr. Martin Kulldorff, an epidemiologist at Harvard Medical School who tweeted in March 2021 that people "with prior natural infection do not need" the COVID-19 vaccine, "[n]or [do] children."
Kulldorff's tweet was flagged by the site as "misleading" — even though it was in line with the vaccine policies of "numerous other countries," Zweig wrote.
Another doctor, Andrew Bostom of Rhode Island, was permanently suspended after tweeting the results of negative studies about the vaccines and highlighting data that coronavirus was less dangerous in children than the flu — information that Zweig wrote was "legitimate but inconvenient to the public health establishment's narrative about the risks of flu versus Covid in children."
Bostom's account was reinstated on Christmas morning.
"Thanks to @davidzweig for exposing the grotesque injustice of @Twitter's suspension of many accounts, including my own, due to alleged covid "misinformation" i.e., evidence-based data rebutting the warped, but "accepted" narrative," the doctor wrote Monday.
Zweig's research found that much of Twitter's COVID content moderation was conducted by bots "too crude for such nuanced work," and contractors in places like the Philippines, whose non-medical expertise resulted in a "significant error rate."
"Individual and collective bias" also afflicted high-level employees at Twitter who were responsible for overseeing the process and "subjectively" escalating cases and suspending users, Zweig found.
When former President Donald Trump told his followers in October 2020 that he was "Feeling really good!" after undergoing COVID-19 treatment at Walter Reed Medical Center — and urged his supporters not to be afraid of the virus or let it "dominate your life," former FBI general counsel turned Twitter honcho James Baker asked the company's then-watchdog why the message wasn't flagged.
"Why isn't this POTUS tweet a violation of our COVID-19 policy? (Especially the 'Don't be afraid of Covid' statement)," Baker, then Twitter's deputy general counsel asked then-Head of Safety and Trust Yoel Roth and top legal executive Stacia Cardille.
Roth – who quit last month amid Elon Musk's November takeover – replied to Baker that optimism was not misinformation.
"It doesn't incite people to do something harmful, nor does it recommend against taking precautions or following mask directives (or other guidelines)," he replied.
The latest revelations came after previous "Twitter Files" found the FBI and CIA had meddled in the social media company, and prompted it to bow to political pressure — including convincing Twitter to censor The Post's exposé in the weeks before the 2020 election detailing how Hunter Biden used his father's name to secure questionable business arrangements overseas.

⬇️ Top Picks for You ⬇️
FBI Has 2 More Informant Files on Alleged Biden Corruption; 2 More Banks Subpoenaed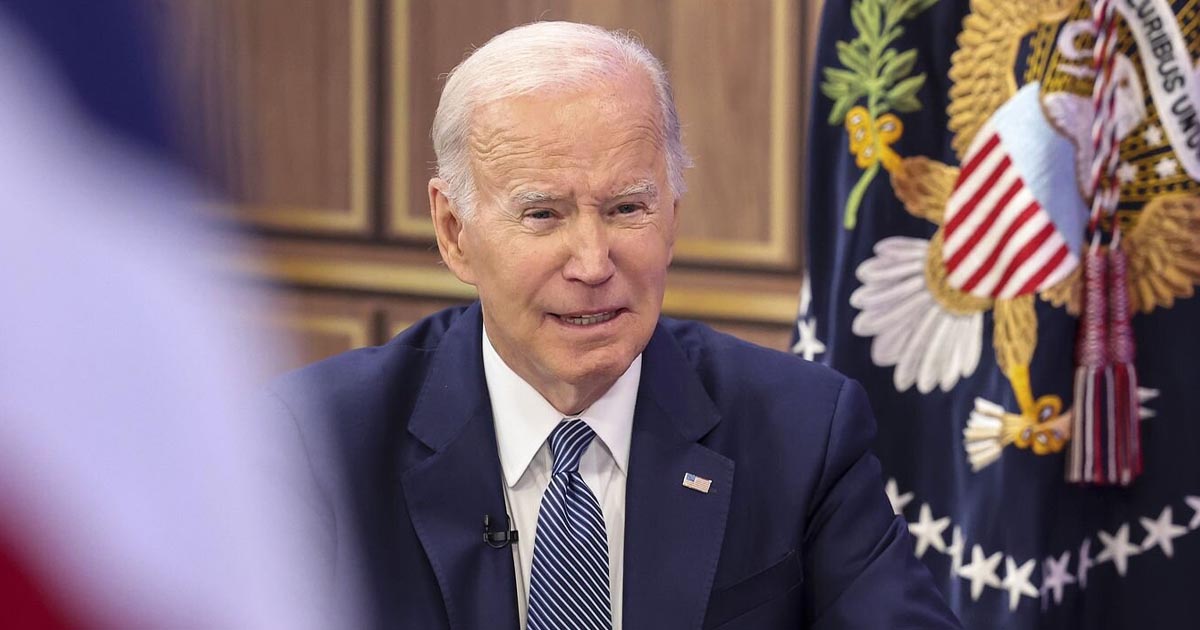 The FBI holds two more informant files on the Biden family's business ventures, triggering the House Oversight Committee on Friday to subpoena two more banks, Rep. Marjorie Taylor Greene (R-GA) exclusively told Breitbart News.
Greene, a member of the House Oversight Committee, said the FBI holds at least two more FD-1023 forms referenced in the FBI informant document reviewed by the Committee Thursday. Greene expects the Committee will work to review those forms next week.
On Thursday the committee viewed an FBI informant file that revealed the alleged existence of two pieces of evidence showing President Joe Biden received $5 million from Ukrainian energy company Burisma, Committee Republicans told reporters.
"He requested it, he and Hunter Biden requested $5 million each," Greene said. "'Pay me $5 million, pay my father $5 million, and we will take care of your problems for you,'" Greene described the alleged request the Bidens made of Burisma.
In 2015, Burisma was under suspicion of money laundering and public corruption. Prosecutor Victor Shokin investigated the case before his termination due to pressure applied by then-Vice President Joe Biden, who threatened to withhold $1 billion in U.S. aid from Ukraine if the Ukrainian government did not fire the prosecutor investigating Burisma.
In exchange for that, the informant file alleges, Joe Biden and Hunter Biden received $5 million each in small sums through separate bank accounts.
Joe Biden bragged about the firing during a 2018 appearance at the Council of Foreign Relations. "I said, 'I'm telling you, you're not getting the billion dollars.' I said, 'You're not getting the billion. I'm going to be leaving here in,' I think it was about six hours," Biden told the audience. "I looked at them and said, 'I'm leaving in six hours. If the prosecutor is not fired, you're not getting the money.' Well, son of a bitch. He got fired."
In connection with Biden's Burisma business deal, Greene told Breitbart News the House Oversight Committee issued two subpoenas Friday to compel information about the Bidens' Ukrainian transactions. Before Friday, the Committee subpoenaed at least four banks — Bank of America, Cathay Bank, JPMorgan Chase, and HSBC USA N.A –and one individual.
"We're giving out subpoenas for two more banks. And this has to do with bank accounts related to Ukraine. So, we're digging deeper into this," she said. "We were hoping to find, you know, actual transactions that relate to this 1023 form."
Greene described Thursday's inspection of the 1023 form. She told Breitbart News she took notes inside the secured area but had to leave the notes inside the secured room per FBI policy. Once she finished reviewing the documents and taking notes, she made a second batch of notes outside the secure area.
"But as soon as I filed my notes, it was really fresh in my mind, because I read it a couple times," she said. "So I made my own notes separately — in a separate room, not in the SCIF, but in a separate room."
"The form references two separate 1023 [forms]," she said, referring to two additional FD-1023 forms mentioned in the FBI informant document.
"It's on white paper, printed paper, eight by 11 normal paper. It looks like just a report," she said.
"The form is written in chronological time," Green continued. "The date of the 1023 that I read yesterday is June 30, 2020. But it tells chronological order, starting in 2015, 2016."
Greene believes the form is credible because the FBI believes the informant is credible. The informant is reportedly a "highly credible" FBI source with a history dating back to the Barack Obama administration.
"The FBI told us [that] they just think he's their best one," she said. "Everything he hands over is true. Everything he hands over is valuable. Everything he hands over is accurate."
In addition, Greene revealed the form indicated Hunter Biden's position on Burisma's board, in which he received about $80,000 per month, were monthly installments of a $5 million total cut owed Hunter Biden in the deal with his father.
"The reason why he was on the board, taking a ridiculous salary, and getting paid these side bribes was literally because his father is the Vice President of the United States. And Hunter and [Joe] Biden have a business partnership, where Hunter goes out —and he does the groundwork — in order for his father to make the decisions and the policy changes for — to get payment."
"He's [Joe Biden] on a telephone call talking about it, he's on video and an interview talking about it, where he literally withheld the U.S. aid from Ukraine and demanded that they fire Victor Shokin," Green said. "And it happened. It happened."
When a reporter questioned Joe Biden Thursday about the alleged $5 million payment, he jokingly responded, "Where's the money?"