Six people are confirmed dead and 18 injured after a school bus and a semi truck collided on an Ohio highway on Tuesday morning.
Five vehicles were caught up in the accident, which occurred shortly before 9am on Interstate 70 West in Licking County, near the Smoke Road underpass.
Three of the dead were students at Tuscarawas Valley Local Schools in Zoarville, and three were adult members of staff traveling in another vehicle. Their vehicles were en route to an Ohio School Boards Association conference in Columbus. The high school band was scheduled to perform at the conference.
The three students were named by local media as John W. Mosley, 18; Jeffrey D. Worrell, 18; and 15-year-old Katelyn Owens.
The three adults, all in the same car, were all members of staff at the school, and have been named as teachers Dave Kennat, 56, and Shannon Wigfield, 45, plus chaperone Kristy Gaynor, 39.
Mosley, who went by Wyatt, was named last month as Fine Arts Student of the Month.
His profile, on the student website, said the 18-year-old was a member of the TVHS Marching Band, Select Choir, Drama Club and Track team, and was recently selected to participate in the Ohio Music Educators Association All-State Choir.
'His hobbies include singing, programming & exercising. After graduation, Wyatt plans to take a gap year to pursue a career in acting and then go to college for computer programming,' the school wrote.
Worrell, who went by JD, won the Fine Art accolade in May.
He was described as a member of the TVHS Marching & Concert Bands, Select Choir, Dram Club, Speech & Debate team and the Pep Club.
Worrell hoped to major in psychology and vocal music, or find a job doing voice overs or voice acting.
The semi truck rear-ended the bus, causing a massive fire which gutted the truck.
Sean Grady, director of the Licking County Emergency Management Agency, said the charter bus was transporting students from a school in eastern Ohio. There were a total of 57 people onboard, he said.
Images taken from the scene show the rear of the bus completely engulfed in flames.
Fifteen of the 18 injured are believed to be juveniles, and Tuscarawas Valley Local Schools said there may have been 'serious injuries' among the students.
Other images captured by traffic cameras and shared by the Ohio Department of Transportation show the emergency response at the scene.
Thick plumes of smoke can be seen emitting from the two vehicles, as a massive emergency services response works at the scene.
Mike DeWine, the governor of Ohio, said his prayers go out to all involved in the crash and their families, and ordered flags to be flown at half staff.
'This is our worst nightmare when we have a bus full of children involved in a crash and certainly the worst nightmare families can endure or a school can endure,' he said.
He said the investigation into the crash will take some time. By 4:30pm on Tuesday, the eastbound highway had reopened but the westbound remained closed.
The bus was carrying Tuscarawas Valley students and chaperones to an Ohio School Boards Association conference in Columbus, Superintendent Derek Varansky said.
In a post to Facebook, Varansky said: 'Today, a charter bus carrying Tusky Valley students and chaperones on the way to the Ohio School Boards Association conference in Columbus was involved in a very serious accident.
'We understand from law enforcement that there may be multiple serious injuries and we are working to learn the details.
'We will share news with you as we are able, including our plans for upcoming school days and events.
'Right now, our focus is on getting in touch with our Tusky Valley families who had loved ones on the bus and providing support to our entire school community.
'Our Trojan family is strong, and it will take that strength and love to get throughout these coming challenging days.'
The bus involved in the crash is from Pioneer Trails, a family-owned company operating for 40 years out of Millersburg, The Columbus Dispatch reported.
Pioneer Trails said in a statement that the company 'is fully cooperating with the authorities as we work to find the cause of the accident' and sends prayers to the victims and their families.
Mickey Lymon, an investigator with the Licking County Coroner´s Office, said they had been called to the scene, but deferred other questions to the state police.

⬇️ Top Picks for You ⬇️
Biden Got Recurring $1,380 Payment from Hunter's Firm Starting in 2018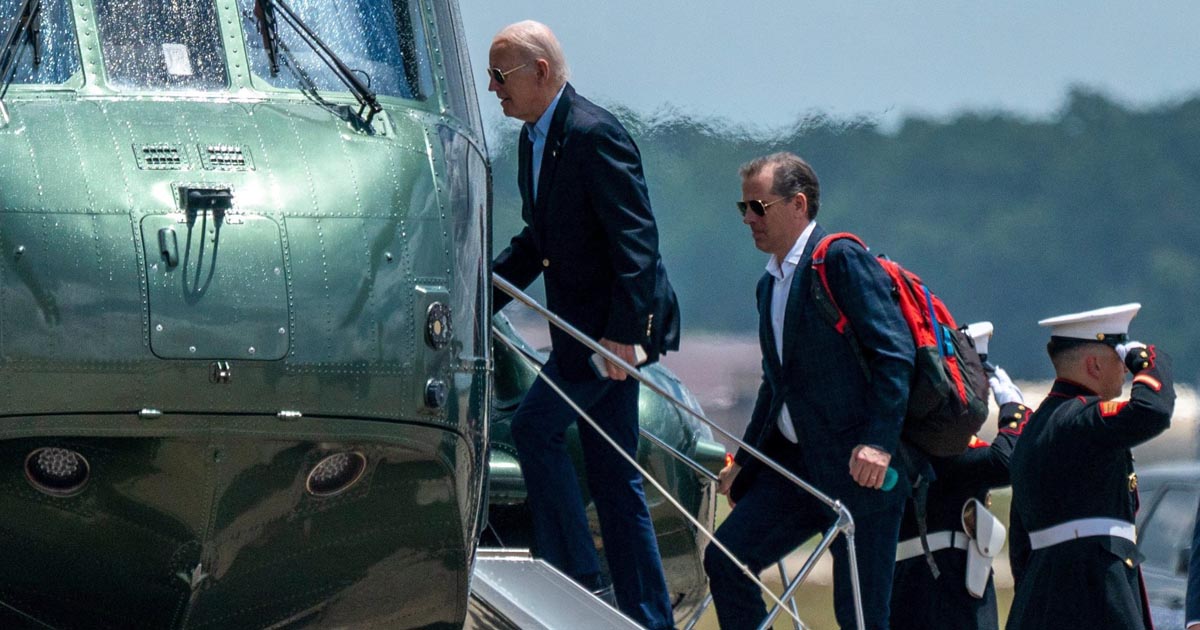 President Biden received a recurring payment of $1,380 from his son Hunter's law firm beginning in late 2018 shortly after a bank money laundering officer warned that the same account was receiving millions of dollars in Chinese government-linked funds without "any services rendered."
A bank order shows that Owasco PC set up a "monthly" transfer to then-former Vice President Joseph R. Biden Jr., with a voided check for the future president included in the documentation, which was released Monday by the House Oversight Committee.
A source told The Post that at least three recurring payments were made — on Sept. 17, Oct. 15 and Nov. 15, 2018 — totaling $4,140 to the elder Biden from Owasco PC, according to the bank records of the firm.
"President Biden and his family must be held accountable for this blatant corruption," Oversight Committee Chairman James Comer (R-Ky.) said in a video release.
"Today, the House Oversight Committee is releasing subpoenaed bank records that show Hunter Biden's business entity, Owasco PC, made direct monthly payments to Joe Biden. This wasn't a payment from Hunter Biden's personal account but an account for his corporation that received payments from China and other shady corners of the world," Comer said.
"At this moment, Hunter Biden is under an investigation by the Department of Justice for using Owasco PC for tax evasion and other serious crimes. And based on whistleblower testimony, we know the Justice Department made a concerted effort to prevent investigators from asking questions about Joe Biden. I wonder why?"
Earlier that year, a January 2019 email from assistant Katie Dodge to Hunter Biden annotated various expenses including "Ford Raptor — Reimbursement to JRB — $1380."
The provenance of the funds is unclear, however, and additional records show that Hunter Biden was knee-deep in two of his most controversial business relationships at the time, with Ukraine's Burisma Holdings and CEFC China Energy.
The evidence emerged as House Republicans prepare to question first brother James Biden on Wednesday and Hunter next week about the president's role in his family's dealings in countries such as China and Ukraine — with a possible floor vote to authorize the ongoing impeachment inquiry this month.
While a presidential candidate, Joe Biden denied that he ever discussed business with his relatives, but evidence has since shown that he met with his relatives' associates from both the Burisma and CEFC ventures.
Documents from the first son's abandoned laptop show that Burisma board adviser Vadym Pozharskyi sought "bank reference" information on Sept. 14, 2018 — one day before the initial transfer to Joe Biden was sought. However, the transaction was not executed for another two days, apparently due to a later-than-expected form submission.
Joe Biden met Pozharskyi at an April 17, 2015, dinner at DC's Café Milano. An unproven FBI informant tip said that Burisma owner Mykola Zlochevsky claimed in 2016 he was "coerced" into paying $10 million in bribes to the Bidens for their assistance in ousting prosecutor Viktor Shokin.
Hunter also was on the tail end of disbursing millions of dollars received from CEFC China Energy — one of two major Biden family dealings with Chinese government-linked firms.
On June 26, 2018 — less than three months before Joe Biden began to receive the monthly transfers — an internal Bank Secrecy Act expert warned colleagues that the institution should reconsider its relationship with Hunter as a result of Owasco PC seeming to receive Chinese funds without "any services rendered."
CEFC transferred $5 million to another Biden family-linked entity, Hudson West III, in August 2017 after Hunter warned a China-based associate of his father's wrath if a business deal was aborted. Much of the large transfer later went to Hunter's Owasco PC.
Prior bank records released by the Oversight Committee indicate that Joe Biden received payments of $40,000 and $200,000 from his brother James, who also was involved in the CEFC venture and other foreign-focused enterprises.
Comer alleged that the $40,000 transferred to Joe Biden's bank account on Sept 3, 2017, was from "laundered" Chinese funds.
James Biden paid Joe Biden $200,000 on March 1, 2018 — the same day that James received a $200,000 transfer from troubled rural hospital company Americore after pledging to use his political connections to secure a Middle Eastern investor, according to bankruptcy filings.
The White House says there's evidence that both transfers were loan repayments, but Republicans argue they have not seen loan agreement documents and note that the funds distributed to James came from a law firm, rather than Joe Biden himself, further clouding the picture.