A Scottish man has been handed a 20-year prison sentence after pleading guilty to the chilling abduction and sexual assault of a local child. Andrew George Miller, also known as Amy George, was initially arrested in February in connection with the disappearance of an 11-year-old girl, who he abducted "while dressed in female clothing," according to the Edinburgh High Court. He was also found in possession of horrific child sexual abuse materials.
On February 5, Miller approached the child and offered her a drive home while wearing women's clothes. After winning the girl's trust, Miller took her to his own residence and confined her in his bedroom, where he repeatedly sexually abused her over a 27-hour period.
The child asked to be allowed to go home, at which point Miller told the girl he intended to keep her in captivity and that he was her "new family." According to court records, Miller exposed his genitals to the victim and forced her to watch pornography and "fetish videos."
The victim was first reported missing from Galashiels in the Scottish Borders area after failing to return home following a play-date with friends.
Police said she was around a "20 minute walk from home" before she disappeared without a trace, prompting a massive multi-agency operation into locating her. Countless volunteers took to the streets in a bid to find the youngster.
Police Scotland announced that the girl had been found on February 7 in the village of Gattonside, and she was promptly returned to her family. Later that same day, law enforcement announced Miller's arrest in connection to the girl's disappearance. The girl had managed to locate a landline telephone while Miller slept and called the police.
Officers arrived on the scene quickly, where they found Miller wearing a bra with silicone breasts, women's underwear, and tights. CCTV footage later recovered by law enforcement showed Miller abducting the girl.
Presiding judge Lord Arthurson commented on Miller's "nauseating depravity" when delivering the sentence today.
"Dressed and presenting as a female, you offered the child a lift, drove past the area of her home, took her into your house and removed her phone. You assaulted her on arrival, carried her into the bedroom, removed her lower clothing and immediately commenced her ordeal of deplorable penetrative sexual offending. You made her wear tights, in keeping with your long standing perverted fetishistic interests," the judge said.
Lord Arthurson further emphasized that he believed Miller's feminine appearance was a ruse designed to earn the trust of his victim.
"One only has to ask oneself the simple question: would an 11 year old girl have willingly entered your car had you presented as a man? The answer is that obviously she would not. Your intentions were wicked and predatory, and clearly involved a substantial component of planning."
It was noted by Lord Arthurson that upon his arrest, Miller denied harming the girl and insisted that he had behaved in a "motherly way" towards her. He also claimed to have performed volunteer work as a Good Samaritan. Miller described the abduction of the child as a "game," according to a risk assessment report, and appeared to place responsibility for his sexual offending on the victim.
The Risk Management Authority also said Miller frequently discussed his desire to "limit the impact" of his predatory actions on the "wider trans community."
During the course of the investigation, it was revealed that Miller had ten previous convictions, but that he had "never before received a custodial or even a community‑based sentence." In addition to pleading guilty to the charges of abduction and sexual abuse of a minor, Miller also admitted to the possession of multiple indecent images of children, including media depicting the anal rape of a young child. He curated his sick collection over the course of 19 years.
Lord Arthurson sentenced Miller to 20 years in prison, with an extension period of eight years.

⬇️ Top Picks for You ⬇️
Biden Got Recurring $1,380 Payment from Hunter's Firm Starting in 2018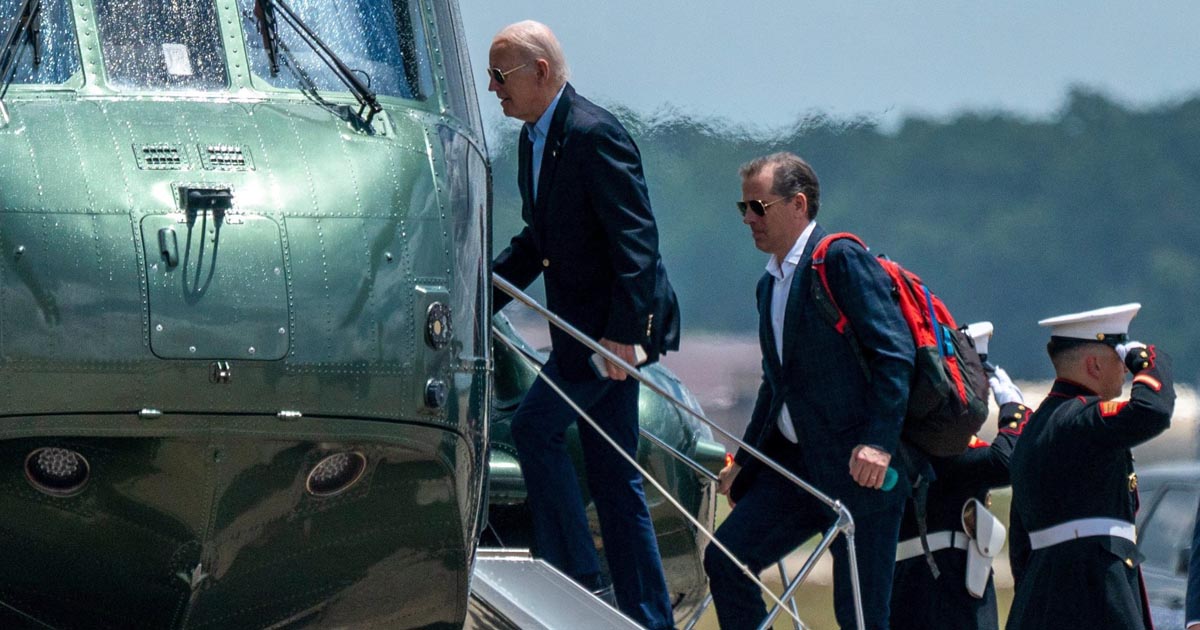 President Biden received a recurring payment of $1,380 from his son Hunter's law firm beginning in late 2018 shortly after a bank money laundering officer warned that the same account was receiving millions of dollars in Chinese government-linked funds without "any services rendered."
A bank order shows that Owasco PC set up a "monthly" transfer to then-former Vice President Joseph R. Biden Jr., with a voided check for the future president included in the documentation, which was released Monday by the House Oversight Committee.
A source told The Post that at least three recurring payments were made — on Sept. 17, Oct. 15 and Nov. 15, 2018 — totaling $4,140 to the elder Biden from Owasco PC, according to the bank records of the firm.
"President Biden and his family must be held accountable for this blatant corruption," Oversight Committee Chairman James Comer (R-Ky.) said in a video release.
"Today, the House Oversight Committee is releasing subpoenaed bank records that show Hunter Biden's business entity, Owasco PC, made direct monthly payments to Joe Biden. This wasn't a payment from Hunter Biden's personal account but an account for his corporation that received payments from China and other shady corners of the world," Comer said.
"At this moment, Hunter Biden is under an investigation by the Department of Justice for using Owasco PC for tax evasion and other serious crimes. And based on whistleblower testimony, we know the Justice Department made a concerted effort to prevent investigators from asking questions about Joe Biden. I wonder why?"
Earlier that year, a January 2019 email from assistant Katie Dodge to Hunter Biden annotated various expenses including "Ford Raptor — Reimbursement to JRB — $1380."
The provenance of the funds is unclear, however, and additional records show that Hunter Biden was knee-deep in two of his most controversial business relationships at the time, with Ukraine's Burisma Holdings and CEFC China Energy.
The evidence emerged as House Republicans prepare to question first brother James Biden on Wednesday and Hunter next week about the president's role in his family's dealings in countries such as China and Ukraine — with a possible floor vote to authorize the ongoing impeachment inquiry this month.
While a presidential candidate, Joe Biden denied that he ever discussed business with his relatives, but evidence has since shown that he met with his relatives' associates from both the Burisma and CEFC ventures.
Documents from the first son's abandoned laptop show that Burisma board adviser Vadym Pozharskyi sought "bank reference" information on Sept. 14, 2018 — one day before the initial transfer to Joe Biden was sought. However, the transaction was not executed for another two days, apparently due to a later-than-expected form submission.
Joe Biden met Pozharskyi at an April 17, 2015, dinner at DC's Café Milano. An unproven FBI informant tip said that Burisma owner Mykola Zlochevsky claimed in 2016 he was "coerced" into paying $10 million in bribes to the Bidens for their assistance in ousting prosecutor Viktor Shokin.
Hunter also was on the tail end of disbursing millions of dollars received from CEFC China Energy — one of two major Biden family dealings with Chinese government-linked firms.
On June 26, 2018 — less than three months before Joe Biden began to receive the monthly transfers — an internal Bank Secrecy Act expert warned colleagues that the institution should reconsider its relationship with Hunter as a result of Owasco PC seeming to receive Chinese funds without "any services rendered."
CEFC transferred $5 million to another Biden family-linked entity, Hudson West III, in August 2017 after Hunter warned a China-based associate of his father's wrath if a business deal was aborted. Much of the large transfer later went to Hunter's Owasco PC.
Prior bank records released by the Oversight Committee indicate that Joe Biden received payments of $40,000 and $200,000 from his brother James, who also was involved in the CEFC venture and other foreign-focused enterprises.
Comer alleged that the $40,000 transferred to Joe Biden's bank account on Sept 3, 2017, was from "laundered" Chinese funds.
James Biden paid Joe Biden $200,000 on March 1, 2018 — the same day that James received a $200,000 transfer from troubled rural hospital company Americore after pledging to use his political connections to secure a Middle Eastern investor, according to bankruptcy filings.
The White House says there's evidence that both transfers were loan repayments, but Republicans argue they have not seen loan agreement documents and note that the funds distributed to James came from a law firm, rather than Joe Biden himself, further clouding the picture.