It was a meeting a year in the making.
President Joe Biden and Chinese President Xi Jinping sat down together on Wednesday just outside of San Francisco, where Asian leaders gathered for an annual summit. It was almost exactly one year since their last encounter in Bali, Indonesia, on the sidelines of another global gathering.
In addition to a formal bilateral meeting, Biden and Xi shared a lunch with top advisers and strolled the verdant grounds of the luxury estate where their meeting took place.
Biden said afterwards that the meeting included "some of the most constructive and productive discussions we've had." He added that they will "keep the lines of communication open" and Xi is "willing to pick up the phone" — no small thing in the world of high-risk, high-stakes diplomacy between Washington and Beijing.
In another potential sign of warmer feelings, Xi signaled later in the night that China would send new pandas to the United States after the three at the Smithsonian National Zoo in Washington were returned earlier this month. In a speech, Xi said he wanted to "deepen the friendly ties between our two peoples." Xi also said he learned that Americans — particularly children — were "really reluctant" to say goodbye to the rare and popular animals.
Here's a look at how the rest of the day panned out.
NEW AGREEMENTS
Biden left the meeting with commitments on key issues.
Xi agreed to help curb the production of the illicit fentanyl that is a deadly component of drugs sold in the United States. A senior administration official, who spoke on the condition of anonymity to discuss a private meeting, said the shift will be a setback for Latin American drug dealers.
"It's going to save lives, and I appreciated President Xi's commitment on this issue," Biden said at a press conference after his meeting.
In addition, Biden and Xi reached an agreement to resume military-to-military communications. That means Defense Secretary Lloyd Austin will speak with his Chinese counterpart once someone is named to the job, the official said. Similar engagements will take place up and down the military chain of command.
The official said Biden was "very clear" to Xi that such communications between U.S. and China should be institutionalized and that they are "not done as a gift or as a favor to either side."
Biden said the U.S. and China would talk more about artificial intelligence as well.
"We're going to get our experts together and discuss risk and safety issues," he said.
The agreements helped fulfill the White House's goal for the meeting — prove to voters that Biden's dedication to personal diplomacy is paying off.
On Sunday, national security adviser Jake Sullivan told CNN that Biden wanted "practical ways" to show that meeting with Xi can help "defend American interests and also deliver progress on the priorities of the American people."
Zoe Liu, a fellow for China studies at the Council for Foreign Relations, described the meeting between Biden and Xi as a positive step, albeit an incremental one.
"These agreements will not change the structural challenges in the bilateral relations, but it paves the way for more detailed working-level discussions, which is more important," she said.
BIDEN PRESSES CHINA TO ACT LIKE A SUPERPOWER IN COOLING GLOBAL TENSIONS
Beijing has long sought to be treated as an equal by Washington, and Biden sought to leverage those ambitions with Xi to address two devastating wars.
In their private session, Biden appealed to Xi to use his influence to try to calm global tensions, particularly to try to pressure Iran not to widen the conflict between Israel and Hamas.
A U.S. official said Biden did most of the talking on the matter, and that Xi mostly listened, and that it was too soon to tell what sort of message China was sending to Tehran and how it was being received.
Biden has also pressed Xi to continue to withhold military support for Russia's invasion of Ukraine.
A 'CLEAR-HEADED' EXCHANGE AND A WARNING ON TAIWAN
Biden and Xi held a "clear-headed" and "not heated" discussion on Taiwan — the most sensitive topic in the relationship with the greatest potential to spiral into wider conflict. Biden said he reaffirmed the United States' "One China" policy and its belief that any resolution must be peaceful.
"I'm not going to change that," Biden said. "That's not going to change."
He reiterated, though, that the U.S. would continue to arm Taiwan as a deterrent against any attempt by China to use force to reunify the self-governing island with the mainland. The U.S. had maintained strategic ambiguity about whether it would directly intervene to protect Taiwan in the event of an invasion by Beijing.
Xi, a U.S. official said, told Biden he had no plans to invade the island, though Biden chided him for China's massive military build-up around Taiwan. Biden also called on China to avoid meddling in Taiwan's elections next year.
ECONOMIC CHALLENGES
Xi arrived in San Francisco at a time of economic challenges back in China, where an aging population and growing debt have hampered its recovering from the COVID-19 pandemic.
According to Beijing's description of the meeting, Xi pressed Biden to lift sanctions and change policies on export controls for sensitive equipment.
"Stifling China's technological progress is nothing but a move to contain China's high-quality development and deprive the Chinese people of their right to development," the readout said. "China's development and growth, driven by its own inherent logic, will not be stopped by external forces."
There's no indication that Biden will agree to take such steps. But even the meeting itself could calm jittery nerves back in China, where there have been signs foreign investment is tapering off.
Zhang Lei, a Chinese businessman whose company, Cheche Group, is listed on NASDAQ, said high-level meetings such as the one between Biden and Xi can help assure companies that have been hesitant to invest in China.
"Confrontations don't work," he said. "You don't make money with confrontations."

⬇️ Top Picks for You ⬇️
Biden Got Recurring $1,380 Payment from Hunter's Firm Starting in 2018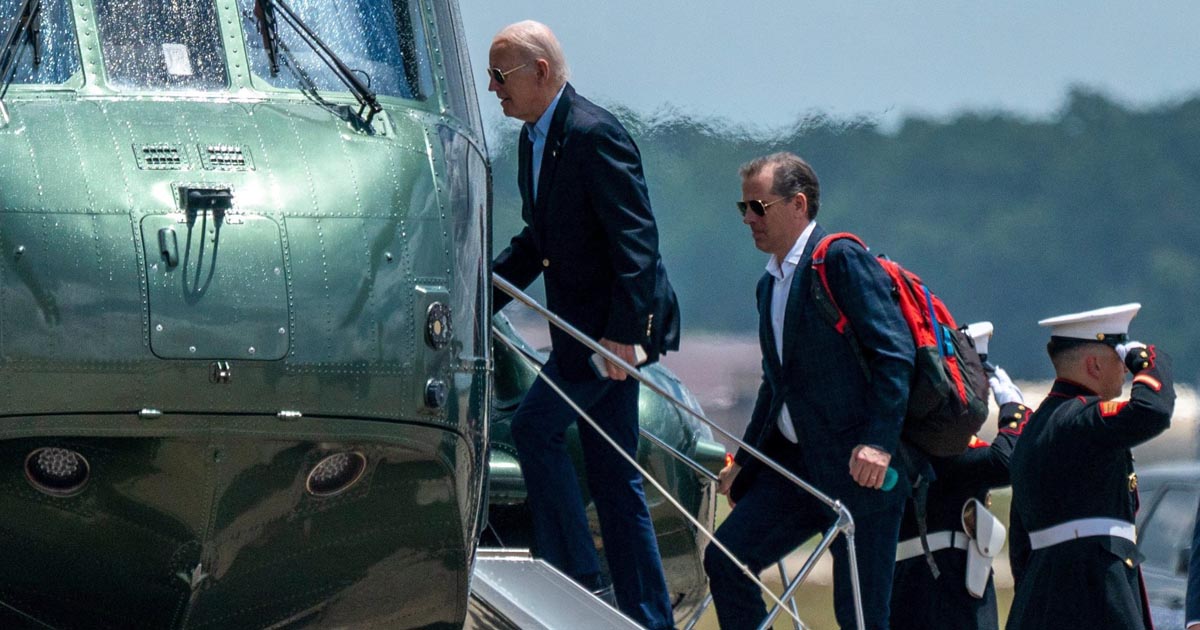 President Biden received a recurring payment of $1,380 from his son Hunter's law firm beginning in late 2018 shortly after a bank money laundering officer warned that the same account was receiving millions of dollars in Chinese government-linked funds without "any services rendered."
A bank order shows that Owasco PC set up a "monthly" transfer to then-former Vice President Joseph R. Biden Jr., with a voided check for the future president included in the documentation, which was released Monday by the House Oversight Committee.
A source told The Post that at least three recurring payments were made — on Sept. 17, Oct. 15 and Nov. 15, 2018 — totaling $4,140 to the elder Biden from Owasco PC, according to the bank records of the firm.
"President Biden and his family must be held accountable for this blatant corruption," Oversight Committee Chairman James Comer (R-Ky.) said in a video release.
"Today, the House Oversight Committee is releasing subpoenaed bank records that show Hunter Biden's business entity, Owasco PC, made direct monthly payments to Joe Biden. This wasn't a payment from Hunter Biden's personal account but an account for his corporation that received payments from China and other shady corners of the world," Comer said.
"At this moment, Hunter Biden is under an investigation by the Department of Justice for using Owasco PC for tax evasion and other serious crimes. And based on whistleblower testimony, we know the Justice Department made a concerted effort to prevent investigators from asking questions about Joe Biden. I wonder why?"
Earlier that year, a January 2019 email from assistant Katie Dodge to Hunter Biden annotated various expenses including "Ford Raptor — Reimbursement to JRB — $1380."
The provenance of the funds is unclear, however, and additional records show that Hunter Biden was knee-deep in two of his most controversial business relationships at the time, with Ukraine's Burisma Holdings and CEFC China Energy.
The evidence emerged as House Republicans prepare to question first brother James Biden on Wednesday and Hunter next week about the president's role in his family's dealings in countries such as China and Ukraine — with a possible floor vote to authorize the ongoing impeachment inquiry this month.
While a presidential candidate, Joe Biden denied that he ever discussed business with his relatives, but evidence has since shown that he met with his relatives' associates from both the Burisma and CEFC ventures.
Documents from the first son's abandoned laptop show that Burisma board adviser Vadym Pozharskyi sought "bank reference" information on Sept. 14, 2018 — one day before the initial transfer to Joe Biden was sought. However, the transaction was not executed for another two days, apparently due to a later-than-expected form submission.
Joe Biden met Pozharskyi at an April 17, 2015, dinner at DC's Café Milano. An unproven FBI informant tip said that Burisma owner Mykola Zlochevsky claimed in 2016 he was "coerced" into paying $10 million in bribes to the Bidens for their assistance in ousting prosecutor Viktor Shokin.
Hunter also was on the tail end of disbursing millions of dollars received from CEFC China Energy — one of two major Biden family dealings with Chinese government-linked firms.
On June 26, 2018 — less than three months before Joe Biden began to receive the monthly transfers — an internal Bank Secrecy Act expert warned colleagues that the institution should reconsider its relationship with Hunter as a result of Owasco PC seeming to receive Chinese funds without "any services rendered."
CEFC transferred $5 million to another Biden family-linked entity, Hudson West III, in August 2017 after Hunter warned a China-based associate of his father's wrath if a business deal was aborted. Much of the large transfer later went to Hunter's Owasco PC.
Prior bank records released by the Oversight Committee indicate that Joe Biden received payments of $40,000 and $200,000 from his brother James, who also was involved in the CEFC venture and other foreign-focused enterprises.
Comer alleged that the $40,000 transferred to Joe Biden's bank account on Sept 3, 2017, was from "laundered" Chinese funds.
James Biden paid Joe Biden $200,000 on March 1, 2018 — the same day that James received a $200,000 transfer from troubled rural hospital company Americore after pledging to use his political connections to secure a Middle Eastern investor, according to bankruptcy filings.
The White House says there's evidence that both transfers were loan repayments, but Republicans argue they have not seen loan agreement documents and note that the funds distributed to James came from a law firm, rather than Joe Biden himself, further clouding the picture.