Paul Pelosi recounted publicly for the first time Monday what happened the night he was attacked by a man in the San Francisco home he shares with former U.S. House Speaker Nancy Pelosi, recalling how shocking it was to see a man standing at his bedroom door, then how the man whacked him in the head with a hammer.
"It was a tremendous sense of shock to recognize that somebody had broken into the house and looking at him and looking at the hammer and the ties, I recognized that I was in serious danger, so I tried to stay as calm as possible," Pelosi told jurors as he testified in the trial of David DePape, who is shown on video carrying out the attack.
Prosecutors say DePape bludgeoned Pelosi in the early hours of Oct. 28, 2022, just days before the midterm elections, and that he had rope and zip ties with him. DePape has pleaded not guilty to attempted kidnapping of a federal official and assault on the immediate family member of a federal official with intent to retaliate against the official for performance of their duties.
Defense attorney Jodi Linker told jurors last week that she won't dispute that DePape attacked Pelosi. Instead, she will argue that DePape believed "with every ounce of his being" that he was taking action to stop government corruption, the erosion of freedom in the United States, and the abuse of children by politicians and actors. She said that means the government's charges that DePape was trying to retaliate or interfere with Nancy Pelosi's official duties don't fit.
Paul Pelosi's testimony came on the trial's second day, after prosecutors brought forward FBI agents who collected the electronics DePape was carrying and searched the room he lives in, a U.S. Capitol police officer who watches the surveillance cameras at the Pelosis' home and another who has protected Nancy Pelosi since 2006, a Bay Area Rapid Transit police sergeant, and a digital forensics expert.
Pelosi said he has not discussed the attack with anyone and has encouraged his family not to as well "because it has been too traumatic."
The Pelosis' home has an alarm system with motion detectors, but Pelosi said he never put it on when he was home alone because his movements would trigger it.
He recalled being awakened by a man bursting into the bedroom door asking, "Where's Nancy?" He said that when he responded that his wife was in Washington, DePape said he would tie him up while they waited for her.
"We had some conversation with him saying she was the leader of the pack, he had to take her out, and that he was going to wait for her," Paul Pelosi said.
Earlier, prosecutors played police body camera footage showing Pelosi facedown on the floor as paramedics help him. One holds a white towel against Pelosi's head as another puts a neck and head brace on him before several first responders help him onto a stretcher chair. Pelosi's face and hands are covered in blood.
He later underwent surgery to repair a skull fracture and injuries to his right arm and hands.
Some witnesses helped verify time stamps on footage from surveillance cameras at the Pelosis' home, which are set to Eastern Time, and on BART trains, which were an hour behind Pacific Time.
FBI Special Agent Stephanie Minor, who was in charge of the investigation, testified that video showed DePape hit Paul Pelosi at least three times.
DePape showed little emotion during most of the testimony, only smiling and releasing a muted chuckle when, at his attorney's request, Minor read a list of topics that appeared on his blog. They included Communism, corruption, COVID-19, Jewish people, "Gamergate," guns, immigrants, memes and wamon, a word used to describe a woman who does nothing but complain.
Minor testified DePape started gathering items for the attack two months beforehand, in August 2022, purchasing body cameras, USB memory sticks, a large backpack and a sleeping bag. She also said FBI agents found two inflatable unicorn costumes and a box of crayons but didn't explain the purpose of those items.
Federal prosecutors have said the evidence and FBI testimony will show DePape researched his targets online, collecting phone numbers and addresses, even paying for a public records service to find information.
If convicted, DePape faces life in prison. He also has pleaded not guilty to charges in state court of attempted murder, assault with a deadly weapon, elder abuse, residential burglary and other felonies. A state trial has not been scheduled.
Pelosi's testimony mirrored the series of events that prosecutors previously laid out.
He recounted how DePape had let him enter the bathroom, where Pelosi was able to grab his cellphone and use it to call 911 as DePape looked on, urging Pelosi to tell police that he was a friend. Pelosi said he tried to tell police what was happening without aggravating DePape.
Pelosi said he then suggested the two head downstairs after DePape told him he was tired and wanted to sleep. Pelosi recalled being thankful when the police arrived, only for DePape to then hit him with the hammer. He said he woke up in a pool of his own blood.
After his arrest, DePape, 43, allegedly told a San Francisco detective that he wanted to hold Nancy Pelosi hostage. He said if she told him the truth, he would let her go and if she lied, he was going to "break her kneecaps" to show other members of Congress there were "consequences to actions," according to prosecutors.
DePape slept in a cot in a garage with no kitchen or bathroom in the Bay Area city of Richmond, according to photographs shown by prosecutors. He had been doing odd carpentry jobs to support himself and allegedly told authorities he had other targets, including a women's and queer studies professor, California Gov. Gavin Newsom, actor Tom Hanks and President Joe Biden's son Hunter.

⬇️ Top Picks for You ⬇️
"Allahu Akbar": Paris Attack Near Eiffel Tower Leaves One Dead and Two Injured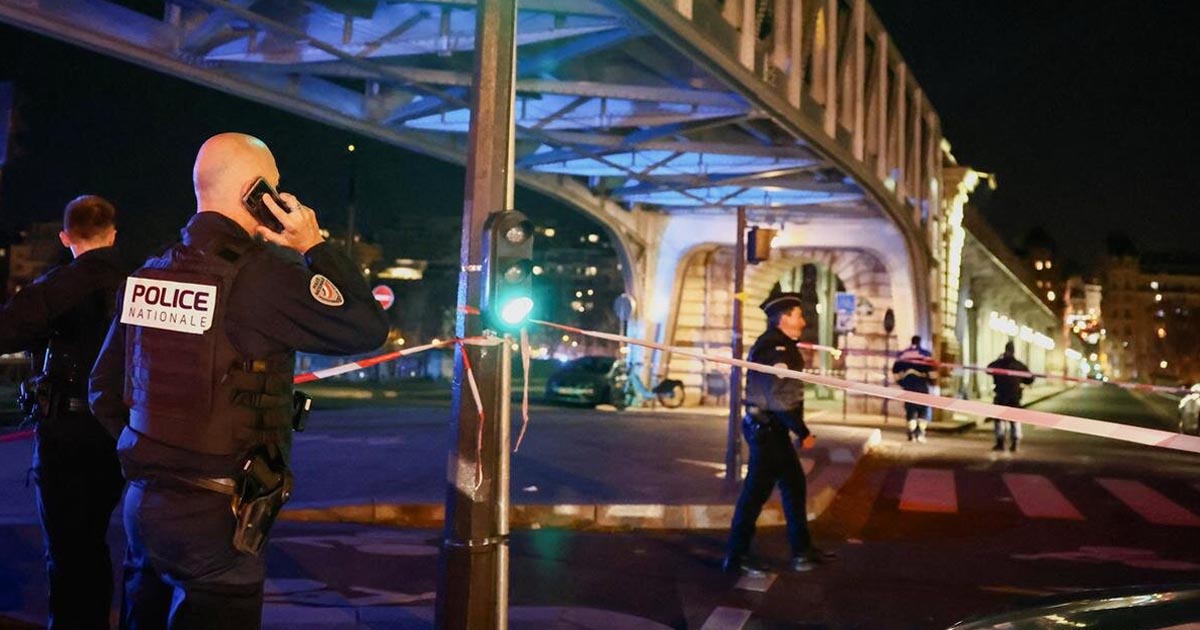 A tourist has been stabbed to death while a British man is reportedly among two others badly injured after a knifeman screaming 'Allahu Akbar' launched a frenzied attack in central Paris last night.
Witnesses reported hearing people screaming for 'help' as they ran away from the hammer and knife-wielding man.
One victim, a tourist with dual German and Filipino nationality, was slashed in the back and shoulder by the attacker last night. The man, who had not been named, was found in cardiorespiratory arrest before he passed away.
The second victim of the attack was British, and was out walking with his wife when Armand R. attacked him from behind.
'The family were on the Avenue President Kennedy when they were set upon,' said an investigating source, who added: 'A hammer was used to hit the man over the head.'
The Englishman was rushed to hospital, where his condition was later described as 'stable'. A third victim was also badly hurt in a hammer attack, said the source.
Sources said the arrested man was 'immobilised with an electric stun gun' as he ran up the Avenue du Parc de Passy – as French prime minister Elisabeth Borne vowed: 'We will not give in to terrorism. Never.'
The bloodbath happened on the Grenelle quay, close to the Eiffel Tower in the 15th arrondissement of the French capital.
Joseph S., 37 years old, a supermarket manager who asked not to give his last name, was sat in a bar when he heard screams and people shouting 'help, help' as they ran.
A man wielding an object attacked a man who had fallen down, and within 10 minutes the police arrived, he told AFP.
The Paris prosecutor's office said the attacker is French and was born in 1997, and has been arrested in an investigation into murder and attempted murder. The anti-terrorism prosecutor's office has been put in charge of an investigation.
The suspect had already been sentenced to four years in prison in 2016 for planning another attack, French Interior Minister Gerald Darmanin revealed.
'A man attacked a couple who were foreign tourists. A German tourist who was born in the Philippines died from the stabbing,' he said.
A taxi driver who witnessed the scene intervened, Darmanin said. The attacker then crossed the Seine attacking others and injuring one with a hammer, while police chased in pursuit.
'He had threatened them very violently… he will now have to answer for his actions before justice,' Darmanin said.
The attacker was reportedly known to police for 'radical Islamism'. He was on an 'S-File' which means he should have been under surveillance, after telling people that he wanted to die as a martyr.
A police source said that the attacker was known for psychiatric disorders and had said he could not stand Muslims being killed in the world. It's understood he was upset about the situation in Gaza between Israel and Hamas.
In 2016, he was arrested by the French national security agency before carrying out an attack.
Interior Minister Gerald Darmanin confirmed last night that one person died and another was injured. The minister wrote on X: 'The police have just courageously arrested an assailant attacking passersby in Paris, around the Quai de Grenelle.
'One deceased person and one injured person treated by the Paris fire brigade. Please avoid the area.'
French President Emmanuel Macron on Saturday said he was sending his condolences to the family of a German killed in a 'terror attack' in Paris.
The suspected attacker was 'quickly' arrested and justice should now be done 'in the name of the French people', he wrote on X.
Transport Minister Clement Beaune said that Paris was 'in mourning'. He wrote on X: 'Thoughts and solidarity with the families and loved ones of the victims. Thank you to our security and emergency forces for their rapid and decisive intervention.'
The attacker was arrested soon afterwards, and is currently in custody and facing a possible murder charge.
Officers said there was no early indication as to the motive of the stabbing, but it follows a series of bomb, gun and knife attacks carried out by Islamic State and al-Qaeda operatives in France, dating back to early 2015 – many of whom have shouted 'Allahu Akbar' while carrying out their crimes.
The deadliest single terrorist attack ever in the country came in November 2015 when 130 people were killed in Paris.
Suicide bombers pledging allegiance to ISIS targeted the Stade de France, cafes, restaurants and the Bataclan music venue, where 90 died.
Earlier in the year, two Paris-born gunmen linked to Al-Qaeda broke into the offices of the Charlie Hebdo satirical magazine, leaving 17 people dead inside and three outside.
In July 2016, 86 people were called and more than 400 injured when a 19 tonne truck was deliberately driven into crowds on the seafront promenade at Nice, which is just 20 miles from Cannes.
The terrorist turned out to be a Tunisian immigrant who was shot dead by police.
During the same month, two Isis terrorists murdered an 86-year-old Catholic priest during a church service in Normandy.
And in October 2020, three people were stabbed to death by a Tunisian immigrant in the Notre Dame basilica in Nice.
There have also been frequent knife attacks on the forces of law and order, leading to the deaths of serving police.
Saturday night's incident in central Paris occurred less than eight months before the French capital hosts the Olympic Games and could raise questions about security at the global sporting event.
Paris plans an unprecedented opening ceremony on the Seine river that may draw as many as 600,000 spectators.