Legal experts reacted Thursday to the news of former President Donald Trump's indictment, calling it a "legal disaster" and "deeply flawed."
A Manhattan grand jury voted to indict the former president on Thursday after Manhattan District Attorney Alvin Bragg's investigation into his alleged payment of hush money to former porn star Stormy Daniels. The indictment is "patently political prosecution," according to Jonathan Turley, Shapiro Chair of Public Interest Law at George Washington University.
"[Bragg] has made history, but it is an inglorious moment where even some on the left have criticized the effort," Turley wrote on Twitter. "This is a patently political prosecution. Bragg and NY AG James ran on bagging Trump. This has fulfilled that pledge but, if the indictment follows the course described in coverage, it is deeply flawed theory. We will have to wait to see the indictment."
Clark Neily, senior vice president for Legal Studies at the Cato Institute, told the Daily Caller News Foundation that it is "difficult to imagine a more shocking affront to the Constitution's plan for limited government and the rule of law" than the indictment, which may "end up being an indictment of America's criminal justice system as well."
"The Founders were acutely aware of the many ways in which criminal law can be abused by those in positions of power—from being wielded as tool of political payback and oppression, as many see the various criminal investigations against Trump, to our wildly over criminalized society in which most adults have committed crimes for which they could in theory be prosecuted," he said. "Unlike Donald Trump, however, most Americans lack the resource to vigorously defend themselves in court and thus end up being induced — and in some cases nakedly coerced — by prosecutors into waving their right to trial and pleading guilt instead, as more than 90 percent of criminal defendants in our system do today."
"[I]f America's criminal justice system goes on trial along with Donald Trump, then perhaps there may be a silver lining to what many see as an inherently politicized prosecution by the Manhattan DA," he said.
Legal scholar and Harvard Professor Emeritus Alan Dershowitz called the decision "foolish" on Newsmax.
"They've made a foolish, foolish decision which will cause the case to be thrown out, I think, on statute of limitations grounds," he said. Dershowitz added that Trump's lawyers should make a motion to dismiss on statute of limitations grounds and on the grounds that the "alleged crime doesn't fit."
Former Senior Legal Adviser to President Trump Jenna Ellis said that the prosecution is only "incentivizing donors and the MAGA base to rally support against Trump because no one deserves to be politically prosecuted."
"The case against Donald Trump is a legal disaster and weaponizing the justice system against a political opponent," Ellis wrote on Twitter. "The only reason DA Alvin Bragg is bringing charges is because Trump is running for the GOP 2024 presidential nomination."
https://twitter.com/JennaEllisEsq/status/1641558611410206722?ref_src=twsrc%5Etfw%7Ctwcamp%5Etweetembed%7Ctwterm%5E1641558611410206722%7Ctwgr%5E4f518168d8d2638d7bf61e63a785bc974a329682%7Ctwcon%5Es1_c10&ref_url=https%3A%2F%2Fdailycaller.com%2F2023%2F03%2F30%2Fpolitical-prosecution-legal-experts-rail-against-trump-indictment%2F
A handful of state attorneys general have also reacted to the indictment.
"The radical left has consistently weaponized our courts to silence conservative voices," tweeted Texas Attorney General Ken Paxton. "The actions by the Soros-backed Democrat DA in NYC is the latest example of this abuse of power. I stand with President Trump!"
Missouri Attorney General Andrew Bailey also noted that the Manhattan DA is "Soros-funded" and said he should be "protecting the people of NYC from violent crime" instead of bringing "specious charges against our former President."
Florida Attorney General Ashley Moody said she is "heartbroken by the damage this targeted prosecution will do to the integrity of our justice system."
"It is a sad day in the story of the United States," Moody said.
Idaho Attorney General Raúl R. Labrador called it a "sad day for the country" that will only "serve to further erode the trust our citizens have in our nation's justice system."
"It's a political witch hunt and a political prosecution," West Virginia attorney general Patrick Morrisey said. "The only reason they're doing this is because they're scared. They know that they can't beat him at the ballot box. That's why they're resorting to these terrible tactics. I stand with president Trump."
The Democratic AGs account tweeted that, "No one is above the law, not even former presidents."

⬇️ Top Picks for You ⬇️
Senate Democrats Authorize Supreme Court Ethics Subpoenas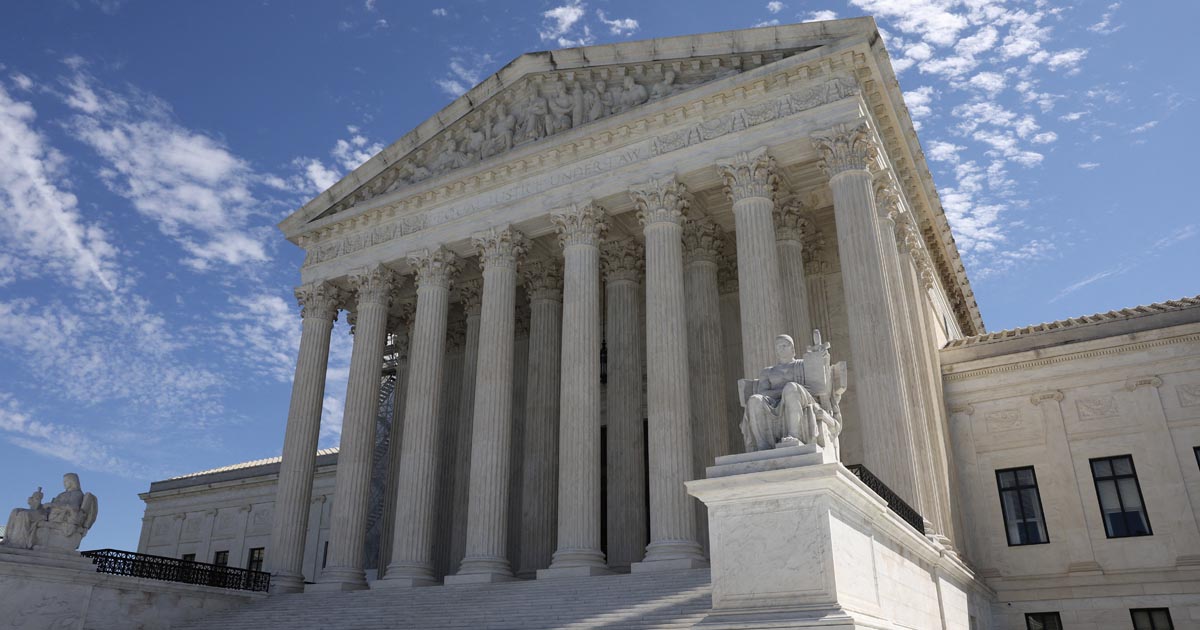 A Democratic-led U.S. Senate panel on Thursday authorized subpoenas to two influential conservatives – Harlan Crow and Leonard Leo – as part of an ethics inquiry spurred by reports of undisclosed largesse directed to some conservative Supreme Court justices.
The Judiciary Committee voted to authorize the subpoenas for Crow, a billionaire Republican donor and benefactor of conservative Justice Clarence Thomas, and Leo, a legal activist who was instrumental in compiling Republican former President Donald Trump's list of potential Supreme Court nominees.
Republican senators walked out of the contentious committee meeting in protest while Democrats cast votes. Some Republicans later questioned the vote's legitimacy, accusing Democrats of violating procedural rules.
"The subpoena clearly wasn't legal," Republican Senator John Kennedy, a committee member, said after the vote.
Senator Dick Durbin, the panel's chairman, said subpoenas were necessary due to the refusal by Crow and Leo for months to voluntarily comply with its previous requests for information. This included itemized lists of all gifts, transportation and lodging provided to any Supreme Court justice.
Durbin also renewed his criticism of a new code of conduct announced by the court on Nov. 13 and promised to continue to pursue the committee's ethics investigation.
"Without an enforcement mechanism, this code of conduct, while a step in a positive direction, cannot restore the public's faith in the court," Durbin said.
Senator Lindsey Graham, the committee's top Republican, told the meeting that Democrats were engaged in a "jihad" against the Supreme Court, whose 6-3 conservative majority has handed major defeats to liberals in recent years on matters including abortion, gun rights and student debt relief.
"When you say you don't want to destroy the Roberts Court, I don't believe you," Graham said, referring to the court under the leadership of conservative Chief Justice John Roberts. "I don't believe a word you're saying."
The committee vote authorized Durbin to issue the subpoenas, which he could do unilaterally, according to a Democratic committee staffer.
If the subpoena recipients fail to comply, Democrats would need 60 votes in the 100-seat Senate to initiate a civil enforcement action, meaning they would need the support of some Republicans. The Democrats also would have the option to make a referral to the U.S. Justice Department, which could choose to pursue criminal contempt proceedings against the subpoena recipients.
Lawyers for Leo and Crow in letters to the committee have criticized the committee's information requests as lacking a proper legal justification. Crow's lawyer had proposed turning over a narrower range of information but Democrats rebuffed that offer, according to the panel's Democratic members.
The news outlet ProPublica reported this year on Thomas's failure to disclose luxury trips and real estate transactions involving Crow, a Texas businessman.
The outlet also reported that Leo helped organize a luxury fishing trip in Alaska attended by conservative Justice Samuel Alito, who failed to disclose taking a private jet provided by billionaire hedge fund manager Paul Singer. Trump chose all three of his appointees to the court from lists of candidates that Leo played a key role in drawing up.
Thomas has said he believed the Crow-funded trips were "personal hospitality" and thus exempt from disclosure requirements, and that his omission of the real estate transaction was inadvertent.
Alito, regarding the flight, said that Singer had "allowed me to occupy what would have otherwise been an unoccupied seat."