Protestors clashed with police outside of the Democratic National headquarters as pro-Palestine groups flooded the front facility and violence erupted.
Officers have already made arrests after 150 activists surged towards the Washington, DC, building on Wednesday night.
The incident left six police officers injured from cuts, pepper spray and being punched.
Protesters assembled to call for a ceasefire in the Israel-Gaza conflict, but the gathering quickly turned into chaos. Shocking footage from the scene shows police attempting to drag protesters away from the entrance to the DNC building as they chant 'let Gaza live.'
One woman can be seen repeatedly screaming: 'F*** you b****' at an officer who is trying to order her back as protesters surge towards the building.
The Capitol Police urged the public to avoid the area amid the 'violent and illegal' protests.
A statement said: 'Right now our officers are working to keep back approximately 150 people who are illegally and violently protesting in the area of Canal Street and Ivy Street, SE.
'Officers are making arrests. All Members have been evacuated from the area. Please stay away from the area.'
Top House Democrats were among those evacuated. According to a person familiar with the matter, the Democratic leaders — House Minority Leader Hakeem Jeffries, House Minority Whip Katherine Clark and Pete Aguilar, the No. 3 Democrat — were inside as the clash between protesters and police erupted.
Around 10:30pm, authorities said they had the situation under control, but not before several police were injured. Officers remained at the headquarters.
'Tonight 6 officers were treated for injuries – ranging from minor cuts to being pepper sprayed to being punched. One person has been arrested for assault on an officer,' the Capitol police stated.
Video taken at around 8.30pm shows protesters clashing with police who struggle to hold them back.
In the background of one video, a demonstrator dressed in black can be seen being led away with their hands held behind their back.
Another dramatic clip shows a screaming protester being dragged away from the scene.
In the video, an attendee of the protest claims that police have been 'shoving' people down the stairs amid the clashes.
'We're outside the Democratic Party headquarters because this party claims to be on the side of life and peace and equality and we're saying we want them to live up to their values and call for a ceasefire in this horrific war,' she says.
#BREAKING: #LIVE: Pro-Palestine protests outside the DNC Headquarters in Washington, D.C., leading to clashes and arrests. #ProPalestineProtests #DNCHQ #Clashes #Arrests #WashingtonDC #Police #IMUDNews

Read More 👇https://t.co/Wpt2XSx8El pic.twitter.com/bkYolYxQyA

— uz-AIR iqbal 🛡️ (@TheUzairIqbal) November 16, 2023
'We are being responded to by police shoving anti-war activists down the stairs, shoving peaceful protests back with their bikes.'
By 8.40pm several roads had been closed as cops worked to subdue the crowds occupying the area outside the headquarters on South Capitol Street.
Rep. Brad Sherman, a California Democrat, said he was among those to be evacuated after protesters 'grew violent, pepper spraying police officers and attempting to break into the building'.
'Thankful to the police officers who stopped them and for helping me and my colleagues get out safely,' he added in a statement on X, formerly Twitter.
The demonstration began as a candlelit vigil held by Jewish Voice for Peace and If Not Now.
Attendees planned to lay out 11,000 candles to represent the death toll in Gaza as per the nation's health ministry since the conflict began.
But the event soon spiraled out of control and police were forced to try and erect a perimeter around the protest with bikes.
Responding to the scenes, Jewish Voice for Peace said: 'Within moments tonight in Washington DC, police violently assaulted peaceful anti-war protestors calling for a ceasefire.
'This is the response from the US government to those of us calling for the protection and preciousness of Palestinian lives. We won't back down!'
Republican Florida Senator Marco Rubio shared an alert sent to U.S. representatives just after 9pm which stated that all U.S. House buildings had been locked down due to 'significant demonstration activity'.
The confrontation comes just a day after 200,000 Israel supporters marched on the National Mall in a show of solidarity with the country.
The rally called for a return of all the hostages taken by Hamas in the October 7 terror attacks which killed 1,200.
It was also designed to be a show of support for the country amid mounting criticism of the massive civilian casualties wrought by its retaliatory strikes on Gaza.
Officials in the nation estimate more than 11,000 people have been already killed by the bombardment campaign.
The far-right is already racing to spread misinformation.

We showed up with @IfNotNowOrg & @DemSocialists to lay out 11,000 candles representing Palestinians killed by Israeli airstrikes & siege and to call for a #CeasefireNOW.

The police assaulted peaceful anti-war protestors. https://t.co/qqng7e3upo pic.twitter.com/rOWxlWBU6f

— Jewish Voice for Peace Action (@JvpAction) November 16, 2023

⬇️ Top Picks for You ⬇️
Biden Got Recurring $1,380 Payment from Hunter's Firm Starting in 2018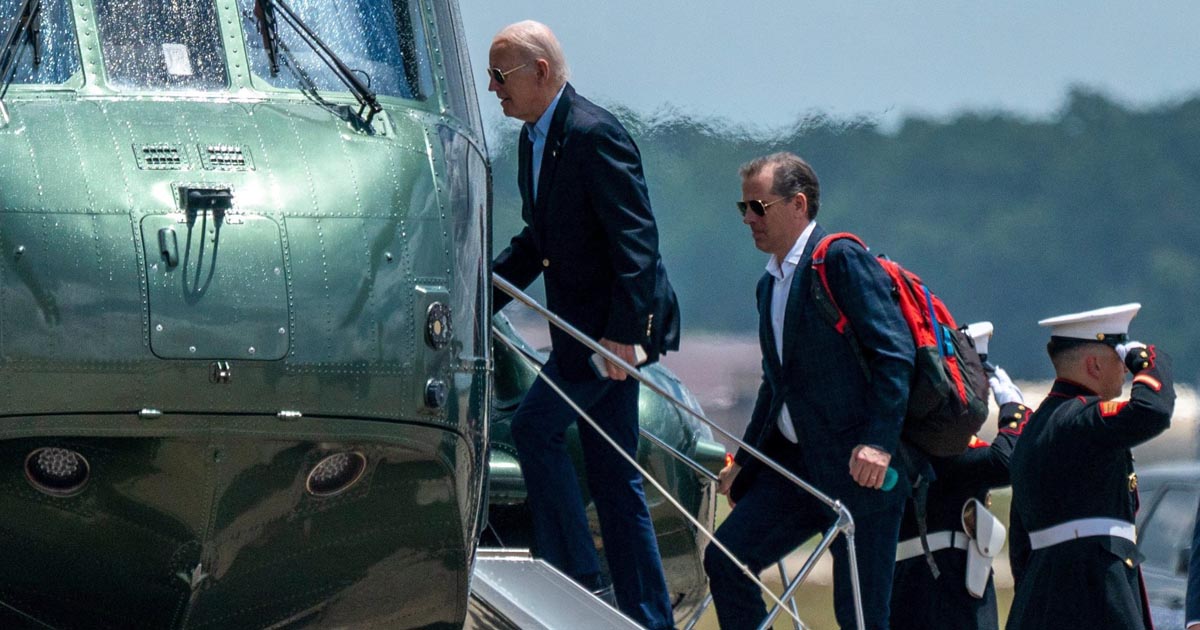 President Biden received a recurring payment of $1,380 from his son Hunter's law firm beginning in late 2018 shortly after a bank money laundering officer warned that the same account was receiving millions of dollars in Chinese government-linked funds without "any services rendered."
A bank order shows that Owasco PC set up a "monthly" transfer to then-former Vice President Joseph R. Biden Jr., with a voided check for the future president included in the documentation, which was released Monday by the House Oversight Committee.
A source told The Post that at least three recurring payments were made — on Sept. 17, Oct. 15 and Nov. 15, 2018 — totaling $4,140 to the elder Biden from Owasco PC, according to the bank records of the firm.
"President Biden and his family must be held accountable for this blatant corruption," Oversight Committee Chairman James Comer (R-Ky.) said in a video release.
"Today, the House Oversight Committee is releasing subpoenaed bank records that show Hunter Biden's business entity, Owasco PC, made direct monthly payments to Joe Biden. This wasn't a payment from Hunter Biden's personal account but an account for his corporation that received payments from China and other shady corners of the world," Comer said.
"At this moment, Hunter Biden is under an investigation by the Department of Justice for using Owasco PC for tax evasion and other serious crimes. And based on whistleblower testimony, we know the Justice Department made a concerted effort to prevent investigators from asking questions about Joe Biden. I wonder why?"
Earlier that year, a January 2019 email from assistant Katie Dodge to Hunter Biden annotated various expenses including "Ford Raptor — Reimbursement to JRB — $1380."
The provenance of the funds is unclear, however, and additional records show that Hunter Biden was knee-deep in two of his most controversial business relationships at the time, with Ukraine's Burisma Holdings and CEFC China Energy.
The evidence emerged as House Republicans prepare to question first brother James Biden on Wednesday and Hunter next week about the president's role in his family's dealings in countries such as China and Ukraine — with a possible floor vote to authorize the ongoing impeachment inquiry this month.
While a presidential candidate, Joe Biden denied that he ever discussed business with his relatives, but evidence has since shown that he met with his relatives' associates from both the Burisma and CEFC ventures.
Documents from the first son's abandoned laptop show that Burisma board adviser Vadym Pozharskyi sought "bank reference" information on Sept. 14, 2018 — one day before the initial transfer to Joe Biden was sought. However, the transaction was not executed for another two days, apparently due to a later-than-expected form submission.
Joe Biden met Pozharskyi at an April 17, 2015, dinner at DC's Café Milano. An unproven FBI informant tip said that Burisma owner Mykola Zlochevsky claimed in 2016 he was "coerced" into paying $10 million in bribes to the Bidens for their assistance in ousting prosecutor Viktor Shokin.
Hunter also was on the tail end of disbursing millions of dollars received from CEFC China Energy — one of two major Biden family dealings with Chinese government-linked firms.
On June 26, 2018 — less than three months before Joe Biden began to receive the monthly transfers — an internal Bank Secrecy Act expert warned colleagues that the institution should reconsider its relationship with Hunter as a result of Owasco PC seeming to receive Chinese funds without "any services rendered."
CEFC transferred $5 million to another Biden family-linked entity, Hudson West III, in August 2017 after Hunter warned a China-based associate of his father's wrath if a business deal was aborted. Much of the large transfer later went to Hunter's Owasco PC.
Prior bank records released by the Oversight Committee indicate that Joe Biden received payments of $40,000 and $200,000 from his brother James, who also was involved in the CEFC venture and other foreign-focused enterprises.
Comer alleged that the $40,000 transferred to Joe Biden's bank account on Sept 3, 2017, was from "laundered" Chinese funds.
James Biden paid Joe Biden $200,000 on March 1, 2018 — the same day that James received a $200,000 transfer from troubled rural hospital company Americore after pledging to use his political connections to secure a Middle Eastern investor, according to bankruptcy filings.
The White House says there's evidence that both transfers were loan repayments, but Republicans argue they have not seen loan agreement documents and note that the funds distributed to James came from a law firm, rather than Joe Biden himself, further clouding the picture.