On Monday evening, Project Veritas released a statement responding to founder James O'Keefe's resignation.
The board of directors claimed O'Keefe spent an excessive amount of money on unnecessary expenses.
It is worth noting that the following expenses were all mentioned and refuted by O'Keefe in his resignation speech.
READ THE STATEMENT BELOW:
Today, James O'Keefe decided to remove his belongings from Project Veritas headquarters. The Board and Management made numerous attempts in the last 14 days to have a conversation with James, but he ignored our outreach and decided to instead leak private information to others, either by doing so himself or by proxy.
As today is President's Day, our office was closed. We had a Board meeting scheduled for tomorrow where James was invited, and there was also a Board meeting on Friday, February 10, where James was invited (but did not attend) to discuss the financial malfeasance that was discovered, which requires us to act in order to remain in compliance with the law.
There were two subjects that the Board wished to come to terms with James on: the company's long-term sustainability based on staff retention and morale, and the company's financial health — which has been a serious concern for several months now.
Although PV Leadership has not concluded looking into the full scale of financial issues over the years, a preliminary review at this time indicates that James has spent an excessive amount of donor funds in the last three years on personal luxuries. More is still being uncovered during the ongoing review at this time. Contrary to many reports from today, James was suspended indefinitely pending the resolution of a fulsome investigation and clarity which will need to be provided by a third party investigative audit report.
Here are a few examples of what has been uncovered so far by PV Leadership (this is far from an exhaustive list, it is merely a small representative sample):
-$14,000 on a charter flight to meet someone to fix his boat under the guise of meeting with a donor
-$60,000 in losses by putting together dance events such as Project Veritas Experience
-Over $150,000 in Black Cars in the last 18 months
-Thousands of dollars spent on DJ and other equipment for personal use
-Hundreds of other acts of personal inurement
The Board wants to work things out with James, and has tried every route possible to remedy the issues at hand and begin to take the legally required corrective actions.
James also left us no choice but to suspend him in the last few weeks when he unilaterally fired the CFO, who can only be fired with Board approval. That is a violation of our non-profit's bylaws. James went as far as to say that a Board member had approved this firing to others, but it was later discovered that it was not the case. That member did not approve the firing. The Board approved James' suspension so it would have time to properly investigate these internal infractions.
The Board has a legal obligation to comply with state and federal law, and these matters are serious ones that cannot be ignored.
James claims that the Board did not allow him to send an apology letter to the staff, which is not true. The Board never told James he was not to speak with staff members, nor that he could not apologize to them.
But, more than anything, the Board cares about the donors of this organization, who decide to donate their hard-earned money to us because they believe in the mission. We could not allow for our donors to send us money and have it be misappropriated in such a way. We love our supporters, and we would never sit idly by as money is being used for matters that are not mission related.
Even with all of this public fallout, the Board still wants to speak with James. We did not fire him, nor do we want him to resign. We would like to continue conversations with James to resolve internal matters rather than litigate them publicly.
Project Veritas will continue to be transparent with the public as more information can be released over time. The fight for truth will never stop.

⬇️ Top Picks for You ⬇️
Trump Suggests Manhattan DA Bragg 'Dropped' Case Against Him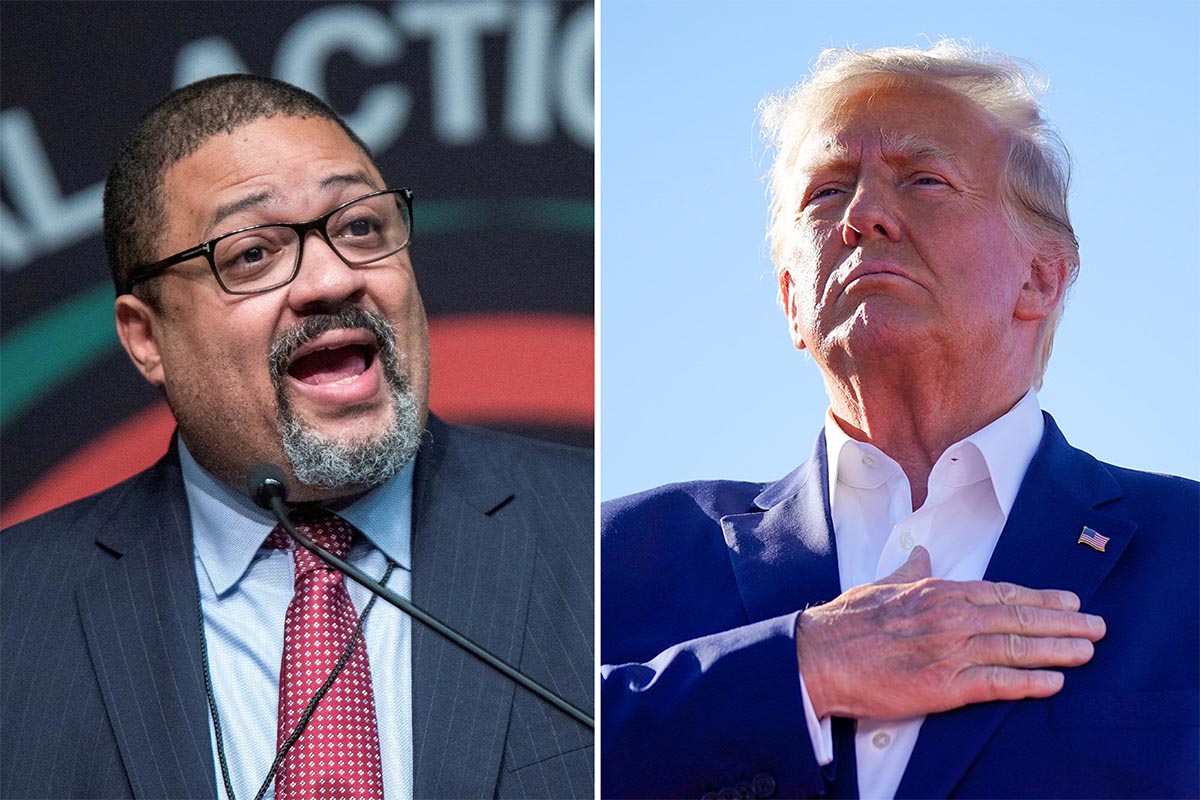 Former President Donald Trump is now suggesting Manhattan District Attorney Alvin Bragg may have dropped his case against him, about a week after he claimed he would be arrested.
After a rally in Waco, Texas, on Saturday, Trump told reporters on his plane, "I think they've already dropped the case … they have absolutely nothing." Trump did not provide evidence for his assertion Saturday.
"It's a fake case. Some fake cases, they have absolutely nothing," the former president said. Trump also reiterated his criticism of Michael Cohen, a former Trump lawyer who has testified against him in the Manhattan grand jury case and previously served time in federal prison on tax fraud and other charges.
Trump also denied mainstream media reports that suggested he was trying to incite violence with his Truth Social posts that criticized Bragg's investigation: "No, I don't like violence and I'm not for violence. But a lot of people are upset."
On Truth Social, the former president made a similar statement regarding his belief Bragg's case is "DEAD." He wrote that the "Witch Hunt against me is DEAD, no evidence at all, & it has been conclusively proven that I did nothing wrong." He dismissed Cohen as a "disbarred lawyer & convicted Felon."
Last week, an attorney in Trump's circle, Robert Costello, told media outlets that he testified before the grand jury and sought to denigrate Cohen's testimony against the 45th president in the investigation, which reportedly is connected to so-called hush money payments that were given to adult performer Stormy Daniels during the 2016 presidential campaign. A lawyer for Cohen, when reached for comment, declined to issue a statement, although Cohen told MSNBC last week that Costello never represented him and disputed his testimony.
Bragg's has not returned a request for comment, and The Epoch Times cannot verify the authenticity of Trump's claims. Previous Epoch Times requests for comment from the DA's office have gone unanswered.
Over the past week, Bragg's office has issued one public statement on the case, and that came in response to a House Republican letter seeking testimony and information about the DA's case or whether his office would arrest Trump. A letter sent by his general counsel said that it was Trump who created a "false expectation" he would be indicted last week, although he provided no other details.
Responding to the House GOP's letter, Bragg's counsel wrote that it "only came after Donald Trump created a false expectation that he would be arrested the next day, and his lawyers reportedly urged you to intervene. Neither fact is a legitimate basis for congressional inquiry."
During the Waco rally, Trump declared that his "enemies are desperate to stop us" and that "our opponents have done everything they can to crush our spirit and to break our will," and that the Manhattan district attorney was investigating him "for something that is not a crime, not a misdemeanor, not an affair."
He added: "But they failed. They've only made us stronger. And 2024 is the final battle, it's going to be the big one. You put me back in the White House, their reign will be over and America will be a free nation once again."
Trump did not make any direct references in his speech to Waco's history, telling the crowd of thousands that he told Lt. Gov Dan Patrick he wanted to hold his rally in a place with overwhelming support, not "one of those 50-50 areas," and said he told Texas officials, "Let's go right into the heart of it."
At several points, Trump criticized Florida Gov. Ron DeSantis, who, despite not announcing it, has long been expected to run for president in 2024 and is seen as Trump's strongest potential challenger for the GOP nomination. Trump called his onetime ally disloyal and said he was "dropping like a rock" in the polls.
In addition to the Manhattan case, Trump is also facing an investigation in Georgia as well as federal investigations into his handling of allegedly classified documents and possible obstruction, as well as statements he made on Jan. 6, 2021. The former president has denied wrongdoing in those instances.