Rep. Rashida Tlaib is part of a secret social media group in which its members have glamorized Hamas in its war battle with Israel after the terror group attacked and killed hundreds of innocent Israeli civilians last month, Fox News reported.
The Michigan Democrat is a member of the Palestinian American Congress group on Facebook. The group is hidden from non-members and does not appear on the platform's search engine, though Fox News Digital was able to gain access to it.
The group's founder, Maher Abdel-qader, who has extensive ties to Tlaib and has also been linked to other liberal politicians, has come under fire in the past for his antisemitic social media posts, including questioning if the Holocaust ever occurred.
The Palestinian American Congress group, of which Tlaib is a member, has featured pro-Hamas posts in the wake of the deadly Oct. 7 attack on Israel.
On Oct. 12, one group member posted: "We don't want to throw you in the sea…we want you to ride it back from where you came." The message was accompanied by a picture of an elderly Israeli woman and a Hamas fighter holding her captive.
On Oct. 19, another group member wrote about the "achievements" of the "resistance in Northern occupied Palestine," including dozens of dead Israeli soldiers. The post included a picture of a Hamas fighter.
"Since yesterday I have been attached to the TV watching the news," one group member posted on Oct. 10, addressing the "American Media" and saying, "You, and the people directing you, are the problem, you created it almost 100 years ago, made it official 75 years ago and you have been feeding its flam ever since."
"You consider Hamas a terrorist organization and I am not going to argue with you at the same time you have been broadcasting that they have been killing women and children, guess that is what terrorists do at the same time no mention to the killing of Palestinian women, children and entire families killed on a daily basses (sic) by the [peace-loving] state of Israel using American gifts of weapons and jet fighters."
"Yesterday I didn't see Hamas I saw the grand kids (sic) of the refugees that ethnically cleansed from their homeland attacking the grand kids (sic) of the colonists whom sent them to diaspora," they later wrote.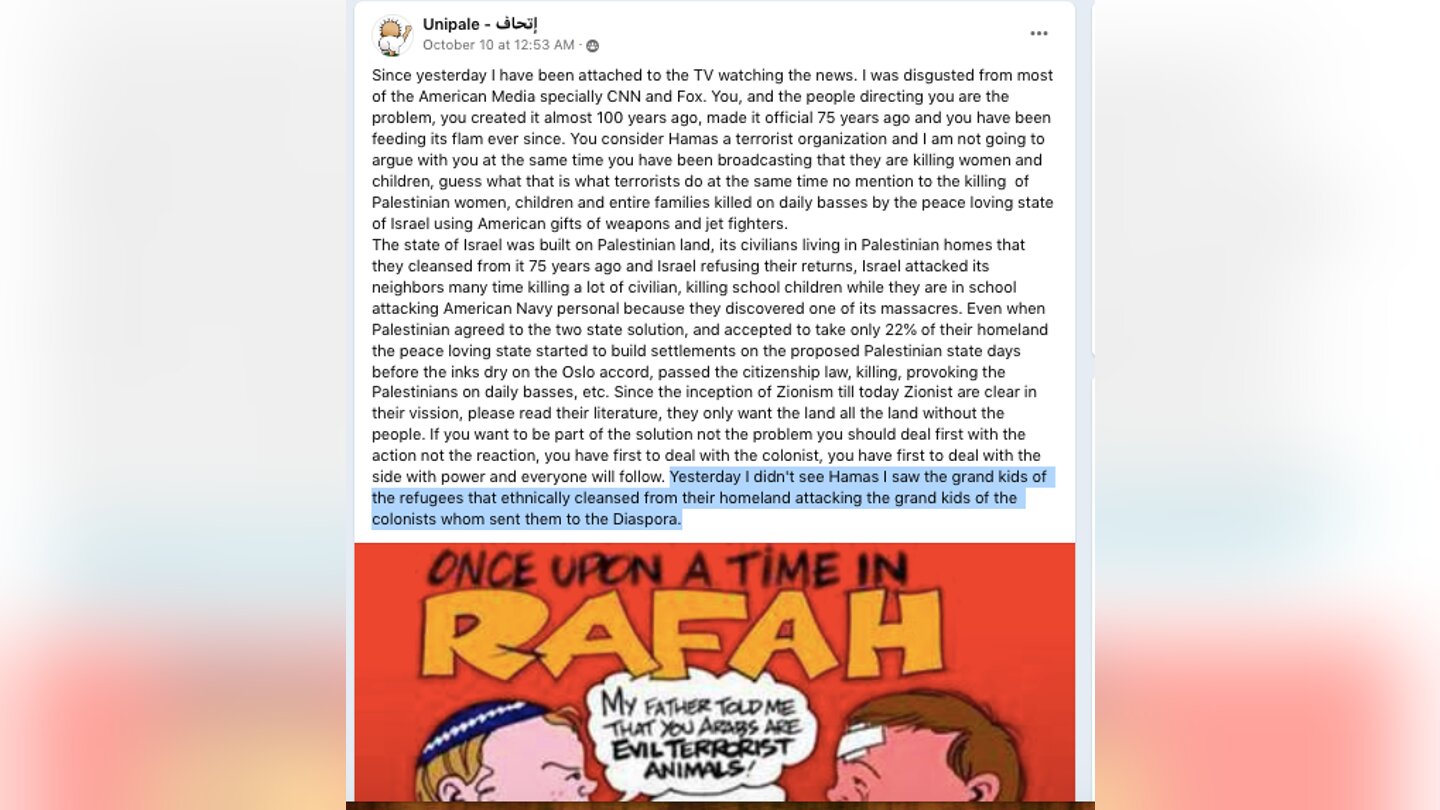 Several members have also posted pro-Hamas messages and pictures this year before the attacks.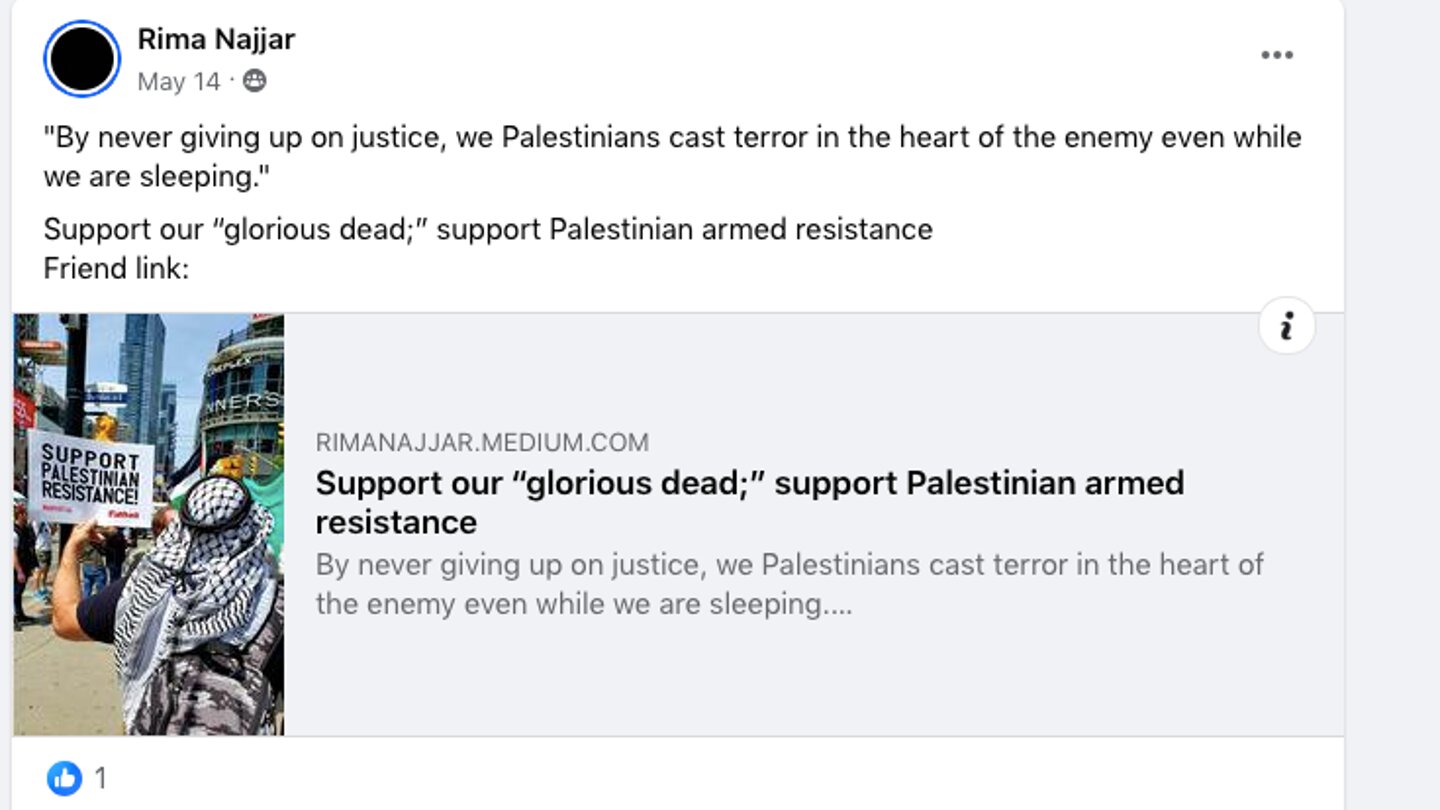 Tlaib became a member of the group six years ago and posted in it during her 2018 congressional campaign. The following year, she came under fire after a report in the Daily Caller News Foundation revealed her membership and the slew of antisemitic posts in the group.
Tlaib is the only Palestinian American in Congress and has faced scrutiny over her comments after Hamas' bloody invasion and the ensuing war. In a largely symbolic gesture, the House of Representatives voted to censure her in a 234-188 vote last week as a formal public rebuke of her most recent anti-Israel comments made in the wake of the Jewish nation's battle against the terror group. Her congressional office did not respond to Fox News Digital's request for comment.
Tlaib has a long history with Abdel-qader, the founder of the Palestinian American Congress group, who has repeatedly promoted antisemitic conspiracy theories over the years. He previously shared a video that called Jews "satanic" and questioned whether 6 million of them had died in the Holocaust. He later walked back those comments.
Abdel-qader has participated in several fundraising events with Tlaib over the years and has also appeared in several pictures with her posted to social media accounts.
The Palestinian activist has not only been a key fundraiser for Tlaib, including personally donating at least $6,500 to her campaign since 2018, but he was also the chairman of her finance committee during her 2018 congressional campaign.
Tlaib introduced him by the title at a campaign event and presented him with a medal in April 2018 as a sign of gratitude for his help with her inaugural campaign.
On Monday, Abdel-qader posted a flier on his Facebook page, advertising a Chicago fundraiser for Tlaib and Pennsylvania Democrat Rep. Summer Lee, two congresswomen who he says "whole heartedly (sic) support" their community and the "just cause of Palestine."
Since Israel launched a counterattack against Hamas, Abdel-qader has attended pro-Palestinian protests in the United States and has posted anti-Israel messages on his Facebook page.
For example, on Oct. 19, Abdel-qader posted: "Israeli Nazis air strike (sic) on Ahli Arab Hospital killed more than 500 people stop the massacre now."
In reality, a failed rocket launch from the Palestinian side was responsible for hitting the hospital. Despite this, Tlaib and others repeated the falsehood that Israelis struck it, even after reports had shown that was not the case.
And in addition to Tlaib, Abdel-qader has also shown support for several other progressive politicians, including fellow "Squad" member Cori Bush of Missouri.
Bush took part in a virtual Zoom fundraiser with Abdel-qader in September 2021, per his since-locked Instagram account. In November of that year, Abdel-qader posted a Bush fundraising flier for a reception hosted by the St. Louis Palestine Solidarity Committee and the Muslim Community of St. Louis, which solicited donations between $100 and $2,500 for Bush's campaign.
It appears he donated $250 to her campaign for the fundraiser.
The controversial activist has also campaigned with several other Democrats, including New York City Mayor Eric Adams and Minnesota Attorney General Keith Ellison, among others.

⬇️ Top Picks for You ⬇️
Biden Got Recurring $1,380 Payment from Hunter's Firm Starting in 2018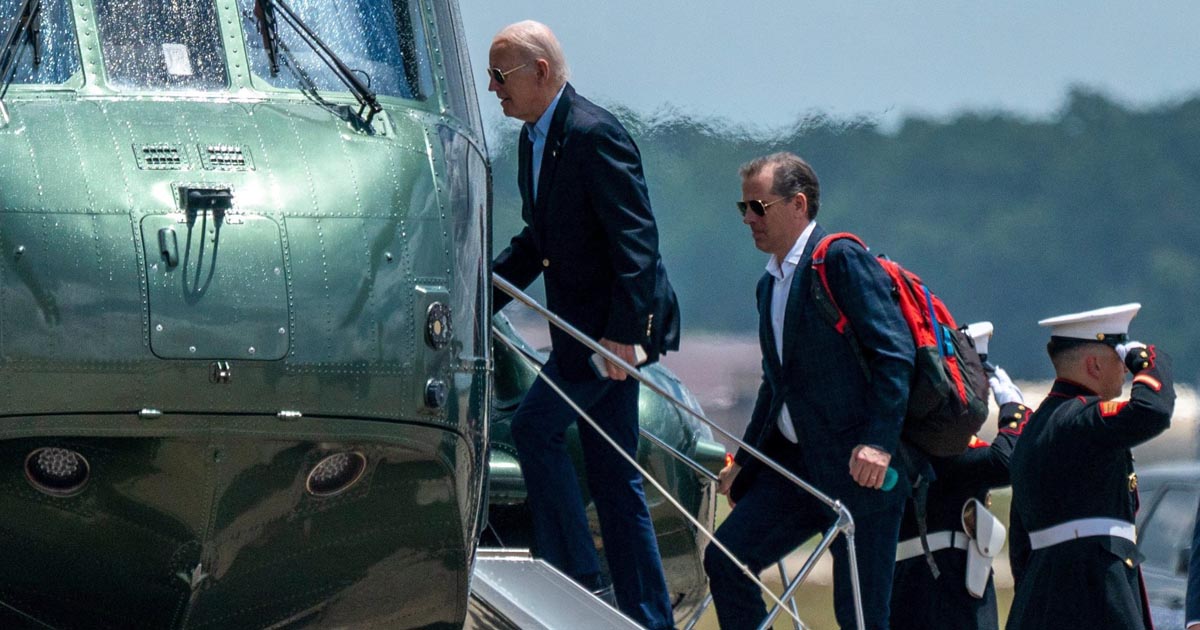 President Biden received a recurring payment of $1,380 from his son Hunter's law firm beginning in late 2018 shortly after a bank money laundering officer warned that the same account was receiving millions of dollars in Chinese government-linked funds without "any services rendered."
A bank order shows that Owasco PC set up a "monthly" transfer to then-former Vice President Joseph R. Biden Jr., with a voided check for the future president included in the documentation, which was released Monday by the House Oversight Committee.
A source told The Post that at least three recurring payments were made — on Sept. 17, Oct. 15 and Nov. 15, 2018 — totaling $4,140 to the elder Biden from Owasco PC, according to the bank records of the firm.
"President Biden and his family must be held accountable for this blatant corruption," Oversight Committee Chairman James Comer (R-Ky.) said in a video release.
"Today, the House Oversight Committee is releasing subpoenaed bank records that show Hunter Biden's business entity, Owasco PC, made direct monthly payments to Joe Biden. This wasn't a payment from Hunter Biden's personal account but an account for his corporation that received payments from China and other shady corners of the world," Comer said.
"At this moment, Hunter Biden is under an investigation by the Department of Justice for using Owasco PC for tax evasion and other serious crimes. And based on whistleblower testimony, we know the Justice Department made a concerted effort to prevent investigators from asking questions about Joe Biden. I wonder why?"
Earlier that year, a January 2019 email from assistant Katie Dodge to Hunter Biden annotated various expenses including "Ford Raptor — Reimbursement to JRB — $1380."
The provenance of the funds is unclear, however, and additional records show that Hunter Biden was knee-deep in two of his most controversial business relationships at the time, with Ukraine's Burisma Holdings and CEFC China Energy.
The evidence emerged as House Republicans prepare to question first brother James Biden on Wednesday and Hunter next week about the president's role in his family's dealings in countries such as China and Ukraine — with a possible floor vote to authorize the ongoing impeachment inquiry this month.
While a presidential candidate, Joe Biden denied that he ever discussed business with his relatives, but evidence has since shown that he met with his relatives' associates from both the Burisma and CEFC ventures.
Documents from the first son's abandoned laptop show that Burisma board adviser Vadym Pozharskyi sought "bank reference" information on Sept. 14, 2018 — one day before the initial transfer to Joe Biden was sought. However, the transaction was not executed for another two days, apparently due to a later-than-expected form submission.
Joe Biden met Pozharskyi at an April 17, 2015, dinner at DC's Café Milano. An unproven FBI informant tip said that Burisma owner Mykola Zlochevsky claimed in 2016 he was "coerced" into paying $10 million in bribes to the Bidens for their assistance in ousting prosecutor Viktor Shokin.
Hunter also was on the tail end of disbursing millions of dollars received from CEFC China Energy — one of two major Biden family dealings with Chinese government-linked firms.
On June 26, 2018 — less than three months before Joe Biden began to receive the monthly transfers — an internal Bank Secrecy Act expert warned colleagues that the institution should reconsider its relationship with Hunter as a result of Owasco PC seeming to receive Chinese funds without "any services rendered."
CEFC transferred $5 million to another Biden family-linked entity, Hudson West III, in August 2017 after Hunter warned a China-based associate of his father's wrath if a business deal was aborted. Much of the large transfer later went to Hunter's Owasco PC.
Prior bank records released by the Oversight Committee indicate that Joe Biden received payments of $40,000 and $200,000 from his brother James, who also was involved in the CEFC venture and other foreign-focused enterprises.
Comer alleged that the $40,000 transferred to Joe Biden's bank account on Sept 3, 2017, was from "laundered" Chinese funds.
James Biden paid Joe Biden $200,000 on March 1, 2018 — the same day that James received a $200,000 transfer from troubled rural hospital company Americore after pledging to use his political connections to secure a Middle Eastern investor, according to bankruptcy filings.
The White House says there's evidence that both transfers were loan repayments, but Republicans argue they have not seen loan agreement documents and note that the funds distributed to James came from a law firm, rather than Joe Biden himself, further clouding the picture.