Russia's defense ministry said early Sunday that forces of the Wagner private army, with the support of Russian troops, seized the Ukrainian city of Bakhmut.
The ministry statement on the Telegram channel came about eight hours after a similar claim by Wagner head Yevgeny Prigozhin. Ukrainian authorities at that time said fighting for Bakhmut was continuing.
The eight-month battle for the city in eastern Ukraine is the longest and probably most bloody of the conflict in Ukraine.
Using the city's Soviet-era name, the Russian ministry said, "In the Artyomovsk tactical direction, the assault teams of the Wagner private military company with the support of artillery and aviation of the southern battlegroup has completed the liberation of the city of Artyomovsk."
There was no immediate comment from Ukrainian officials about the latest claim.
Russian state news agencies cited the Kremlin's press service as saying President Vladimir Putin "congratulates the Wagner assault detachments, as well as all servicemen of the Russian Armed Forces units, who provided them with the necessary support and flank protection, on the completion of the operation to liberate Artyomovsk."
In a video posted earlier on Telegram, Wagner head Yevgeny Prigozhin said the city came under complete Russian control at about midday Saturday. He spoke flanked by about a half dozen fighters, with ruined buildings in the background and explosions heard in the distance.
After the video appeared, Serhiy Cherevatyi, spokesman for Ukraine's eastern command, told The Associated Press that Prigozhin's claim "is not true. Our units are fighting in Bakhmut." In a statement on Facebook, the Ukrainian General Staff said that "heavy battles for the city of Bakhmut do not stop."
Mykhailo Podolyak, an adviser to Ukrainian President Volodymyr Zelenskyy, said that "this is not the first time Prigozhin has said 'we seized everything and are dominating'." He suggested that the Wagner chief's statement was aimed at drawing attention away from Zelenskyy's recent highly visible trips overseas, including to the Group of Seven summit in Japan on Saturday.
Fighting has raged in and around Bakhmut for more than eight months.
Russian forces will still face the massive task of seizing the remaining part of the Donetsk region still under Ukrainian control, including several heavily fortified areas.
It is not clear which side has paid a higher price in the battle for Bakhmut. Both Russia and Ukraine have endured losses believed to be in the thousands, though neither has disclosed casualty numbers.
Zelenskyy underlined the importance of defending Bakhmut in an interview with The Associated Press in March, saying its fall could allow Russia to rally international support for a deal that might require Kyiv to make unacceptable compromises.
Analysts have said Bakhmut's fall would be a blow to Ukraine and give some tactical advantages to Russia but wouldn't prove decisive to the outcome of the war.
Russian forces still face the enormous task of seizing the rest of the Donetsk region under Ukrainian control, including several heavily fortified areas. The provinces of Donetsk and neighboring Luhansk make up the Donbas, Ukraine's industrial heartland where a separatist uprising began in 2014 and which Moscow illegally annexed in September.
Bakhmut, located about 55 kilometers (34 miles) north of the Russian-held regional capital of Donetsk, had a prewar population of 80,000 and was an important industrial center, surrounded by salt and gypsum mines.
The city, which was named Artyomovsk after a Bolshevik revolutionary when Ukraine was part of the Soviet Union, also was known for its sparkling wine production in underground caves. Its broad tree-lined avenues, lush parks and stately downtown with imposing late 19th century mansions — all now reduced to a smoldering wasteland — made it a popular tourist destination.
When a separatist rebellion engulfed eastern Ukraine in 2014 weeks after Moscow's illegal annexation of Ukraine's Crimean Peninsula, the rebels quickly won control of the city, only to lose it a few months later.
After Russia switched its focus to the Donbas following a botched attempt to seize Kyiv early in the February 2022 invasion, Moscow's troops tried to take Bakhmut in August but were pushed back.
The fighting there abated in autumn as Russia was confronted with Ukrainian counteroffensives in the east and the south, but it resumed at full pace late last year. In January, Russia captured the salt-mining town of Soledar, just north of Bakhmut, and closed in on the city's suburbs.
Intense Russian shelling targeted the city and nearby villages as Moscow waged a three-sided assault to try to finish off the resistance in what Ukrainians called "fortress Bakhmut."
Mercenaries from Wagner spearheaded the Russian offensive. Prigozhin tried to use the battle for the city to expand his clout amid the tensions with the top Russian military leaders whom he harshly criticized.
"We fought not only with the Ukrainian armed forces in Bakhmut. We fought the Russian bureaucracy, which threw sand in the wheels," Prigozhin said in the video on Saturday.
The relentless Russian artillery bombardment left few buildings intact amid ferocious house-to-house battles. Wagner fighters "marched on the bodies of their own soldiers" according to Ukrainian officials. Both sides have spent ammunition at a rate unseen in any armed conflict for decades, firing thousands of rounds a day.
Russian Defense Minister Sergei Shoigu has said that seizing the city would allow Russia to press its offensive farther into the Donetsk region, one of the four Ukrainian provinces that Moscow illegally annexed in September.

⬇️ Top Picks for You ⬇️
Tucker Carlson Returns With New Show: 'Tucker on Twitter'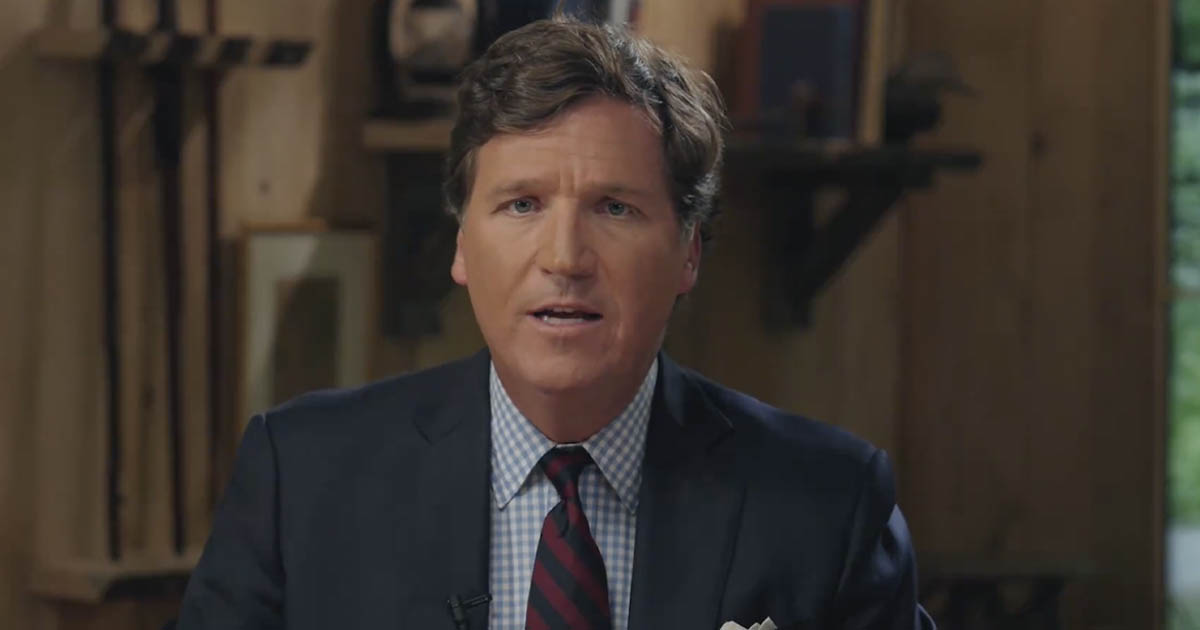 Former Fox News host and Daily Caller co-founder Tucker Carlson brought his show to Twitter for the first time Tuesday by posting a monologue about the Ukraine war and how the media is covering it.
Carlson spoke about the latest developments in the Russian war against Ukraine, beginning with a major dam explosion inside Russian-occupied territory Tuesday morning.
"This morning, it looks like somebody blew up the Kakhovka Dam in southern Ukraine. The rushing wall of water wiped out entire villages, destroyed a critical hydropower plant, and as of tonight, puts the largest nuclear reactor in Europe in danger of melting down. So, if this was intentional, it was not a military tactic — it was an act of terrorism," Carlson began.
The Ukrainian and Russian governments accused each other of intentionally destroying the dam as an act of sabotage, according to The Washington Post.
"Blowing up the dam may be bad for Ukraine, but it hurts Russia more. And for precisely that reason, the Ukrainian government has considered destroying it. In December, The Washington Post quoted a Ukrainian general saying his men had fired American-made rockets at the dam's floodgate, as a test strike," Carlson stated.
Carlson transitioned to discussing The Washington Post's story showing the U.S. knew about Ukrainian plans to attack the Nord Stream 2 gas pipeline months before it was destroyed. The Post's story was based on an intelligence leak on social media platform Discord.
"So, really, once the facts start coming in, it becomes much less of a mystery what might have happened to the dam. Any fair person would conclude that the Ukrainians probably blew it up — just as you would assume they blew up Nord Stream, the Russian natural gas pipeline, last fall. And in fact, the Ukrainians did do that, as we now know. It's not like Vladimir Putin is anxious to wage war on himself," he said.
Carlson proceeded to mock the corporate media's coverage of the Nordstream 2 explosion for immediately blaming Russia for the attack without considering whether Ukraine blew up the pipeline.
"Oh, but that's where you're wrong, Mr. and Mrs. Cable News Consumer. Vladimir Putin is exactly that sort of man — the sort of man who'd shoot himself to death in order to annoy you. We know this from the American media, which wasted no time this morning in accusing the Russians of sabotaging their own infrastructure," Carlson remarked.
"No one who's paid to cover these things seemed to entertain even the possibility it could have been the Ukrainians who did it. No chance of that. Ukraine, as you may have heard, is led by a man called Zelensky, and we can say for a dead certain fact that he was not involved. He couldn't have been. Zelensky is too decent for terrorism," Carlson added.
He followed up by ridiculing Republican South Carolina Sen. Lindsey Graham and Republican Presidential candidate Nikki Haley because of their unwavering support for Ukrainian President Volodymyr Zelenskyy and his country. Afterwards, he broadened his media criticism beyond the scope of the Ukraine war to other issues where narratives must never be questioned.
"But mostly they just ignore the stories that matter. What's happened to the hundreds of billions of US dollars we've sent to Ukraine? No clue. Who organized those BLM riots three years ago? No one's gotten to the bottom of that. What exactly happened on 9/11? Well, it's still classified. How did Jeffrey Epstein make all that money? How did he die? How about JFK? And so endlessly on. Not only are the media not interested in any of this, they're actively hostile to anybody who is. In journalism, curiosity is the gravest crime," Carlson said.
Carlson pointed to the intelligence officer who blew the whistle Monday on alleged UFOs possessed by the U.S. government as a recent example of the pressing stories the media ignores.
"So if you're wondering why our country seems so dysfunctional, this is a big part of the reason. Nobody knows what's happening. A small group of people control accesses to all relevant information. And the rest of us don't know. We're allowed to yap all we want about racism, but go ahead and talk about something that really matters and see what happens. If you keep it up, they'll make you be quiet. Trust us. That's how they maintain control," he continued.
Carlson concluded his monologue with a teaser about future Twitter broadcasts if the platform maintains its commitment to free speech under owner Elon Musk.
"That's how most of us now live here in the United States — manipulated by lies, silenced by taboos. It is unhealthy and is dehumanizing, and we're tired of it. As of today, we've come to Twitter, which we hope will be the shortwave radio under the blankets. We're told there are no gatekeepers here. If that turns out to be false, we'll leave. But in the meantime, we are grateful to be here. We'll be back with much more very soon."
Watch:
Ep. 1 pic.twitter.com/O7CdPjF830

— Tucker Carlson (@TuckerCarlson) June 6, 2023