Former crypto billionaire Sam Bankman-Fried took the stand in front of a judge and jury last week in his criminal fraud trial. If convicted on all seven fraud counts he faces, the 31-year-old could spend the rest of his life in prison.
Prosecutors claim that Bankman-Fried's crypto exchange, FTX, "was built on lies," and that he took money from customers to enrich himself and his family, buy luxury beachfront property in the Bahamas and funnel millions into US political campaigns.
Bankman-Fried's lawyers argue that their client, like many entrepreneurs, was "building the plane as they were flying it" and that "it's not a crime to be the CEO of a company that later files for bankruptcy."
After a full day on the witness stand Friday, the disgraced former CEO is expected to return for another day of testimony on Monday.
Bankman-Fried testifies that he did not defraud anyone
Lead defense attorney Mark Cohen asked Sam Bankman-Fried: What was your vision when you founded FTX?
"We thought that we might be able to build the best product on the market" and "move the ecosystem forward," Bankman-Fried answered.
"It turned out basically the opposite of that," he added.
Cohen asked: "Did you defraud anyone?"
"No I did not," SBF replied.
"Did you make any mistakes?" Cohen asked.
"I made a number of mistakes," Bankman-Fried replied.
SBF: I knew "basically nothing" about crypto
Bankman-Fried testified Friday that he knew "basically nothing" about crypto before starting Alameda Research.
"I had absolutely no idea how they worked…I just knew they were things you could trade."
When asked by his defense counsel why he founded Alameda Research in the fall of 2017, he said that at the time, "there was a ton of excitement, a ton of demand…" but not a lot of infrastructure for large trading firms.
Alameda used to be headquartered in a rented two-bedroom home
The first office for Alameda Research was a two-bedroom Airbnb in North Berkeley, California, Bankman-Fried said Friday.
"There were three of us, but it had an attic. So that seemed like a third bedroom to us."
The name, he said, came from Alameda County.
"I'm not very good at naming things," SBF said. At the time, the firm wanted to be under the radar, he said.
"I didn't want to call it 'Sam's crypto trading firm' or anything like that," because there was a lot of budding competition in crypto. "Research" was a generic term that filled out the name of the company.
It was a more sensible name than what they'd been calling their operation internally: "Wireless Mouse."
SBF thought there was an 80% chance FTX would fail
When Sam Bankman-Fried and Gary Wang started FTX in 2019, there were already dozens of crypto exchanges. However, SBF said Friday that he felt their "design philosophies" were "clunky" and "didn't make a lot of sense."
"If you wanted to trade, there were hundreds of wallets you had to manage for a single account," he said. The goal of FTX was to set up an exchange that was more seamless and approachable for traders.
Bankman-Fried testified Friday that he initially envisioned quickly selling FTX to cryptocurrency exchange Binance, since he "had no idea how we would get customers."
However, Binance ended up using an internal team to build out its own exchange platform. And the more he thought about it, Bankman-Fried said, the more he became convinced that he could grow FTX despite the challenge of attracting customers.
It began to feel "less hopeless, like maybe we could figure it out," SBF said.
"I thought there was maybe a 20% chance of success," and an 80% chance it would shut down after a few months, he told jurors. "Even that 20% chance was a huge opportunity, given that the biggest exchanges at the time were multibillion-dollar companies."
How a bug nearly blew up FTX
At one point, in the early days of crypto exchange FTX, its automated "risk engine" suffered an error that turned a routine liquidation of a few thousand dollars into an almost catastrophic series of trades.
Within the company, they called it the "auto-deleveraging event," FTX founder Sam Bankman-Fried said Friday in testimony in his criminal fraud trial.
As FTX grew, the volume of trades strained the company's computer systems, and the "risk engine was effectively sagging under the weight of that growth." The engine was an automated program that would liquidate positions that were at risk of going negative.
Because of a delay of a few minutes, the risk engine closed a "relatively small position" over and over. To correct its error, it had to buy back the erroneous sales. The engine wound up in a feedback loop that wound up moving "trillions" of dollars.
"That caused downstream issues, unsurprisingly. It was ridiculous." The trading became so large, it had to go to a backstop liquidity provider, in this case Alameda, because it was the largest account on FTX. That caused Alameda's account to go under water, triggering a potential liquidation of Alameda's account.
"The whole thing shouldn't have happened," Bankman-Fried testified Friday.
FTX leaders had to shut the exchange down for an hour to fix the problem.
"It was scary," SBF said, because it exposed a larger concern "that if there were an erroneous liquidation of Alameda, it would have disastrous consequences."
SBF implies he didn't know about Alameda's "back door" access to FTX customer funds
Former crypto billionaire Sam Bankman-Fried's testimony aims to highlight his view that other executives at FTX and Alameda often acted independently, without direct oversight from Bankman-Fried, who was the CEO of both companies for a time.
"Ultimately, I had authority," he said. "On the other hand, I wasn't much of a programmer," and didn't directly supervise the work of developers who were building FTX's code.
Bankman-Fried is essentially saying that he wasn't aware of the so-called back door that Alameda used to withdraw FTX customer funds — a key issue in the case.
"I wasn't entirely sure what was happening," Bankman-Fried said.
SBF talks about Caroline Ellison, his ex-girlfriend and star witness for the prosecution
Bankman-Fried discussed Caroline Ellison, his ex-girlfriend and whom he appointed co-CEO of Alameda. Ellison is the prosecution's star witness, who offered damning testimony earlier in the trial that cast Bankman-Fried as a criminal mastermind.
SBF said Friday she was a competent manager and trader who could also interface with developers. But he also alluded to what he saw as some blind spots, such as not being as adept at risk management and hedging.
He said he "didn't have the time or the energy" to put in what he believed Caroline Ellison wanted from a relationship, telling the court: "She wanted more from it than I was willing to give."
Defense lead Mark Cohen asked him about philosophical conversations the two had as a couple, which SBF said were usually initiated by Ellison. SBF stated that often she would stake out a contrarian philosophical position, "and we would debate it."

⬇️ Top Picks for You ⬇️
Senate Democrats Authorize Supreme Court Ethics Subpoenas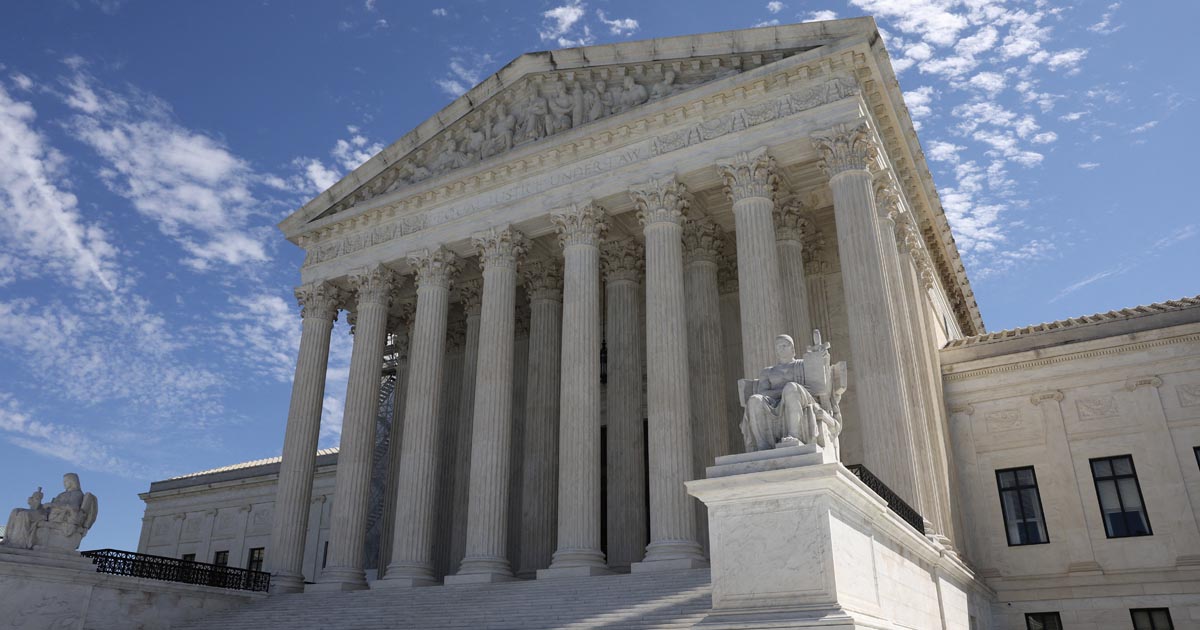 A Democratic-led U.S. Senate panel on Thursday authorized subpoenas to two influential conservatives – Harlan Crow and Leonard Leo – as part of an ethics inquiry spurred by reports of undisclosed largesse directed to some conservative Supreme Court justices.
The Judiciary Committee voted to authorize the subpoenas for Crow, a billionaire Republican donor and benefactor of conservative Justice Clarence Thomas, and Leo, a legal activist who was instrumental in compiling Republican former President Donald Trump's list of potential Supreme Court nominees.
Republican senators walked out of the contentious committee meeting in protest while Democrats cast votes. Some Republicans later questioned the vote's legitimacy, accusing Democrats of violating procedural rules.
"The subpoena clearly wasn't legal," Republican Senator John Kennedy, a committee member, said after the vote.
Senator Dick Durbin, the panel's chairman, said subpoenas were necessary due to the refusal by Crow and Leo for months to voluntarily comply with its previous requests for information. This included itemized lists of all gifts, transportation and lodging provided to any Supreme Court justice.
Durbin also renewed his criticism of a new code of conduct announced by the court on Nov. 13 and promised to continue to pursue the committee's ethics investigation.
"Without an enforcement mechanism, this code of conduct, while a step in a positive direction, cannot restore the public's faith in the court," Durbin said.
Senator Lindsey Graham, the committee's top Republican, told the meeting that Democrats were engaged in a "jihad" against the Supreme Court, whose 6-3 conservative majority has handed major defeats to liberals in recent years on matters including abortion, gun rights and student debt relief.
"When you say you don't want to destroy the Roberts Court, I don't believe you," Graham said, referring to the court under the leadership of conservative Chief Justice John Roberts. "I don't believe a word you're saying."
The committee vote authorized Durbin to issue the subpoenas, which he could do unilaterally, according to a Democratic committee staffer.
If the subpoena recipients fail to comply, Democrats would need 60 votes in the 100-seat Senate to initiate a civil enforcement action, meaning they would need the support of some Republicans. The Democrats also would have the option to make a referral to the U.S. Justice Department, which could choose to pursue criminal contempt proceedings against the subpoena recipients.
Lawyers for Leo and Crow in letters to the committee have criticized the committee's information requests as lacking a proper legal justification. Crow's lawyer had proposed turning over a narrower range of information but Democrats rebuffed that offer, according to the panel's Democratic members.
The news outlet ProPublica reported this year on Thomas's failure to disclose luxury trips and real estate transactions involving Crow, a Texas businessman.
The outlet also reported that Leo helped organize a luxury fishing trip in Alaska attended by conservative Justice Samuel Alito, who failed to disclose taking a private jet provided by billionaire hedge fund manager Paul Singer. Trump chose all three of his appointees to the court from lists of candidates that Leo played a key role in drawing up.
Thomas has said he believed the Crow-funded trips were "personal hospitality" and thus exempt from disclosure requirements, and that his omission of the real estate transaction was inadvertent.
Alito, regarding the flight, said that Singer had "allowed me to occupy what would have otherwise been an unoccupied seat."