Sean Combs is accused of rape and intense physical and psychological abuse by his long-time former girlfriend – and Cassandra Ventura's lawyers say the music mogul tried to pay her off to keep it quiet.
"Mr. Combs offered Ms. Ventura eight figures to silence her and prevent the filing of this lawsuit," Doug Wigdor tells Deadline today after the singer and model filed a suit in federal court claiming Combs subjected her to "abuse, violence and sex trafficking" over the years. "She rejected his efforts and decided to give a voice to all woman who suffer in silence. Ms. Ventura should be applauded for her bravery."
That statement Thursday came after Combs' attorney Ben Brafman responded to the filing by saying that his client "vehemently denies these offensive and outrageous allegations."
The former Harvey Weinstein lawyer went on to say: "For the past 6 months, Mr. Combs, has been subjected to Ms. Ventura's persistent demand of $30 million, under the threat of writing a damaging book about their relationship, which was unequivocally rejected as blatant blackmail. Despite withdrawing her initial threat, Ms. Ventura has now resorted to filing a lawsuit riddled with baseless and outrageous lies, aiming to tarnish Mr. Combs' reputation and seeking a pay day."
With all that between the lawyers, what Ventura alleges against the Bad Boy Entertainment founder over their 11-year personal and professional relationship in the 36-page complaint (read Ventura's rape claim complaint here) is pretty chilling and specific:
In 2022, Mr. Combs received the Lifetime Achievement Award at the BETAwards. During his acceptance speech, Mr. Combs stated, "I have to give a special shoutout, thank you, love, to the people that was really there for me." He named a number of people, before adding, "[a]nd also Cassie, for holding me down in the dark times, love."
The truth, however, is that Cassie—Ms. Casandra Ventura—was held down by Mr. Combs and endured over a decade of his violent behavior and disturbed demands. For Ms. Ventura, the "dark times" were those she spent trapped by Mr. Combs in a cycle of abuse, violence, and sex trafficking.
Among other violent and unlawful acts, Mr. Combs:
• Raped Ms. Ventura in her own home after she tried to leave him;
• Often punched, beat, kicked and stomped on Ms. Ventura, resulting in bruises, burst lips, black eyes and bleeding;
• Blew up a man's car after he learned that he was romantically interested in Ms. Ventura;
• Forced Ms. Ventura to engage in sex acts with male sex workers while masturbating and filming the encounters;
• Ran out of his apartment with a firearm in pursuit of a rival industry executive whom he learned was nearby;
• Demanded that Ms. Ventura to carry his firearm in her purse just to make her uncomfortable and demonstrate how dangerous he is; and
• Introduced Ms. Ventura to a lifestyle of excessive alcohol and substance abuse and required her to procure illicit prescriptions to satisfy his own addictions.
Among all that, there is literally an explosive allegation that as well as going full Suge Knight and dangling people off balconies, Combs at one point about a decade ago threatened to blow up rapper Kid Cudi's car for dating Ventura. "Around that time, Kid Cudi's car exploded in his driveway," the complaint says.
In a statement released after the eight claim jury trial seeking complaint was filed, Ventura added that "after years in silence and darkness, I am finally ready to tell my story, and to speak up on behalf of myself and for the benefit of other women who face violence and abuse in their relationships." The Step Up 2: The Streets actress continued: "With the expiration of New York's Adult Survivors Act fast approaching, it became clear that this was an opportunity to speak up about the trauma I have experienced and that I will be recovering from for the rest of my life."
Ventura is seeking "a money judgment representing compensatory damages including consequential damages, lost wages, earning, and all other sums of money, together with interest on these amounts, according to proof" and "a money judgment for mental pain and anguish and severe emotional distress, according to proof," as well as various unspecified damages.

⬇️ Top Picks for You ⬇️
Biden Got Recurring $1,380 Payment from Hunter's Firm Starting in 2018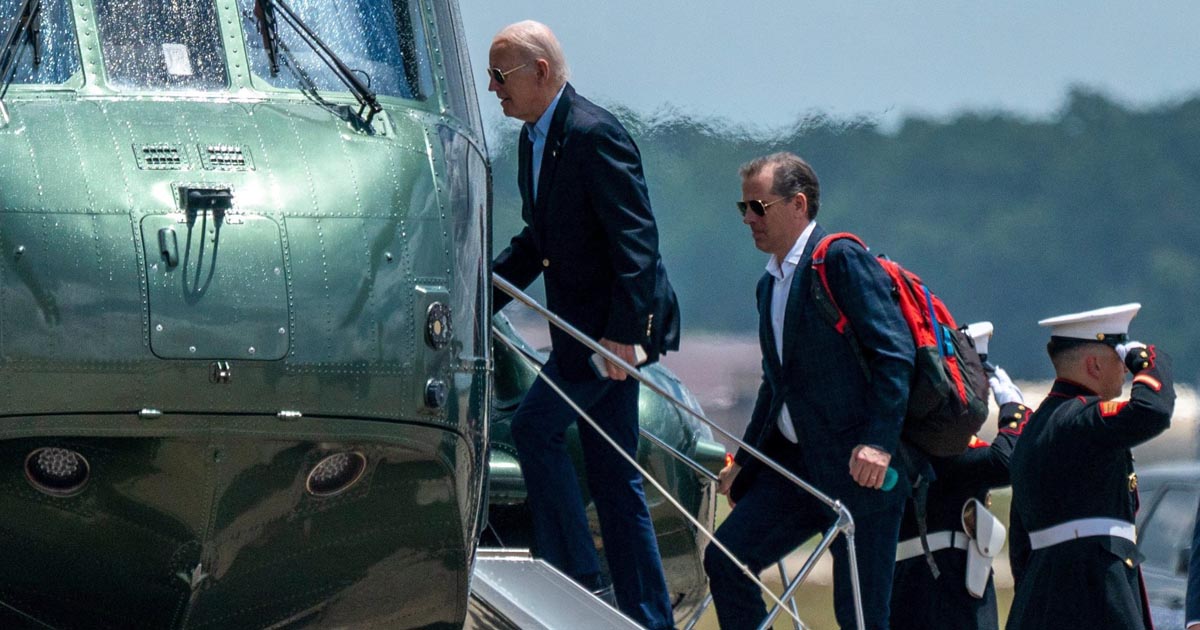 President Biden received a recurring payment of $1,380 from his son Hunter's law firm beginning in late 2018 shortly after a bank money laundering officer warned that the same account was receiving millions of dollars in Chinese government-linked funds without "any services rendered."
A bank order shows that Owasco PC set up a "monthly" transfer to then-former Vice President Joseph R. Biden Jr., with a voided check for the future president included in the documentation, which was released Monday by the House Oversight Committee.
A source told The Post that at least three recurring payments were made — on Sept. 17, Oct. 15 and Nov. 15, 2018 — totaling $4,140 to the elder Biden from Owasco PC, according to the bank records of the firm.
"President Biden and his family must be held accountable for this blatant corruption," Oversight Committee Chairman James Comer (R-Ky.) said in a video release.
"Today, the House Oversight Committee is releasing subpoenaed bank records that show Hunter Biden's business entity, Owasco PC, made direct monthly payments to Joe Biden. This wasn't a payment from Hunter Biden's personal account but an account for his corporation that received payments from China and other shady corners of the world," Comer said.
"At this moment, Hunter Biden is under an investigation by the Department of Justice for using Owasco PC for tax evasion and other serious crimes. And based on whistleblower testimony, we know the Justice Department made a concerted effort to prevent investigators from asking questions about Joe Biden. I wonder why?"
Earlier that year, a January 2019 email from assistant Katie Dodge to Hunter Biden annotated various expenses including "Ford Raptor — Reimbursement to JRB — $1380."
The provenance of the funds is unclear, however, and additional records show that Hunter Biden was knee-deep in two of his most controversial business relationships at the time, with Ukraine's Burisma Holdings and CEFC China Energy.
The evidence emerged as House Republicans prepare to question first brother James Biden on Wednesday and Hunter next week about the president's role in his family's dealings in countries such as China and Ukraine — with a possible floor vote to authorize the ongoing impeachment inquiry this month.
While a presidential candidate, Joe Biden denied that he ever discussed business with his relatives, but evidence has since shown that he met with his relatives' associates from both the Burisma and CEFC ventures.
Documents from the first son's abandoned laptop show that Burisma board adviser Vadym Pozharskyi sought "bank reference" information on Sept. 14, 2018 — one day before the initial transfer to Joe Biden was sought. However, the transaction was not executed for another two days, apparently due to a later-than-expected form submission.
Joe Biden met Pozharskyi at an April 17, 2015, dinner at DC's Café Milano. An unproven FBI informant tip said that Burisma owner Mykola Zlochevsky claimed in 2016 he was "coerced" into paying $10 million in bribes to the Bidens for their assistance in ousting prosecutor Viktor Shokin.
Hunter also was on the tail end of disbursing millions of dollars received from CEFC China Energy — one of two major Biden family dealings with Chinese government-linked firms.
On June 26, 2018 — less than three months before Joe Biden began to receive the monthly transfers — an internal Bank Secrecy Act expert warned colleagues that the institution should reconsider its relationship with Hunter as a result of Owasco PC seeming to receive Chinese funds without "any services rendered."
CEFC transferred $5 million to another Biden family-linked entity, Hudson West III, in August 2017 after Hunter warned a China-based associate of his father's wrath if a business deal was aborted. Much of the large transfer later went to Hunter's Owasco PC.
Prior bank records released by the Oversight Committee indicate that Joe Biden received payments of $40,000 and $200,000 from his brother James, who also was involved in the CEFC venture and other foreign-focused enterprises.
Comer alleged that the $40,000 transferred to Joe Biden's bank account on Sept 3, 2017, was from "laundered" Chinese funds.
James Biden paid Joe Biden $200,000 on March 1, 2018 — the same day that James received a $200,000 transfer from troubled rural hospital company Americore after pledging to use his political connections to secure a Middle Eastern investor, according to bankruptcy filings.
The White House says there's evidence that both transfers were loan repayments, but Republicans argue they have not seen loan agreement documents and note that the funds distributed to James came from a law firm, rather than Joe Biden himself, further clouding the picture.