The Senate is sending a stopgap spending bill to the president's desk, averting a government shutdown with days to spare.
The bill, which cleared the House Tuesday, passed in the Senate Wednesday night by a 87-11 vote. The vote was stalled for hours Wednesday evening over negotiations on defense policy legislation still on Congress' to do list this year.
The funding bill next heads to President Joe Biden's desk for his expected signature.
The stopgap bill uses a two-tiered deadline structure pioneered by Speaker Mike Johnson, which will keep part of the government open until Jan. 19, while funding for the military and some of the government's biggest domestic programs will last through Feb. 2.
The idea is to stagger funding deadlines, which Congress notoriously struggles to meet, so lawmakers aren't stuck with a massive 12-bill government funding bundle.
"I have good news for the American people: This Friday night there will be no government shutdown," Majority Leader Chuck Schumer said in a floor speech shortly before passage.
Many senators originally scratched their heads over the "laddered" concept — but the measure eventually got the necessary support. Democrats, in particular, were pleased that Johnson didn't pursue any funding cuts, and that he left defense in the second tranche of bills with the February deadline.
Some Republicans, though, still weren't enthused about the length of the continuing resolution.
"I liked the Christmas date the best," said Sen. Shelley Moore Capito (R-W.Va.). "But obviously this sounds like it's congealing. So we'll just live with it."
The Senate has only passed three of its own 12 appropriations bills, which lawmakers did via one package, known as a so-called minibus. Senate appropriators are largely expecting to pursue more minibuses for the remaining nine bills, while they look to launch talks on a broader government funding agreement with House Republicans. Those conversations are sure to consume Congress in January.
Senate Appropriations ranking member Susan Collins (R-Maine) said she's looking at bundling four appropriations bills together in the next package, including Labor-Health and Human Services, Defense, Energy-Water and Commerce-Justice-Science.
While the last minibus took nearly two months to pass, Collins hopes this one won't be such a hassle.
"There was a lot of pent up demand for amendments on the first package and that's why it took so long," Collins said. "Now, I hope we can move more quickly. We've essentially lost two-and-a-half weeks."
The House already canceled the remainder of their scheduled votes this week amid a conservative rebellion. But when lawmakers come back to town after Thanksgiving break, they'll have to start thinking of conferencing spending bills if they have any hope of avoiding the January and February deadlines.
House conservatives are once again fuming after Johnson's stopgap passed the lower chamber on Tuesday with mostly Democratic help. They're now refusing to pass any more GOP spending bills until Johnson produces a plan to cut government funding for the fiscal year that began on Oct. 1.
Senate Democrats — and many Republicans — will not accept more slashing, preferring to stick to the debt deal struck between the White House and former Speaker Kevin McCarthy earlier this year.
Somehow, both sides will have to square their differences across a dozen spending bills in the new year. And Johnson is vowing to do no more stopgaps, meaning January and February could be hard deadlines to bridge the spending divide between both chambers.
Asked if she's optimistic about passing the next tranche of bills, in the Senate at least, Collins simply replied: "We have to."
"We've got to pass the rest of the bills in order" to start talking seriously with House Republicans, she said. "The topline is important, but if we don't pass bills, then what are we going to be conferencing?"

⬇️ Top Picks for You ⬇️
Biden Got Recurring $1,380 Payment from Hunter's Firm Starting in 2018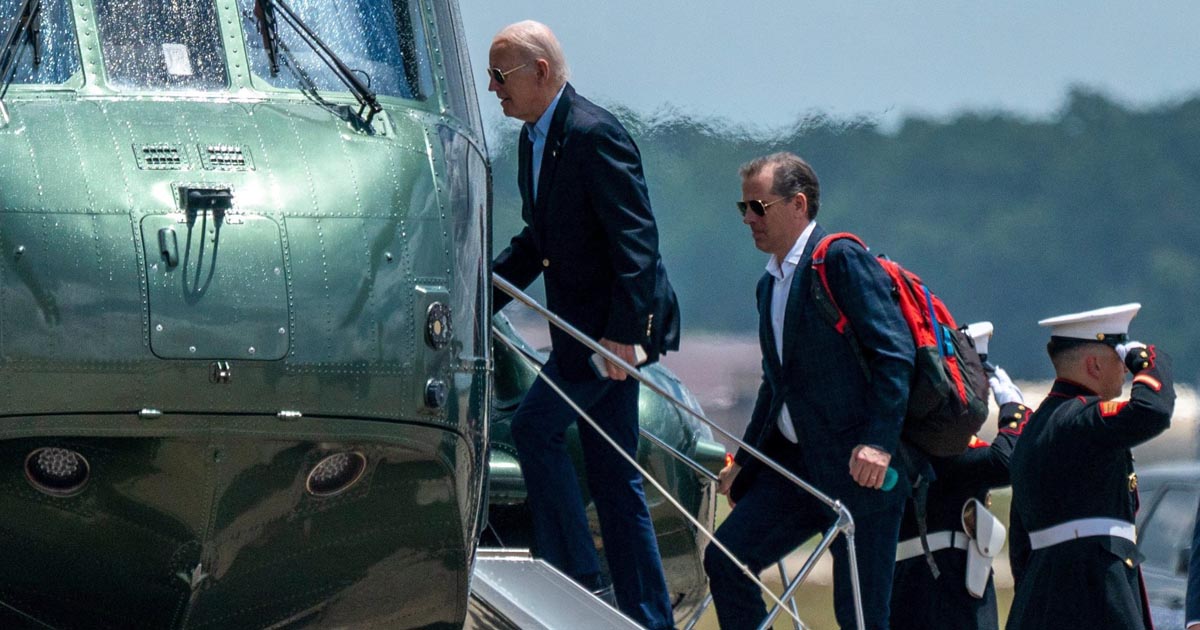 President Biden received a recurring payment of $1,380 from his son Hunter's law firm beginning in late 2018 shortly after a bank money laundering officer warned that the same account was receiving millions of dollars in Chinese government-linked funds without "any services rendered."
A bank order shows that Owasco PC set up a "monthly" transfer to then-former Vice President Joseph R. Biden Jr., with a voided check for the future president included in the documentation, which was released Monday by the House Oversight Committee.
A source told The Post that at least three recurring payments were made — on Sept. 17, Oct. 15 and Nov. 15, 2018 — totaling $4,140 to the elder Biden from Owasco PC, according to the bank records of the firm.
"President Biden and his family must be held accountable for this blatant corruption," Oversight Committee Chairman James Comer (R-Ky.) said in a video release.
"Today, the House Oversight Committee is releasing subpoenaed bank records that show Hunter Biden's business entity, Owasco PC, made direct monthly payments to Joe Biden. This wasn't a payment from Hunter Biden's personal account but an account for his corporation that received payments from China and other shady corners of the world," Comer said.
"At this moment, Hunter Biden is under an investigation by the Department of Justice for using Owasco PC for tax evasion and other serious crimes. And based on whistleblower testimony, we know the Justice Department made a concerted effort to prevent investigators from asking questions about Joe Biden. I wonder why?"
Earlier that year, a January 2019 email from assistant Katie Dodge to Hunter Biden annotated various expenses including "Ford Raptor — Reimbursement to JRB — $1380."
The provenance of the funds is unclear, however, and additional records show that Hunter Biden was knee-deep in two of his most controversial business relationships at the time, with Ukraine's Burisma Holdings and CEFC China Energy.
The evidence emerged as House Republicans prepare to question first brother James Biden on Wednesday and Hunter next week about the president's role in his family's dealings in countries such as China and Ukraine — with a possible floor vote to authorize the ongoing impeachment inquiry this month.
While a presidential candidate, Joe Biden denied that he ever discussed business with his relatives, but evidence has since shown that he met with his relatives' associates from both the Burisma and CEFC ventures.
Documents from the first son's abandoned laptop show that Burisma board adviser Vadym Pozharskyi sought "bank reference" information on Sept. 14, 2018 — one day before the initial transfer to Joe Biden was sought. However, the transaction was not executed for another two days, apparently due to a later-than-expected form submission.
Joe Biden met Pozharskyi at an April 17, 2015, dinner at DC's Café Milano. An unproven FBI informant tip said that Burisma owner Mykola Zlochevsky claimed in 2016 he was "coerced" into paying $10 million in bribes to the Bidens for their assistance in ousting prosecutor Viktor Shokin.
Hunter also was on the tail end of disbursing millions of dollars received from CEFC China Energy — one of two major Biden family dealings with Chinese government-linked firms.
On June 26, 2018 — less than three months before Joe Biden began to receive the monthly transfers — an internal Bank Secrecy Act expert warned colleagues that the institution should reconsider its relationship with Hunter as a result of Owasco PC seeming to receive Chinese funds without "any services rendered."
CEFC transferred $5 million to another Biden family-linked entity, Hudson West III, in August 2017 after Hunter warned a China-based associate of his father's wrath if a business deal was aborted. Much of the large transfer later went to Hunter's Owasco PC.
Prior bank records released by the Oversight Committee indicate that Joe Biden received payments of $40,000 and $200,000 from his brother James, who also was involved in the CEFC venture and other foreign-focused enterprises.
Comer alleged that the $40,000 transferred to Joe Biden's bank account on Sept 3, 2017, was from "laundered" Chinese funds.
James Biden paid Joe Biden $200,000 on March 1, 2018 — the same day that James received a $200,000 transfer from troubled rural hospital company Americore after pledging to use his political connections to secure a Middle Eastern investor, according to bankruptcy filings.
The White House says there's evidence that both transfers were loan repayments, but Republicans argue they have not seen loan agreement documents and note that the funds distributed to James came from a law firm, rather than Joe Biden himself, further clouding the picture.