The founder of an anti-sex trafficking organization whose work inspired the hit movie Sound of Freedom is being investigated by Utah police for sexual assault.
Tim Ballard is facing a criminal investigation after a woman made a report to cops on November 1.
The allegation is the first known criminal complaint and follows civil lawsuits by at least six women who claim Ballard sexually manipulated, abused and harassed them during missions with his anti-trafficking non-profit.
Exact details of the complaint – including the alleged incident and actions by the police – were not detailed in an initial contact report obtained by the Salt Lake Tribune.
But according to the record, 'A meeting was set with a detective for the next day.' The cop added: 'I have forwarded this case to investigations for the interview.'
Lindon Police Chief Mike Brower also confirmed the existence of the criminal investigation.
'All I can say is that there was an interview,' he told the Tribune. 'The case is ongoing. It's an active investigation.'
It is not known if the woman behind the criminal complaint is among the plaintiffs in the civil case. Suzette Rasmussen, their attorney, was also listed as a contact for the woman who filed the police report.
She confirmed the contents of the record but would not comment further on a pending investigation.
Ballard rose to prominence due to his work founding Operation Underground Railroad which claims to, 'lead the fight against child sexual exploitation and human trafficking worldwide'.
His work earned him a spot on a White House anti-human-trafficking board in 2019.
His story inspired the popular film Sound of Freedom where he was portrayed by actor Jim Caviezel and he had recently touted a run for Senate.
However, the father-of-nine has suffered a major fall from grace ever since the women came out to accuse Ballard of sexual abuse during their time working with him on sting operations for the organization overseas.
The women claim they were asked to pose as his wife during these operations to fool sex traffickers into thinking he was a legitimate client.
However, Ballard used the setup to grope and sexually assault the women, insisting it was necessary to maintain the 'couple's ruse' tactic, the lawsuit states.
The ruse allegedly began with Ballard taking the women to Salt Lake strip clubs to 'test' their 'sexual chemistry' ahead of the trips. They were compelled to partake in massages, escorts, and lap dances — all financed by the group, the filings state.
Then during the operations, they were subjected to 'coerced sexual contact,' including 'several sexual acts with the exception of actual penetration, in various states of undress,' the lawsuit alleges.
The women claim that even in private, 'Ballard would claim that he and his female partner had to maintain the appearance of a romantic relationship at all times in case suspicious traffickers might be surveilling them at any moment.'
This resulted in them being coerced into the women into sharing a bed with him or showering together, even though the accommodations were always at designated 'safe houses' which provided separate bedrooms and bathrooms.
Ballard is said to have sent at least one woman a photo of himself in his underwear, covered in fake tattoos, and to have asked another 'how far she was willing to go' to save children, according to one source.
The lawsuit also states that two marriages ended due to Ballard's actions, with him offering to cover one victim's divorce attorney fees.
The women said they felt compelled to remain silent as they were persuaded that revealing any of the unwanted contact could jeopardize their mission.
Other allegations include the devout Mormon took ketamine while dictating revelations and believed he would one day become president and usher in the Second Coming of Jesus Christ.
Ballard resigned from OUR amid the allegations, which he has strenuously denied.
In a video posted to Instagram, Ballard appeared to acknowledge that some of his missions did involve pairing up with fake wives, but he claimed this was a legitimate tactic known as the 'couples ruse' that was deployed to fool traffickers.
He claimed it allowed male operatives to turn down offers of underage sex from traffickers by claiming their wife would disapprove, while retaining credibility.

⬇️ Top Picks for You ⬇️
Biden Got Recurring $1,380 Payment from Hunter's Firm Starting in 2018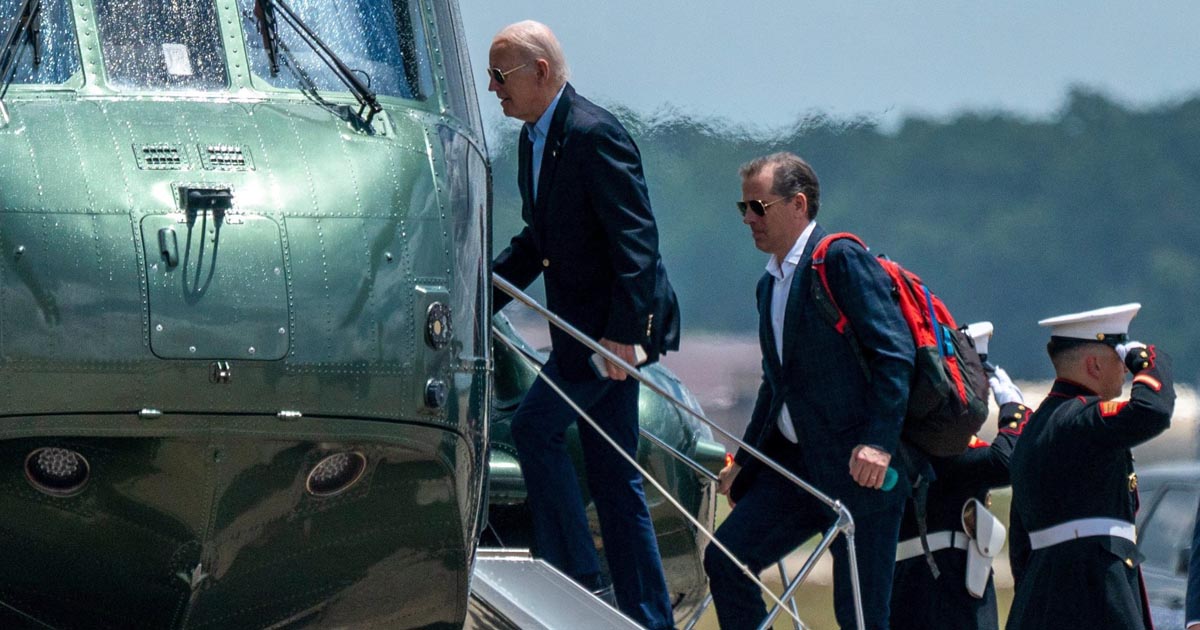 President Biden received a recurring payment of $1,380 from his son Hunter's law firm beginning in late 2018 shortly after a bank money laundering officer warned that the same account was receiving millions of dollars in Chinese government-linked funds without "any services rendered."
A bank order shows that Owasco PC set up a "monthly" transfer to then-former Vice President Joseph R. Biden Jr., with a voided check for the future president included in the documentation, which was released Monday by the House Oversight Committee.
A source told The Post that at least three recurring payments were made — on Sept. 17, Oct. 15 and Nov. 15, 2018 — totaling $4,140 to the elder Biden from Owasco PC, according to the bank records of the firm.
"President Biden and his family must be held accountable for this blatant corruption," Oversight Committee Chairman James Comer (R-Ky.) said in a video release.
"Today, the House Oversight Committee is releasing subpoenaed bank records that show Hunter Biden's business entity, Owasco PC, made direct monthly payments to Joe Biden. This wasn't a payment from Hunter Biden's personal account but an account for his corporation that received payments from China and other shady corners of the world," Comer said.
"At this moment, Hunter Biden is under an investigation by the Department of Justice for using Owasco PC for tax evasion and other serious crimes. And based on whistleblower testimony, we know the Justice Department made a concerted effort to prevent investigators from asking questions about Joe Biden. I wonder why?"
Earlier that year, a January 2019 email from assistant Katie Dodge to Hunter Biden annotated various expenses including "Ford Raptor — Reimbursement to JRB — $1380."
The provenance of the funds is unclear, however, and additional records show that Hunter Biden was knee-deep in two of his most controversial business relationships at the time, with Ukraine's Burisma Holdings and CEFC China Energy.
The evidence emerged as House Republicans prepare to question first brother James Biden on Wednesday and Hunter next week about the president's role in his family's dealings in countries such as China and Ukraine — with a possible floor vote to authorize the ongoing impeachment inquiry this month.
While a presidential candidate, Joe Biden denied that he ever discussed business with his relatives, but evidence has since shown that he met with his relatives' associates from both the Burisma and CEFC ventures.
Documents from the first son's abandoned laptop show that Burisma board adviser Vadym Pozharskyi sought "bank reference" information on Sept. 14, 2018 — one day before the initial transfer to Joe Biden was sought. However, the transaction was not executed for another two days, apparently due to a later-than-expected form submission.
Joe Biden met Pozharskyi at an April 17, 2015, dinner at DC's Café Milano. An unproven FBI informant tip said that Burisma owner Mykola Zlochevsky claimed in 2016 he was "coerced" into paying $10 million in bribes to the Bidens for their assistance in ousting prosecutor Viktor Shokin.
Hunter also was on the tail end of disbursing millions of dollars received from CEFC China Energy — one of two major Biden family dealings with Chinese government-linked firms.
On June 26, 2018 — less than three months before Joe Biden began to receive the monthly transfers — an internal Bank Secrecy Act expert warned colleagues that the institution should reconsider its relationship with Hunter as a result of Owasco PC seeming to receive Chinese funds without "any services rendered."
CEFC transferred $5 million to another Biden family-linked entity, Hudson West III, in August 2017 after Hunter warned a China-based associate of his father's wrath if a business deal was aborted. Much of the large transfer later went to Hunter's Owasco PC.
Prior bank records released by the Oversight Committee indicate that Joe Biden received payments of $40,000 and $200,000 from his brother James, who also was involved in the CEFC venture and other foreign-focused enterprises.
Comer alleged that the $40,000 transferred to Joe Biden's bank account on Sept 3, 2017, was from "laundered" Chinese funds.
James Biden paid Joe Biden $200,000 on March 1, 2018 — the same day that James received a $200,000 transfer from troubled rural hospital company Americore after pledging to use his political connections to secure a Middle Eastern investor, according to bankruptcy filings.
The White House says there's evidence that both transfers were loan repayments, but Republicans argue they have not seen loan agreement documents and note that the funds distributed to James came from a law firm, rather than Joe Biden himself, further clouding the picture.