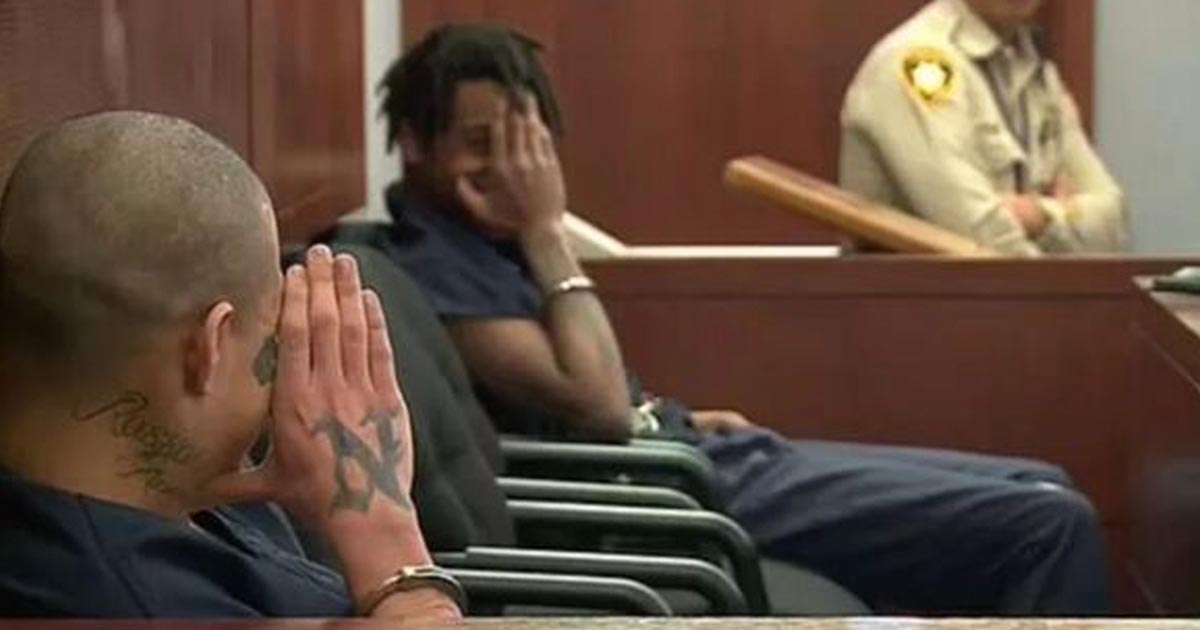 Teens Who Killed Retired Police Chief on Bike Laugh and Give Finger to Victim's Family in Court
Two Las Vegas teens accused of fatally running over a retired police chief laughed at each other, smiled, and seemingly flipped off their victim's family during a court hearing earlier this week.
Jesus Ayala, 18, and Jzamir Keys, 16, were back in court on Tuesday more than two months after they allegedly recorded themselves intentionally plowing into Andreas Probst, a 64-year-old retired police chief, who was out on a morning bike ride.
The teens' antics began when they sat down for the hearing in Clark County court, covering the right side of their faces to hide themselves from the cameras before appearing to cover their mouths to suppress their laughter.
The teens, who were both minors when Probst was killed, were charged with murder and are being tried as adults.
Probst's family slammed the teens' appalling actions, saying they "really had no remorse."
"How can you sit there after taking a man's life, and act like such an entitled p—k?" Taylor Probst, Andreas' 27-year-old daughter, told reporters outside the courthouse. "They really had no remorse, that this is just a game to them."
Ayala's public defender, David Westbrook, also appeared to be laughing alongside the teen in the courtroom on Tuesday, video from KTNV shows.
Westbrook expressed his frustration with the release of the bodycam footage, saying he should be able to see it before the media, which obtained the video through a public records request.
The public defender also said he is concerned about finding fair jurors for the case because of the viral media attention, which angered Probst's widow.
"It was your people who put it in the media first, your clients are the ones that put that on social media," Crystal Probst said, referring to the in-car view of the horrific August killing.
"They were just trying to mad-dog us and intimidate us, which didn't work," Taylor Probst added.
Ayala and Keys, with their hands cuffed to a "belly chain," turned to the gallery and smirked at the Probst family as they left the courtroom.
Crystal Probst, wearing her late husband's damaged Apple Watch, remained unfazed by the deadly duo's intimidation tactics.
"It just makes him look bad," she told the Las Vegas Review-Journal, saying Ayala pointed his middle finger toward her.
During his initial arrest on Aug. 14, Ayala told cops he would be released from jail in a month.
"You think this juvenile [expletive] is gonna do some [expletive]? I'll be out in 30 days, I'll bet you," Ayala told officers after he was arrested in September.
In bodycam footage released Monday, the 18-year-old asked the officer whether the crash was "really that serious."
"Is it really that serious, like for real, over supposedly me crashing a car?" Ayala asked the officer transporting him following his arrest.
"You think I'm gonna come out on the news?" Ayala later asked the officer.
"It won't be for anything good, it won't make your mama proud," the officer responded.
Ayala's mother has made headlines herself, saying she didn't understand why her son did what he did.
"I don't know why he did this," Ayala said. "I don't know if God can forgive this."
Taylor Probst blames Ayala's and Keys' families as the main people who failed the teens.
"A multitude of different people failed, but I think ultimately the parents on all ends. They're the ones that failed."
Two teens who Live Streamed themselves murdering a police officer laugh and joke in court, while flipping their middle finger at the victims family.

Jesus Ayala, 18, and Jzamir Keys, 16 killed Andreas Probst, a 64 year old retired police officer after they filmed themselves… pic.twitter.com/M29tQI0KzS

— Oli London (@OliLondonTV) October 25, 2023

⬇️ Top Picks for You ⬇️
Senate Democrats Authorize Supreme Court Ethics Subpoenas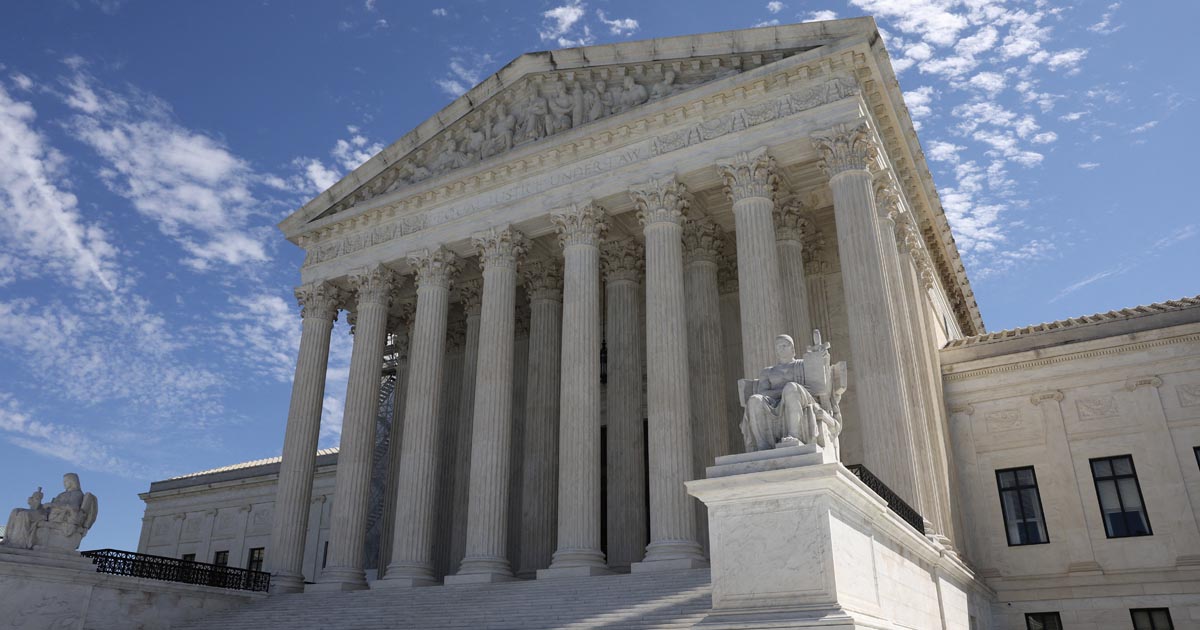 A Democratic-led U.S. Senate panel on Thursday authorized subpoenas to two influential conservatives – Harlan Crow and Leonard Leo – as part of an ethics inquiry spurred by reports of undisclosed largesse directed to some conservative Supreme Court justices.
The Judiciary Committee voted to authorize the subpoenas for Crow, a billionaire Republican donor and benefactor of conservative Justice Clarence Thomas, and Leo, a legal activist who was instrumental in compiling Republican former President Donald Trump's list of potential Supreme Court nominees.
Republican senators walked out of the contentious committee meeting in protest while Democrats cast votes. Some Republicans later questioned the vote's legitimacy, accusing Democrats of violating procedural rules.
"The subpoena clearly wasn't legal," Republican Senator John Kennedy, a committee member, said after the vote.
Senator Dick Durbin, the panel's chairman, said subpoenas were necessary due to the refusal by Crow and Leo for months to voluntarily comply with its previous requests for information. This included itemized lists of all gifts, transportation and lodging provided to any Supreme Court justice.
Durbin also renewed his criticism of a new code of conduct announced by the court on Nov. 13 and promised to continue to pursue the committee's ethics investigation.
"Without an enforcement mechanism, this code of conduct, while a step in a positive direction, cannot restore the public's faith in the court," Durbin said.
Senator Lindsey Graham, the committee's top Republican, told the meeting that Democrats were engaged in a "jihad" against the Supreme Court, whose 6-3 conservative majority has handed major defeats to liberals in recent years on matters including abortion, gun rights and student debt relief.
"When you say you don't want to destroy the Roberts Court, I don't believe you," Graham said, referring to the court under the leadership of conservative Chief Justice John Roberts. "I don't believe a word you're saying."
The committee vote authorized Durbin to issue the subpoenas, which he could do unilaterally, according to a Democratic committee staffer.
If the subpoena recipients fail to comply, Democrats would need 60 votes in the 100-seat Senate to initiate a civil enforcement action, meaning they would need the support of some Republicans. The Democrats also would have the option to make a referral to the U.S. Justice Department, which could choose to pursue criminal contempt proceedings against the subpoena recipients.
Lawyers for Leo and Crow in letters to the committee have criticized the committee's information requests as lacking a proper legal justification. Crow's lawyer had proposed turning over a narrower range of information but Democrats rebuffed that offer, according to the panel's Democratic members.
The news outlet ProPublica reported this year on Thomas's failure to disclose luxury trips and real estate transactions involving Crow, a Texas businessman.
The outlet also reported that Leo helped organize a luxury fishing trip in Alaska attended by conservative Justice Samuel Alito, who failed to disclose taking a private jet provided by billionaire hedge fund manager Paul Singer. Trump chose all three of his appointees to the court from lists of candidates that Leo played a key role in drawing up.
Thomas has said he believed the Crow-funded trips were "personal hospitality" and thus exempt from disclosure requirements, and that his omission of the real estate transaction was inadvertent.
Alito, regarding the flight, said that Singer had "allowed me to occupy what would have otherwise been an unoccupied seat."