The CDC played a direct role in moderating and censoring speech on Facebook surrounding the COVID pandemic, emails obtained in a lawsuit against the Biden administration suggest.
Facebook's cozy relationship with the CDC was revealed after the state of Missouri sued the federal government for alleged censorship of citizens in violation of the First Amendment. Reason Editor Robby Soave outlined the nature of the communication in a series of tweets reminiscent of the Twitter files, with screenshots of the relevant emails between the CDC and Meta employees.
"The CDC had significant input on pandemic-era policies at Meta," Soave wrote. "The CDC was consulted frequently, at times daily, receiving constant updates about which topics were trending, and giving recommendations on what content to flag as false or misleading."
2. The CDC had significant input on pandemic-era policies at Meta. The CDC was consulted frequently, at times daily, receiving constant updates about which topics were trending, and giving recommendations on what content to flag as false or misleading. https://t.co/rEXxY1VDk3

— Robby Soave (@robbysoave) January 19, 2023
The revelations mirror disclosures about Twitter's close cooperation with government officials in suppressing claims that went against the official line were made voluntarily after Elon Musk bought that platform.
By May of 2021, the CDC was monitoring statements by Facebook users about the safety and efficacy of COVID vaccines, and highlighting certain ideas it wanted banned and suppressed. Facebook was eager to acquiesce — one moderator went so far as to thank the CDC for "help in debunking" these claims.
Notably, one widely circulated claim that drew the attention of the CDC was the "lab leak" theory — the notion that COVID was biologically engineered — an idea the CDC dismissed as technically possible, but highly improbable. Facebook would crack down on users and accounts promoting the lab leak theory shortly after this exchange.
By July of 2021, the CDC was flagging posts for concerns beyond factual accuracy — claims that "may cause harm" or induce "vaccine refusal" were also flagged for censorship.
"Meta gave the CDC de facto power to police COVID misinfo on the platforms; the CDC took the position that essentially any erroneous claim could contribute to vaccine hesitancy and cause social harm. This was a recipe for vast silencing, at the feds' implicit behest." After the FDA granted emergency authorization for the use of COVID vaccines in children, Facebook agreed to censor all posts suggesting that the vaccine was not safe for kids.
The CDC also kept a watchful eye on criticism and mockery of former Director of the National Institute of Allergy and Infectious Diseases Anthony Fauci.
11. Meta also kept the CDC apprised of criticism of Anthony Fauci. One email warned the CDC that Facebook users were mocking Fauci for changing his mind about masking and double-masking. The CDC replied that this information was "very helpful." pic.twitter.com/CUM5wwORtM

— Robby Soave (@robbysoave) January 19, 2023
Personal details from the email exchanges reveal a cordial relationship between Meta and the CDC, with Meta employees referring to their counterparts at the CDC as "colleagues" and working to provide them many channels to flag and report content. However, co-operation may not have been totally voluntary — members of the White House staff routinely and publicly berated Facebook and other social media platforms for not taking down offending posts fast enough, and as recently as July of 2021, President Biden himself said Facebook was "killing people."
"Facebook is a private entity, and thus is within its rights to moderate content in any fashion it sees fit," Soave concluded. "But the federal government's efforts to pressure social media companies cannot be waved away. Such an arrangement—whereby private entities, at the behest of the government, become ideological enforcers—is unacceptable. And it may be illegal."

⬇️ Top Picks for You ⬇️
FBI Has 2 More Informant Files on Alleged Biden Corruption; 2 More Banks Subpoenaed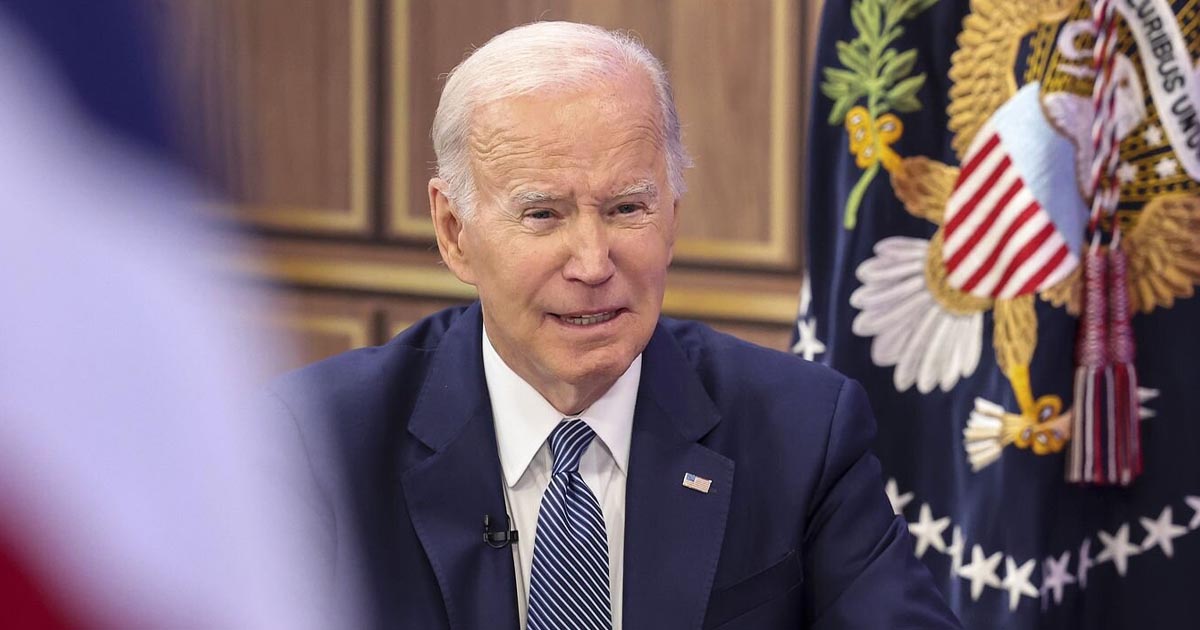 The FBI holds two more informant files on the Biden family's business ventures, triggering the House Oversight Committee on Friday to subpoena two more banks, Rep. Marjorie Taylor Greene (R-GA) exclusively told Breitbart News.
Greene, a member of the House Oversight Committee, said the FBI holds at least two more FD-1023 forms referenced in the FBI informant document reviewed by the Committee Thursday. Greene expects the Committee will work to review those forms next week.
On Thursday the committee viewed an FBI informant file that revealed the alleged existence of two pieces of evidence showing President Joe Biden received $5 million from Ukrainian energy company Burisma, Committee Republicans told reporters.
"He requested it, he and Hunter Biden requested $5 million each," Greene said. "'Pay me $5 million, pay my father $5 million, and we will take care of your problems for you,'" Greene described the alleged request the Bidens made of Burisma.
In 2015, Burisma was under suspicion of money laundering and public corruption. Prosecutor Victor Shokin investigated the case before his termination due to pressure applied by then-Vice President Joe Biden, who threatened to withhold $1 billion in U.S. aid from Ukraine if the Ukrainian government did not fire the prosecutor investigating Burisma.
In exchange for that, the informant file alleges, Joe Biden and Hunter Biden received $5 million each in small sums through separate bank accounts.
Joe Biden bragged about the firing during a 2018 appearance at the Council of Foreign Relations. "I said, 'I'm telling you, you're not getting the billion dollars.' I said, 'You're not getting the billion. I'm going to be leaving here in,' I think it was about six hours," Biden told the audience. "I looked at them and said, 'I'm leaving in six hours. If the prosecutor is not fired, you're not getting the money.' Well, son of a bitch. He got fired."
In connection with Biden's Burisma business deal, Greene told Breitbart News the House Oversight Committee issued two subpoenas Friday to compel information about the Bidens' Ukrainian transactions. Before Friday, the Committee subpoenaed at least four banks — Bank of America, Cathay Bank, JPMorgan Chase, and HSBC USA N.A –and one individual.
"We're giving out subpoenas for two more banks. And this has to do with bank accounts related to Ukraine. So, we're digging deeper into this," she said. "We were hoping to find, you know, actual transactions that relate to this 1023 form."
Greene described Thursday's inspection of the 1023 form. She told Breitbart News she took notes inside the secured area but had to leave the notes inside the secured room per FBI policy. Once she finished reviewing the documents and taking notes, she made a second batch of notes outside the secure area.
"But as soon as I filed my notes, it was really fresh in my mind, because I read it a couple times," she said. "So I made my own notes separately — in a separate room, not in the SCIF, but in a separate room."
"The form references two separate 1023 [forms]," she said, referring to two additional FD-1023 forms mentioned in the FBI informant document.
"It's on white paper, printed paper, eight by 11 normal paper. It looks like just a report," she said.
"The form is written in chronological time," Green continued. "The date of the 1023 that I read yesterday is June 30, 2020. But it tells chronological order, starting in 2015, 2016."
Greene believes the form is credible because the FBI believes the informant is credible. The informant is reportedly a "highly credible" FBI source with a history dating back to the Barack Obama administration.
"The FBI told us [that] they just think he's their best one," she said. "Everything he hands over is true. Everything he hands over is valuable. Everything he hands over is accurate."
In addition, Greene revealed the form indicated Hunter Biden's position on Burisma's board, in which he received about $80,000 per month, were monthly installments of a $5 million total cut owed Hunter Biden in the deal with his father.
"The reason why he was on the board, taking a ridiculous salary, and getting paid these side bribes was literally because his father is the Vice President of the United States. And Hunter and [Joe] Biden have a business partnership, where Hunter goes out —and he does the groundwork — in order for his father to make the decisions and the policy changes for — to get payment."
"He's [Joe Biden] on a telephone call talking about it, he's on video and an interview talking about it, where he literally withheld the U.S. aid from Ukraine and demanded that they fire Victor Shokin," Green said. "And it happened. It happened."
When a reporter questioned Joe Biden Thursday about the alleged $5 million payment, he jokingly responded, "Where's the money?"