TikTok users inexplicably posted their reactions this week to reading Osama bin Laden's infamous "Letter to America" for the first time, some arguing it made them reevaluate their view of the Sept. 11 attacks Bin Laden orchestrated.
A slew of TikTok users expressed shock in their videos that they did not completely disagree with bin Laden's reasoning that the attacks on the World Trade Center were retribution for the United States' Cold War-era meddling in the Middle East and that Israel occupied Palestinian land and oppressed the Palestinian people for decades, he claimed.
Over the past 24 hours, thousands of TikToks (at least) have been posted where people share how they just read Bin Laden's infamous "Letter to America," in which he explained why he attacked the United States.

The TikToks are from people of all ages, races, ethnicities, and… pic.twitter.com/EwjiGtFEE3

— Yashar Ali 🐘 (@yashar) November 16, 2023
Several other videos on the platform plainly explain the contents of the letter, comment on the discussion about the letter or explain the context of Bin Laden, Al-Qaeda and the 9/11 attacks to an audience that may not have been alive when they happened.
A handful of videos found when searching "Letter to America" on TikTok have tens of thousands or hundreds of thousands of views.
The letter's recent overall virality prompted The Guardian, which had published the letter when Bin Laden originally did so in November 2002, to remove it from its website on Wednesday.
What does the letter say?
The letter openly uses antisemitic language and addresses the issue of Palestinian statehood. It justifies the September 11 attack, blaming it on the Jewish people.
"Your former president warned you previously about the devastating Jewish control of capital [wealth] and about a day that would come when it would enslave you," the letter begins.
In another antisemitic segment, Bin Laden wrote: "You continue to support the oppressive Israelis in their occupation of our Palestine in response to pressures on your administration by a Jewish lobby backed by enormous financial capabilities.
"Palestine has been under occupation for decades, and none of your presidents talked about it until after September 11 when Bush realized that your oppression and the tyranny against us were part of the reason for the attack," the terrorist leader wrote on the subject of Palestinian statehood. "You have to implement a roadmap that returns the Palestine land [sic] to us, all of it, from the sea to the river; it is an Islamic land not subject to being traded or granted to any party.
"Palestine shall not be seen captive for we will try to break its shackles. The United States shall pay for its arrogance with the blood of Christians and their funds. "

⬇️ Top Picks for You ⬇️
4th Republican Debate Highlights: GOP Rivals Clash on Stage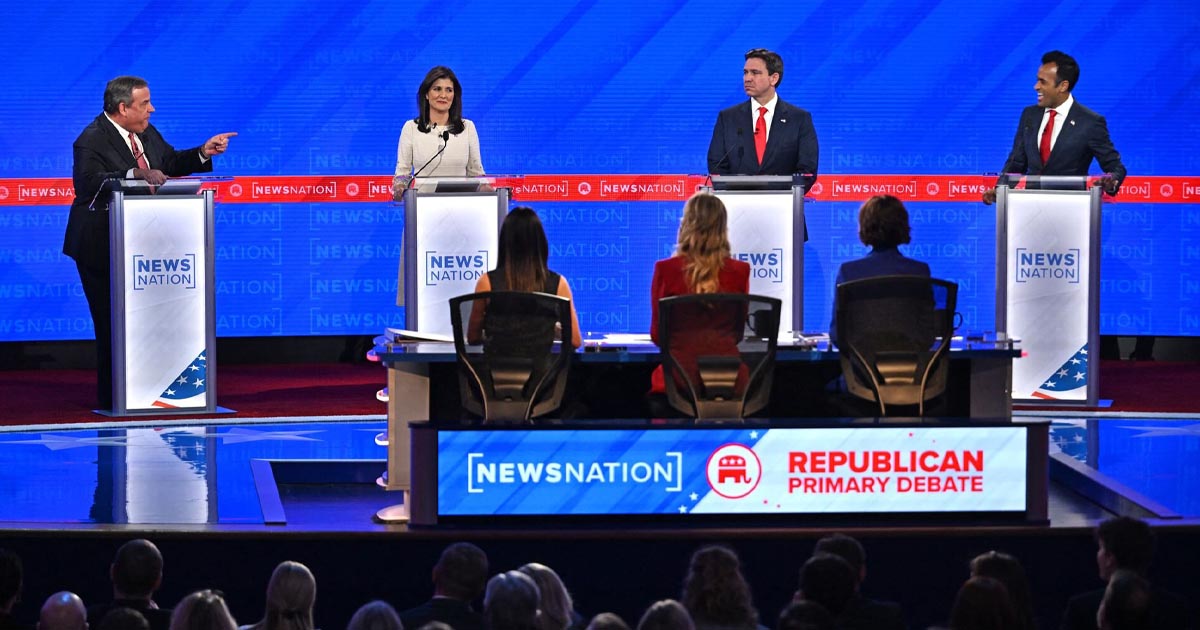 The smallest field yet of GOP candidates faced off Wednesday in the fourth Republican presidential debate of 2023 in Tuscaloosa, Alabama, with the first salvos of the night aimed at former Ambassador to the U.N. Nikki Haley, while former President Donald Trump, who leads the field by a wide margin in the polls, held a closed campaign fundraiser in Florida.
NewsNation hosted the fourth debate with three moderators: NewsNation's Elizabeth Vargas, former Fox News host Megyn Kelly and the Washington Free Beacon's Eliana Johnson.
Four candidates appeared on stage:
Former New Jersey Gov. Chris Christie
Florida Gov. Ron DeSantis
Former U.N. Ambassador Nikki Haley
Businessman Vivek Ramaswamy
The first three debates have not done much to change the dynamics of the race among Republican primary voters. The latest CBS News poll, from early November, showed Trump winning 61% of likely GOP primary voters nationwide, more than all the other candidates combined. DeSantis polled at 18%, Haley at 9%, Ramaswamy at 5%, Sen. Tim Scott at 4% and Christie at 2%.
Here are the highlights from the debate below.
DeSantis and Ramaswamy team up to attack Haley: "I love all the attention, fellas"
DeSantis and Ramaswamy were quick to take shots at Haley, who is rising in the polls as the race for second place heats up.
"She caves anytime the Left comes after her, anytime the media comes after her," DeSantis said.
Ramaswamy later joined in, questioning Haley's wealth since she left government service.
"Nikki, you were bankrupt when you left the U.N. After you left the U.N., you became a military contractor," he said, referring to Haley's stint on the board of Boeing, "whose back you scratched for a very long time and then get foreign multinational speeches like Hillary Clinton is, and now you're a multimillionaire. That math does not add up. It adds up to the fact that you are corrupt."
Ramaswamy also criticized wealthy donors to Haley's campaign, saying they're funding "left-wing causes."
"In terms of these donors that are supporting me, they're just jealous," Haley responded. "They wish that they were supporting them."
DeSantis said, "Nikki will cave to those big donors when it counts."
The pair also went after Haley for proposing that all social media users should be verified by their names online.
"I love all the attention, fellas," Haley said. "Thank you for that."
Christie hammers Ramaswamy in defense of Haley: "The most obnoxious blowhard in America"
Christie offered a forceful defense of Haley against Ramaswamy's insults of her intelligence.
After Ramaswamy claimed that Haley could not name three provinces in eastern Ukraine where she would send U.S. troops, Christie accused the entrepreneur of habitually backing away from comments he makes on the campaign trail when he's confronted by political opponents about his positions.
"This is the fourth debate that you would've been voted in the first 20 minutes as the most obnoxious blowhard in America, so shut the hell up," Christie told Ramaswamy.
The former New Jersey governor accused Ramaswamy of insulting Haley's intelligence, rather than her policy positions — claiming, for example, that she can't identify regions in Ukraine or find Israel on a map.
"If you want to disagree on issues, that's fine, and Nikki and I disagree on some issues," Christie said. "I've known her for 12 years, which is longer than he's even started to vote in the Republican primary, and while we disagree about some issues and disagree about who should be president of the United States, what we don't disagree on is this is a smart, accomplished woman and you should stop insulting her."
Christie went on to criticize Ramaswamy's lack of experience and claimed that while he was serving as the top federal prosecutor in New Jersey, Ramaswamy was "learning about the provinces in Ukraine sitting with his smarta** mouth at Harvard."
"All he knows how to do is insult good people who have committed their lives to public service and not say anything that moves the ball down the field for the United States," Christie said.
Divisions emerge among Republican candidates on parental rights
A question about parental rights and gender-affirming care for young people showed a split between Christie and DeSantis over an issue that has gained traction with Republican voters.
Christie said he favors limited involvement from the government and believes parents should be empowered to make decisions about their children.
"I trust parents," he said.
The former New Jersey governor, who opposes state restrictions on gender-affirming care for transgender youth, asserted it's parents who should be making the decisions about this for their children. He made the point that he and his wife care more for their four children than a government official in a dysfunctional Congress.
"You look at these jokers in Congress — it takes them three weeks to pick a speaker, and up until two days ago, they couldn't promote somebody in the military in the United States Senate who earned their new rank. And we're going to put my children's health and my decisions in their hands for them to make those decisions? For Joe Biden to make those decisions?" Christie said.
He warned parents that if they cede those rights on gender-affirming care for their children to states, it would just be the beginning.
"You start to turn over just a little bit of this authority, the authority they're going to take from you next, you're not going to like," Christie said.
But DeSantis defended restrictions on gender-affirming treatment for minors he signed into law as governor of Florida and warned surgical procedures are "mutilating minors."
"We cannot allow this to happen in this country," he said.
Ramaswamy, meanwhile, suggested the federal government should take action on the issue of gender-affirming surgery.