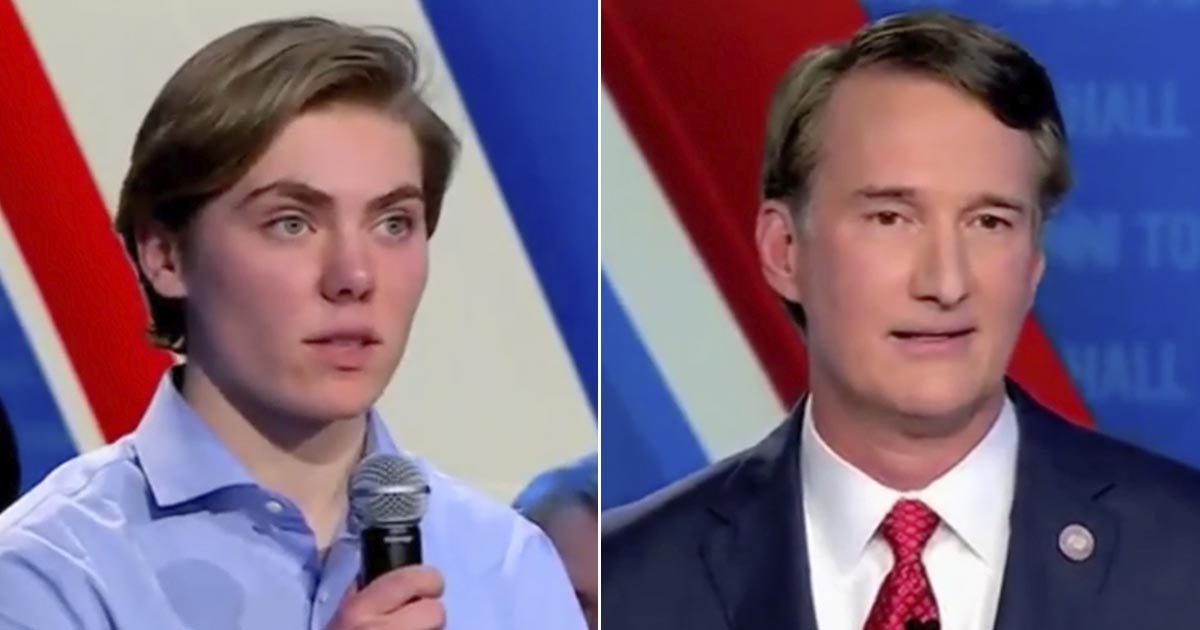 Trans Student Challenges GOP Governor on Bathroom, Sports Policy — Youngkin Calls for Gender-Neutral Bathrooms
Governor Glenn Youngkin appeared on CNN's Town Hall in the nation's Capitol on Thursday evening.
Youngkin defended the state's policies on school bathrooms and sports following a question from a transgender student, but also called for gender-neutral bathrooms.
Youngkin's administration rewrote the state's policies on transgender youths at public schools in September, requiring students to use bathrooms, locker rooms and join sports teams based on their sex at birth, not their gender identity.
The policy updates also include forbidding students from changing their names and preferred pronouns at public schools without the consent of their parents.
During the audience Q&A section of Thursday's CNN town hall, a 17-year-old transgender student, who went only by the name "Nico," asked Youngkin about these policies.
"Look at me. I am a transgender man," Nico said. "Do you really think the girls in my high school would feel comfortable sharing a restroom with me?"
Youngkin replied by first thanking the student for attending the event and engaging in the critical discussion.
"I believe first that when parents are engaged with their children, then you can make good decisions together, and I met your dad, and I'm glad that you're both here together — it's really, really important," he said.
Youngkin then said that many students are involved in this decision and noted the importance of accommodating students, highlighting the need for more school bathrooms, including gender-neutral lavatories.
"People can use the bathroom that they in fact are comfortable with," he added.
Youngkin then gave a significantly more definitive answer to transgender men and women competing in sports.
"I think sports are very clear and I don't think it's controversial. I don't think biological boys should be playing sports with biological girls," he said. "There's been decades of efforts in order to gain opportunities for women in sports. And it's just not fair. And I think that's non-controversial and something that is pretty well understood."
https://twitter.com/JackPosobiec/status/1634063245928480774
As Youngkin responded, Nico's father could be seen in the audience shaking his head.
Youngkin previously defended his state policies on CNN in October when he told Jake Tapper, "Let me begin with these basic principles, which is first, parents have a fundamental right to be engaged in their children's lives. And oh, by the way, children have a right to have parents engaged in their lives. We needed to fix a wrong. The previous administration had had a policy that excluded parents and, in fact, particularly didn't require the involvement of parents. And let's be clear — parents have this right and children don't belong to the state, they belong to families."
Tapper pressed the Republican governor on whether the policies would actually exclude parents who are supportive of their child using facilities or joining sports teams based on gender identity and not biological sex.
"Certainly not. If parents actually want their child to be able to change a pronoun or their name or use a bathroom, if parents choose that, then legally that's what the schools will do. With regards to sports teams, this is a different issue," Youngkin responded.

⬇️ Top Picks for You ⬇️
Here Are the 5 Republicans Who Voted Against the GOP's Parents Bill of Rights
House Republicans passed an education bill on Friday that emphasizes parental rights in the classroom, leaning into a hot-button, culture war issue that has gained popularity in GOP politics across the country.
The legislation, titled the Parents Bill of Rights, passed in a 213-208 vote, and it now heads to the Senate for consideration. It is highly unlikely, however, that the Democratic-controlled chamber will take up the measure, with House Democrats dubbing the bill the "Politics over Parents Act."
Republican Reps. Andy Biggs (Ariz.), Ken Buck (Colo.), Matt Gaetz (Fla.), Mike Lawler (N.Y.) and Matt Rosendale (Mont.) sided with all voting Democrats in opposing the measure.
The measure would require schools to publish their curricula publicly, mandate that parents be allowed to meet with their children's teachers and make schools give information to parents when violence occurs on school grounds.
It would also demand that parents receive a list of books and reading materials accessible at the school library and give parents a say when schools are crafting or updating their policies and procedures for student privacy, among other tenets.
At a time when Republicans have accused Democrats of painting parents as a threat and in the wake of contentious school board meetings around the country, the legislation also says school and government officials "should never seek to use law enforcement to criminalize the lawfully expressed concerns of parents about their children's education," and that the "First Amendment guarantees parents and other stakeholders the right to assemble and express their opinions on decisions affecting their children and communities."
"This bill is not complex or complicated," the bill's sponsor Rep. Julia Letlow (R-La.) said during debate on the House floor Thursday. "Nor should it be partisan or polarizing, and contrary to what you may hear from my colleagues on the other side of the aisle, it is not an attack on our hard-working teachers, who will always be the heroes in my eyes."
"It is not an attempt to have Congress dictate their curriculum or determine the books in the library," she continued. "Instead, this bill aims to bring more transparency and accountability to education, allowing parents to be informed and when they have questions and concerns to lawfully bring them to their local school boards."
The chamber also approved a number of amendments to the bill, including one sponsored by Rep. Lauren Boebert (R-Colo.) that says parents have a right to know if the school their child attends operates, sponsors or facilitates athletic programs or activities that allow transgender girls or women to participate in a sport that does not correspond with their sex assigned at birth.
Another approved amendment, also sponsored by Boebert, says parents have a right to know if their child's school allows a transgender girl or woman to use a bathroom or changing room that does not correspond with the sex assigned at birth.
Letlow first introduced the legislation in 2021, when education emerged as a controversial issue amid protests at school board meetings that railed against COVID-19 restrictions, curricula and books pertaining to gender and sexuality, and diversity and inclusion initiatives. She proposed the measure after Virginia Gov. Glenn Youngkin (R) won his race on a platform that emphasized education and parental rights, making him the first Republican to win a statewide election in the Old Dominion in more than a decade.
The measure, however, did not receive a vote in the Democratic-controlled House during the last Congress, leading Letlow to reintroduce it at the beginning of March. House Republicans during the 2022 campaign cycle vowed to advance the legislation if they were to win the majority that November.
Although the bill is unlikely to get attention in the Democratic-controlled Senate, the House vote on the measure will almost certainly be used by Republicans to fuel attacks against Democrats on education, which has become an issue of heightened importance heading into the 2024 election cycle. Republicans have sought to paint Democrats as working to cut parents out of their children's education.
House Democrats this week argued the GOP's bill does not give parents any new rights in education and that it could make it easier for books to be banned in schools.
More than 1,600 books were banned in schools and libraries during the 2021-2022 school year, according to a report from PEN America, with the majority of the prohibitions occurring in Texas and Florida. A number of the books banned included LGBTQ themes and addressed issues of race and racism.
"This legislation has nothing to do with parental involvement, parental engagement," House Minority Leader Hakeem Jeffries (D-N.Y.) said on the House floor Thursday. "Parental empowerment has everything to do with jamming the extreme MAGA Republican ideology down the throats of the children and the parents of the United States of America."
"I think what we're seeing here today is the Republicans' attempt, Republican Party's attempt, to take some of the most heinous legislation that we are seeing passed on the state level to attack our trans and LGBT as well as people from marginalized communities right to exist in schools," Rep. Alexandria Ocasio-Cortez (D-N.Y.) said during Thursday's debate.
Republicans, however, pushed back on the idea that this bill will ban books. Rep. Virginia Foxx (R-N.C.), the chairwoman for the House Committee on Education, noted on a number of occasions that the legislation mentions nothing about banning books.
"The context here matters that we're talking about legislation in this body to just ensure that parents know what's in the libraries and what's in the curriculum," Rep. Chip Roy (R-Texas) said. "It does nothing more."
"Yet, that's the great offense, but in trying to perpetuate this myth about federal perpetuation of so-called book banning — and let me be clear, yes, some local jurisdictions removing certain books, absolutely, and God bless them for it," he added. "Books about explicit sex acts. Let that hang over the chamber."
Democrats also highlighted their support for student-parent engagement, but said they don't believe the legislation does anything to promote it.
"First, let me be clear, the House Democrats believe parental engagement is central to student success," said Rep. Bobby Scott (D-Va.), the ranking member of the Committee on Education and Workforce. "Parental engagement is, in schools is closely linked to better student behavior, higher academic achievement and enhanced social skills, but, unfortunately, the Politics over Parents act does not take meaningful steps to increase or support parental engagement."
"Congress has a constitutional authority to write laws. What a mockery and betrayal of that duty it would be to pass this stunt of a bill that doesn't address a single priority of parents, bans books, undermines teachers and hurts our kids, Democrats are the party of parents and families," Rep. Pramila Jayapal (D-Wash.) said.