Former President Donald Trump took aim at Ron DeSantis Saturday, claiming the Florida governor and his team are "trying to rewrite history" regarding their Covid-19 pandemic response, and called the potential presidential run by his GOP rival "very disloyal."
"There are Republican governors that did not close their states," Trump told reporters while aboard his plane. "Florida was closed for a long period of time."
"They're trying to rewrite history," he added.
In March 2020, the Florida governor issued an executive order closing bars and nightclubs, urging people to follow US Centers for Disease Control and Prevention guidelines to limit gatherings on beaches to no more than 10 people. By that September, DeSantis signed an order clearing restaurants and bars to fully open, which drew criticism from public health officials due to the Covid-19 spike that fall.
Trump defended his management of the pandemic, saying he left decisions to governors.
"I had governors that decided not to close a thing and that was up to them," he said. The former president also took aim at DeSantis' shifting posture on vaccines, saying the Florida governor had "changed his tune a lot."
That claim comes after DeSantis called on state lawmakers this month to make permanent existing penalties for companies that require all employees get the Covid-19 vaccination.
The rivalry with Trump hangs over every move DeSantis makes. Their relationship traces back to the governor's 2018 primary campaign, when an endorsement from Trump helped the little-known congressman win the nomination. A viral ad featuring DeSantis and his family, including two young children, highlighted his allegiance to Trump.
But as talk of 2024 swirled in recent months, as Trump again declared his presidential candidacy, and DeSantis won re-election in a 19-point landslide in November, the pair grew increasingly at odds. Before and after the midterm election, Trump derided DeSantis as an "average governor" and mocked him with the would-be nickname, "Ron DeSanctimonious."
On Saturday, during his first major campaign swing to New Hampshire and South Carolina, Trump took credit again for helping elevate DeSantis during his 2018 bid for governor, saying "Ron would have not been governor if it wasn't for me."
"So when I hear he might run, I consider that very disloyal," Trump said.
While taking aim at DeSantis, Trump told reporters aboard his plane that Nikki Haley – who served as his ambassador to the United Nations – called him in recent days to inform him that she is considering launching a 2024 presidential bid.
"I talked to her for a little while, I said, 'Look, you know, go by your heart if you want to run,'" Trump said. "She's publicly said that 'I would never run against my president, he was a great president.'"
Trump said he told Haley that she "should do it."
Haley, who recently relocated her top aides to Charleston, is said to be weighing the timing of a campaign launch at this point, not wanting to be the first one to take on Trump by herself. In 2021, she said she would not challenge Trump if he ran again for the White House in 2024.

⬇️ Top Picks for You ⬇️
Biden Dog Bites Another Secret Service Agent; 11th Incident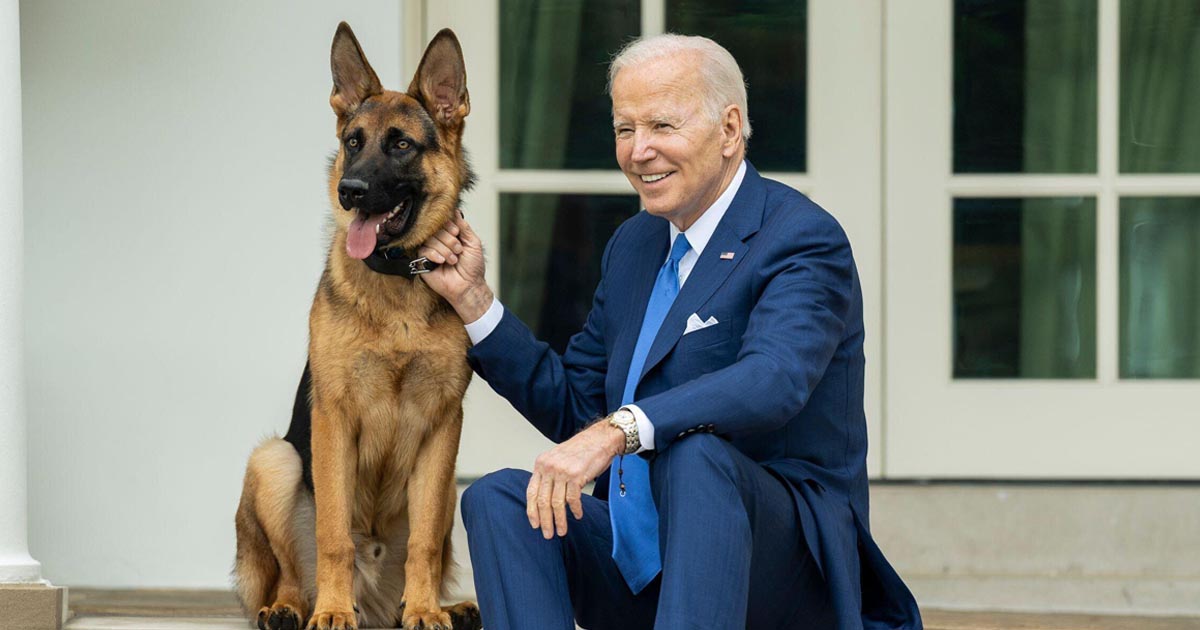 President Joe Biden's younger dog, Commander, bit another US Secret Service agent at the White House Monday evening, CNN has learned, the 11th known biting incident involving the 2-year-old German Shepherd.
"Yesterday around 8 p.m., a Secret Service Uniformed Division police officer came in contact with a First Family pet and was bitten. The officer was treated by medical personnel on complex," USSS chief of communications Anthony Guglielmi told CNN in a statement.
The injured officer spoke with Secret Service Uniformed Division Chief Alfonso M. Dyson Sr. on Tuesday and is doing OK, Guglielmi said.
Commander has been involved in at least 11 biting incidents at the White House and in Delaware, according to CNN reporting and US Secret Service email correspondence, including a November 2022 incident where an officer was hospitalized after the dog clamped down on their arms and thighs.
White House officials said in July that the Bidens were working through new training and leashing protocols for the family pet following the incidents.
Asked by CNN whether the new training had taken place or if any further action would be sought, Elizabeth Alexander, communications director for the first lady, said in a statement that "the First Family continues to work on ways to help Commander handle the often unpredictable nature of the White House grounds."
"The President and First Lady are incredibly grateful to the Secret Service and Executive Residence staff for all they do to keep them, their family, and the country safe," she continued.
Another of Biden's dogs, Major, was involved in biting incidents at the White House. The German Shepherd later moved out of the White House, and Commander arrived at the White House in 2021.
The July email correspondence, obtained through Freedom of Information Act requests by the conservative group Judicial Watch, reflected 10 incidents.
In one incident in October, first lady Dr. Jill Biden "couldn't regain control" of the dog as it charged a member of Secret Service staff.
"I believe it's only a matter of time before an agent/officer is attacked or bit," the staff member warned in an email.
While Secret Service agents are not responsible for the handling of the first family's pets, they can come into frequent contact with the animals.
"This isn't a Secret Service thing. This is a this is a workplace safety issue," CNN contributor and former USSS agent Jonathan Wackrow told CNN.
"There's uniqueness here where it's the residence of the president of the United States, but it's also the workplace for hundreds, thousands of people. And you can't bring a hazard into the workplace. And that's what is essentially happening with this dog. One time you can say it's an accident, but now multiple incidents, it's a serious issue," he added.
Wackrow called it a "significant hazard" for agents on duty at the White House residence.
"I'm sure that the Bidens love the dog. I'm sure that it's a member of the family like every dog is, but you're creating a significant hazard to those who support you – support the office of the president," he said.