Michael Cohen  is expected to take to the stand this week in an ongoing civil trial that could see the two men come face-to-face for the first time since they became sworn enemies.
Previously the Trump Organization's longtime executive vice president and general counsel, Cohen is a star witness in New York Attorney General Letitia James's (D) case. Trump is expected to attend Cohen's testimony in person — extending visits he made the first few weeks of the trial he has deemed politically motivated.
Cohen first flipped on his former boss amid investigations into a hush money deal made ahead of the 2016 election. He paid a combined $280,000 to porn star Stormy Daniels and ex-Playboy model Karen McDougal on Trump's behalf to cover up allegations of an affair.
That payment is central to Trump's criminal indictment in New York, which is separate from the civil fraud trial. Cohen pleaded guilty and was sentenced to three years in prison for his role in the deal, though he earned early release due to the COVID-19 pandemic.
"Time and time again I felt it was my duty to cover up his dirty deeds," Cohen said of Trump at his 2018 sentencing hearing.
Since then, the Manhattan attorney has become one of Trump's most fervent critics, hurling insults online or in the news media while also testifying against his former client in numerous venues.
James has said Cohen's 2019 testimony before Congress, where he claimed the former president significantly overstated his wealth before taking office, spurred her sprawling investigation into Trump and his business empire.
James's office sued Trump, the Trump Organization and his two adult sons — Eric Trump and Donald Trump Jr. — last year, claiming the former president's company falsely inflated and deflated the value of its assets to receive lower taxes and better insurance coverage.
The trial began earlier this month in the New York Supreme Court, where Trump appeared in person for the first several days of trial with his second son, Eric Trump. The former president has denied any wrongdoing, but Cohen has maintained otherwise.
"I can assure you that — as I had stated once again before the House Oversight Committee — everything that happened at the Trump Organization happened with the direct knowledge and at the direction of, and ultimately signed off by, Donald J. Trump," Cohen said in a CNN interview earlier this month. "There's no way for him to escape this."
Before Cohen took the stand, defense attorneys sought to undermine his credibility as a witness to Judge Arthur Engoron, who is overseeing the trial. Because the case is a bench trial, meaning there is no jury, its outcome is at Engoron's sole discretion.
During their opening remarks, prosecutors showed a clip from Cohen's deposition where he suggested Trump wanted to inflate his net worth in order to be "higher up on the Forbes list." Cohen said in the clip that he and Allen Weisselberg, former Trump Organization CFO, were tasked with inflating Trump's assets to "obtain the number that Mr. Trump wanted."
Clifford Robert, an attorney for Trump's sons, during his opening remarks described Cohen as "a guy who lies to everyone" and a convicted felon. The fact the ex-fixer is the "linchpin" of the government's case should show Engoron a "picture of what their case is about," Robert argued.
The case is already an uphill battle for Trump, whom Engoron found liable for fraud before the trial even began after ruling James had proved the crux of her case. The decision stripped some of Trump's business licenses and raised the potential for him to lose control of some of his famed properties.
Trump's legal team appealed the decision earlier this month and asked a New York appeals court to pause the decision — and trial — until their case was heard by the upper court. The appellate division declined to stay the trial and the majority of Engoron's decision, but it halted the cancellation of Trump's business licenses.
The former president is not required to attend the civil fraud trial in person, which is expected to last several months, but his presence during Cohen's testimony will inevitably cause waves.
During the three days of court Trump attended at the start of the trial, his fury was on full display in fiery stump speeches, targeted social media posts and dagger-like glares. The former president took sharp aim at Engoron, James and a court clerk, and he raged to reporters he was there because he wanted to "watch this witch hunt myself."
Last week, Trump returned to court and was again chided by Engoron for his behavior — this time, told to pipe down after growing animated during real estate appraiser Doug Larson's second day of testimony.
Cohen was expected to appear in court last week, but his testimony was delayed due to a "pre-existing medical condition."
"I'm not bowing out. I'm not nervous to testify. I'm not being paid off. I have a medical issue that I need to attend to. It's as simple as that," Cohen wrote on X, formerly Twitter.
Trump's first appearance at the trial was in part due to efforts to evade Cohen. The former president was scheduled to be deposed by Cohen's attorneys in a separate civil lawsuit Oct. 3, the day after the trial began, but told a judge it was "imperative" he attended his fraud trial in person.
The deposition was rescheduled for Oct. 9, but in a sudden twist, Trump dismissed the whole case before then.
"Trump didn't want no smoke," Cohen's attorney Benjamin Brodsky told The Hill at the time.
A Trump spokesperson said in a statement at the time that the pause was temporary and a result of the former president's busy schedule.
"Once President Trump has prevailed in dealing with the witch hunts against him, he will continue to pursue his claims against Michael Cohen, who rightfully deserves to, and will be held accountable for his unlawful words and actions just as the Southern District of New York held him accountable for numerous non-Trump related acts and crimes, making Cohen a very 'proud' felon," the spokesperson said.

⬇️ Top Picks for You ⬇️
4th Republican Debate Highlights: GOP Rivals Clash on Stage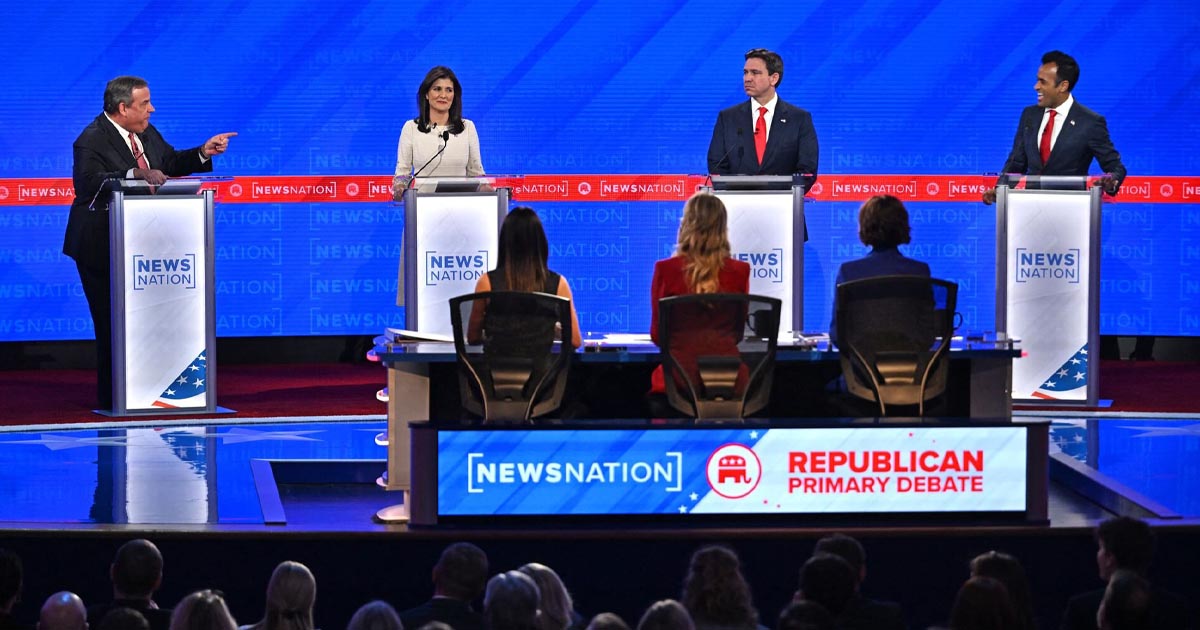 Four Republican presidential candidates traded barbs Wednesday night during a fiery GOP debate as they looked to position themselves as the best alternative to Donald Trump in the primary.
NewsNation hosted the fourth debate with three moderators: NewsNation's Elizabeth Vargas, former Fox News host Megyn Kelly and the Washington Free Beacon's Eliana Johnson.
Four candidates appeared on stage:
Former New Jersey Gov. Chris Christie
Florida Gov. Ron DeSantis
Former U.N. Ambassador Nikki Haley
Businessman Vivek Ramaswamy
Here are the highlights from the debate below.
Knives out for Haley
Haley was the night's top target, particularly for Ramaswamy and DeSantis.
The Florida governor, who has faced a threat from a surging Haley for weeks now, took a swipe at her straight out of the gate, accusing her of being weak when dealing with Democrats.
DeSantis said he was "sick of Republicans who are not willing to stand up and fight back against what the left is doing to this country," accusing Haley of caving "every time the left comes after her, anytime the media comes after her."
Additionally, DeSantis accused her of opposing bans on transgender surgery and of sending a "love letter" to the Chinese ambassador when she was governor of South Carolina in a bid to get Chinese businesses to move to the state.
Haley pushed back on both of those claims. But the most vitriolic criticism against Haley came from Ramaswamy, who has emerged as her main nemesis in each of the previous debates.
The entrepreneur attacked Haley over her donors and foreign policy, but his attacks also once again came with a personal edge. He referred to Haley as the "only person more fascist than the Biden regime" and said his three-year-old could show her the difference between the US and Israel on a map.
All in all, the night underscored the degree to which Haley is seen as a threat from her fellow debate participants — though it remains to be seen what effect their attacks will have on her momentum.
DeSantis has a strong night
The Florida governor had arguably his strongest debate performance so far during the primary cycle, taking an active role in the conversation throughout the night and landing attacks on multiple opponents.
His strong showing came days after he participated in a unique Fox News-hosted debate with California Gov. Gavin Newsom (D), which also earned him plaudits.
One of the most prominent moments for DeSantis on Wednesday came when he sought to draw a contrast between himself and Trump.
"The idea that we're going to put someone up that's almost 80 and there's going to be no effects from that, we all know that's not true. And so we have an opportunity to do a next generation of leaders," DeSantis said.
He also criticized Trump over certain policies during his administration, arguing that the former president fell short of what he promised to accomplish. He slammed Trump for not "cleaning up 'the swamp'" and not having Mexico pay for a wall on the southern border.
DeSantis went on offense throughout the night. At one point during the debate, he attacked both Christie and Haley in a discussion over gender-affirming care for minors, drawing applause from the largely Republican-leaning audience over his stance on the issue.
In his closing statement, DeSantis made a strong case for why he was the best candidate to help the Republican Party "win again," pointing to his own success in Florida during an otherwise disappointing election year for the party in 2022.
"Nobody has defeated these people more than what I have done in the state of Florida on issue after issue," he said, referring to Democrats. "We have won and we have won big, and that's what we'll do for you."
Christie takes fiercest stand yet against Trump
Christie took a full-throated criticism on Trump, whom he called a "dictator" and a "bully."
He also stepped up pressure on his fellow candidates to denounce the former president.
"The fact is that when you go and you say the truth about somebody who is a dictator, a bully, who has taken shots at everybody whether they've given him great service or not over time, who dares to disagree with him, then I understand why these three are timid to say anything about it," Christie said. "Maybe it's 'cause they have future aspirations."
Christie has been polling in third place in New Hampshire, according to RealClearPolitics's polling average of the state's surveys, but he's been trailing many of his contenders by larger margins in Iowa and South Carolina. The former New Jersey governor has faced pressure to drop out of the race as some Republicans look to coalesce around either Haley or DeSantis in order to take on Trump.
But Christie has so far refused to do so. Instead, he used the fourth debate to underscore the threat Trump poses if reelected again — a message he has leaned into throughout his campaign, but never as forcefully as Wednesday night.
"Let me make it clear. His conduct is unacceptable. He's unfit and be careful of what you're gonna get," Christie said in Alabama. "If you ever got another Donald Trump term, he's lettin' you know 'I am your retribution.' He will only be … He will only be his own retribution. He doesn't care for the America people. It's Donald Trump first."
Other GOP rivals pull their punches against front-runner
Christie wasn't the only one who criticized Trump on Wednesday, though his rivals were not nearly as forceful in denouncing the former president.
Haley, for her part, did seek to make a case against her former boss, arguing that she would steer clear of the "drama" and "vendettas" that came with a Trump presidency.
"We have to stop the chaos but you can't defeat Democrat chaos with Republican chaos. And that's what Donald Trump gives us. My approach is different. No drama. No vendettas. No whining," Haley said.
DeSantis, too, showed he was willing to make a case against Trump, whom he has been generally careful not to criticize too harshly. At one point, he alluded to the former president's age, saying that "Father Time is undefeated."
Overall, though, DeSantis and Haley were both reluctant to go after Trump in the way some Republicans have been arguing they must in order to win. Their cautious approach to the former president underscores the predicament they face, in which they need to knock Trump off his perch while also not alienating his loyal base.
DeSantis was also quick to brush aside recent concerns over remarks Trump made about not being a dictator except on "day one" if elected president.
"The media is making a big deal about what he said about some of these comments," DeSantis said. "I would just remind people, that is not how he governed — he didn't even fire Dr. Fauci. He didn't fire [FBI Director] Christopher Wray. He didn't clean up the swamp. He said he was gonna drain it. He did not drain it. He said he was gonna build a wall and have Mexico pay for it. We don't have the wall."
"Some of these policies he ran on in '16 — I was cheering him on then," DeSantis said. "But he didn't deliver it."
Debate was nasty
All of the primary debates have had their tense moments, but Wednesday's event was arguably the nastiest so far.
The candidates were attacking each other throughout — and some of those attacks got personal.
The most intense moment came when Christie lambasted Ramaswamy for repeatedly interrupting the other candidates and going after Haley.
"This is the fourth debate that you would be voted in the first 20 minutes as the most obnoxious blowhard in America. So shut up for a little while," he told Ramaswamy.
Christie also accused Ramaswamy of insulting Haley's "basic intelligence" instead of her policy positions, saying he has known Haley longer than Ramaswamy "even started to vote in a Republican primary."
Ramaswamy swiped at Haley on multiple occasions, too, continuing the ongoing feud between them. One moment came during a discussion over the war between Ukraine and Russia, when Ramaswamy said Haley, as well as President Biden, could not name three provinces in Ukraine.
"Neither of them could even state for you three provinces in eastern Ukraine that they want to send our troops to actually fight for," he said.
DeSantis, meanwhile, went after Haley over her support from large donors, alleging that she would "cave" to their wishes; he and Christie also bickered over each other during the debate on Trump's fitness for office.
The feistiness of Wednesday night's debate demonstrates just how little time remains for the candidates to score knockout blows against each other before the Iowa caucuses.
This article was updated.