UPDATE:
Steven Crowder released a statement on Friday addressing a report from journalist Yashar Ali alleging a pattern of abusive behavior from Crowder directed at his wife, who is currently in the process of divorcing him.
Full statement:
I commented on my ongoing divorce on Tuesday, requesting privacy in the best interest of the family, but also by court order agreed upon by all parties.
Broken marriages are ugly. In them people do ugly things, myself of course included, and I would never claim otherwise.
However, due to recent misleadingly edited leaks to the tabloid press, without context and not subject to consequences of the court…well, if not privacy, the next best option is truth.
And so today, I have filed a motion to officially unseal all files as they relate to the matter of legal record. Finances, relevant medical records including mental health history or evaluations, depositions, and any motions or sanctions from the courts of Texas.
I will NOT be leaking private marital information to the press, but if the privacy agreements are not respected by all parties, I will address all that is a matter of irrefutable legal record, in full context, next week.
My statement. pic.twitter.com/13KSu3k32f

— Steven Crowder (@scrowder) April 28, 2023
ORIGINAL STORY:
Steven Crowder has for years verbally abused his wife Hilary, according to journalist Yashar Ali, whose report on the sensitive topic includes video of a bitter argument between the couple.
The clip included in Ali's report shows Crowder forbidding Hilary, then 8 months pregnant, from taking their car if she won't do "wifely things." Their argument escalates when Hilary tells Crowder, "I love you, But Steven, Steven, your abuse is sick."
"Watch it, watch it, f*cking watch it," he snarls back.
Hilary tried to defuse the situation by saying that she loves him "very much" and just needs "some space." The comment only angered Crowder, causing him to declare, "I don't love you." He then urged her to "become someone, listen to me, day in and day out, worthy. A wife worthy."
Crowder was also incensed that his wife would not don gloves to give their dogs medicine she believed to be toxic to the couple's unborn children. Ali said that in audio he reviewed, Crowder admitted to shouting "I will f*ck you up," which led his wife to flee their home.
1. EXCLUSIVE

I've obtained over three minutes of video of Steven Crowder being emotionally abusive toward his pregnant wife, Hilary.

In a statement sent to me, her family says she hid the emotional abuse she was dealing with for years. https://t.co/U28rGt2aSH pic.twitter.com/ZN8ai04fvK

— Yashar Ali 🐘 (@yashar) April 27, 2023
Hilary Crowder's family issued the following statement to Ali:
Hilary is currently living alone in Dallas, apart from her family and support system in Michigan, and is focused on taking care of her young children. She is not prepared at this time to speak about her divorce becoming public or the misleading statements made by Steven about their relationship.
The truth is that Hilary spent years hiding Steven's mentally and emotionally abusive behavior from her friends and family while she attempted to save their marriage. She was the one who was asking to work on their relationship to keep the marriage intact for their unborn children.
In June of 2021, Steven left their home to pursue elective surgery. Hilary urged him to get the help he needed to address his abuse with the hope that their marriage could be saved and they could peacefully live together as a family. Instead, Steven refused to do so and chose not to be with his wife during the birth of their twin children. After the birth, Steven bought a townhouse and left their home permanently. Hilary was unaware that Steven had hired a divorce attorney and asked his assistant to cut Hilary off financially. There is significant documentation substantiating these facts.
We hope that Steven will cease speaking publicly about these personal matters in an untruthful manner. We also look forward to there being full transparency in the legal process so there is fairness and accountability for the actions that caused the divorce, and to ensure the outcome is what is in the best interests of the young children.
You can watch the full video here.

⬇️ Top Picks for You ⬇️
Republicans Launch Contempt Process Against FBI Director After Viewing Biden 'Bribery' Document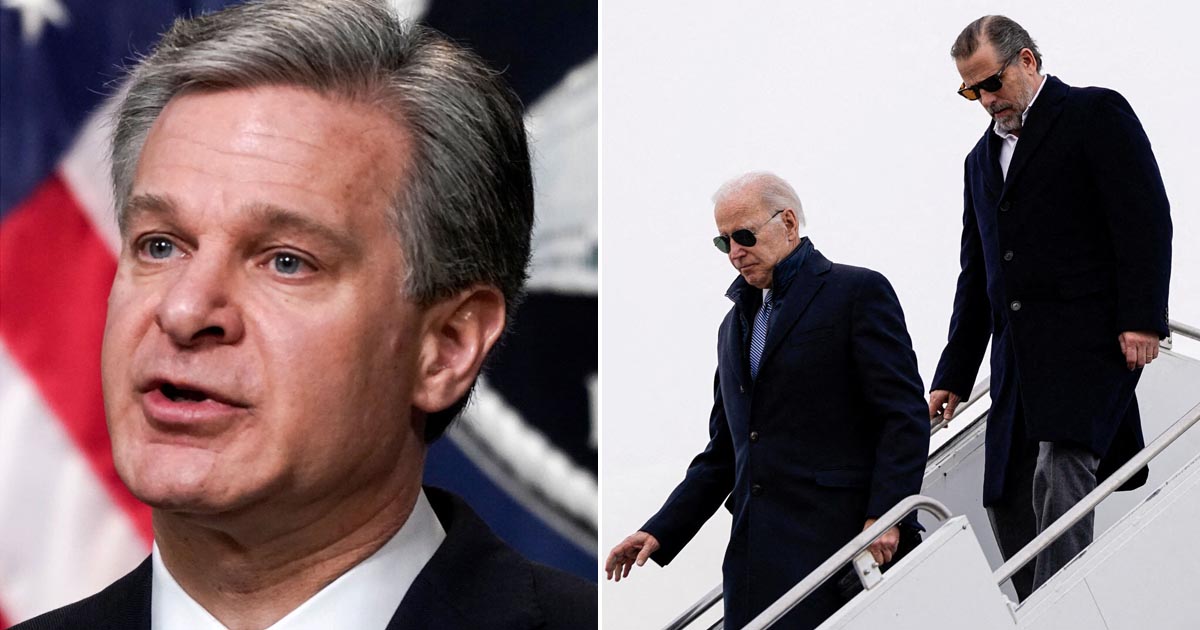 House Republicans are officially starting contempt of Congress charges against FBI Director Chris Wray for failing to turn over Biden 'bribery' document they claim shows then-Vice President Joe Biden was involved in a $5 million 'criminal' scheme with a foreign national.
The escalation comes after the Republican and Democratic leaders of the House Oversight Committee were granted access by the FBI Monday to view the FD-1023 form in a secure facility within the Capitol. The document apparently details an 'arrangement' for an exchange of money for policy decisions.
The Republicans issued a subpoena for the FD-1023 form last month and FBI Director Chris Wray was given a hard deadline of May 30 to hand over the unclassified document, which he did not comply with.
After reviewing the document Monday, Comer told reporters the accusations contained in the form 'suggests a pattern of bribery' consistent with findings the committee has put out publicly.
It's called 'money laundering,' he said, saying it fits within the pattern of over $1 million in Romanian-linked payments to the Biden family revealed last month.
In early May, Republicans released a report digging in on over $10 million received by Biden family members from foreign actors, including previously undisclosed $1 million in Romanian-linked payments, and a 'web' of 20 companies created while President Joe Biden was vice president and pushing anti-corruption efforts abroad.
He also said the FBI record was 'not disproven' and is currently being used in an ongoing investigation that is being conducted by the Department of Justice in Delaware into Hunter Biden's finances.
The 'confidential human source' is a 'trusted, highly credible informant' who has been used by the FBI for over 10 years and has been paid over six figures, continued Comer.
The chairman added that contempt proceedings will begin this Thursday.
'At the briefing, the FBI again refused to hand over the unclassified record to the custody of the House Oversight Committee, and we will now initiate contempt of Congress hearings this Thursday.'
Last week, Comer and Sen. Chuck Grassley, R-Iowa, spoke with Wray by phone and the FBI director offered to let them and Ranking Member Rep. Jamie Raskin, D-Md., view the documents at the FBI headquarters in an attempt to stave off the contempt threat.
'During today's call, Director Wray offered to provide the Committee's Chairman and Ranking Member an opportunity to review information responsive to the subpoena in a secure manner to accommodate the committee, while protecting the confidentiality and safety of sources and important investigative sensitivities,' said the FBI in a statement.
'The FBI has continually demonstrated its commitment to working with the Committee to accommodate its request, from scheduling briefings and calls to now allowing the Chair to review information in person. The FBI remains committed to cooperating with the Committee in good faith.'
Comer also informed Wray that he was also narrowing the breadth of the subpoena for the document by providing two additional terms that may be referenced in the record: 'June 30, 2020' and 'five million.'
Raskin blasted the Republicans' handling of the document in a reporter gaggle following Monday's briefing, calling it 'second-hand hearsay.'
He said former U.S. Attorney Scott Brady for the Western District of Pennsylvania and then-Attorney General Bill Barr did not find any reason to escalate the investigation into all 'allegations related to Ukraine' based on the FD-1023 form.
'I am just surprised that my colleagues want to try to litigate this in public, much less hold the Director of the Federal Bureau of Investigation in contempt for complying with the request when there was a whole process that was undertaken, and that process came to its natural end as I understand it,' Raskin said.
He would not directly confirm that the foreign national alleged in the memo being sought by Republicans is from Ukraine.
Raskin did agree with his Republican colleagues that the whistleblower is considered 'credible.'
The White House has also pushed back, calling the Republican-led investigation 'unfounded' and 'politically motivated.'