Disturbing surveillance footage out of the Bay Area in California shows a serial shoplifter setting a store clerk's hair on fire with stolen lighter fluid after he tried to stop the alleged thief from stealing.
Suraj — the store clerk who declined to reveal his last name out of fear of being targeted again — is seen on video tussling with Kendall Burton before Burton doused Suraj's head in lighter fluid on Sept. 22 at the Appian Food and Liquor in El Sobrante, according to a video obtained by CBS News.
In the video, another worker is seen rushing to Suraj's rescue with a baseball bat seconds before flames consume the clerk's head after Burton ignites the fluid during the confrontation.
"I tried to cover his hand, but I don't know. I don't remember. He just lit the fire on me, you know," Suraj told the outlet.
"I just rushed to the restroom, and I just splashed water on my face."
Suraj — who has been working at the store for the past five years — said he and other workers at the Bay Area store deal with shoplifters regularly, but nothing of this magnitude has ever happened.
Co-workers warned the clerk at the start of his shift that Burton had been in the store multiple times that day to steal lighter fluid.
"He just splashed lighter fluid on my face, and I was so scared that moment," Suraj told the outlet.
Suraj suffered second- and third-degree burns to his face, neck, chest and shoulder.
The clerk has been hospitalized at San Francisco's Saint Francis Memorial Hospital since the horrifying attack and shared that the incident has affected not only him but his family.
"It's terrible," Suraj told the outlet from his hospital bed.
"You know, I'm still in a trauma right now, me, my family," Suraj told the outlet from his hospital bed.
He will need several surgeries as a result of his burns.
"When we clean the wound, it's like over 10," the clerk said of the pain he's experiencing in the aftermath of the attack.
The Appian Food and Liquor store is about 20 miles southwest of downtown San Francisco.
"First of all, I would like to say nobody has to go through this kind of situation, and the small stores should have more security or something like that," Suraj told the outlet.
"The workplace should be safer."
Suraj's wife, Sabeena, has started a GoFundMe page to help raise money for her husband's physical and mental care as he embarks on his journey to recovery.
"Wounds by the burn takes time to heal and recover and we are overwhelmed by the mental trauma and the pressure of medical procedures," Sabeena wrote on the fundraising site.
Burton, 38, was arrested following his total disregard for human life, the Contra Costa County Sheriff's Office told the outlet.
Known to authorities as a homeless man in the El Sobrante area, Burton faces charges including assault with a deadly weapon, battery, arson and robbery.
He is being held without bail.
Shoplifter sets East Bay store clerk on fire during confrontation

The attack left Suraj with second and third-degree burns.

"It's terrible. You know, I'm still in a trauma right now, me, my family," he said from his hospital bed. @KPIXtv https://t.co/DPcdNNCP5x pic.twitter.com/lZN6G6r1RK

— Betty Yu (@bett_yu) October 1, 2023

⬇️ Top Picks for You ⬇️
4th Republican Debate Highlights: GOP Rivals Clash on Stage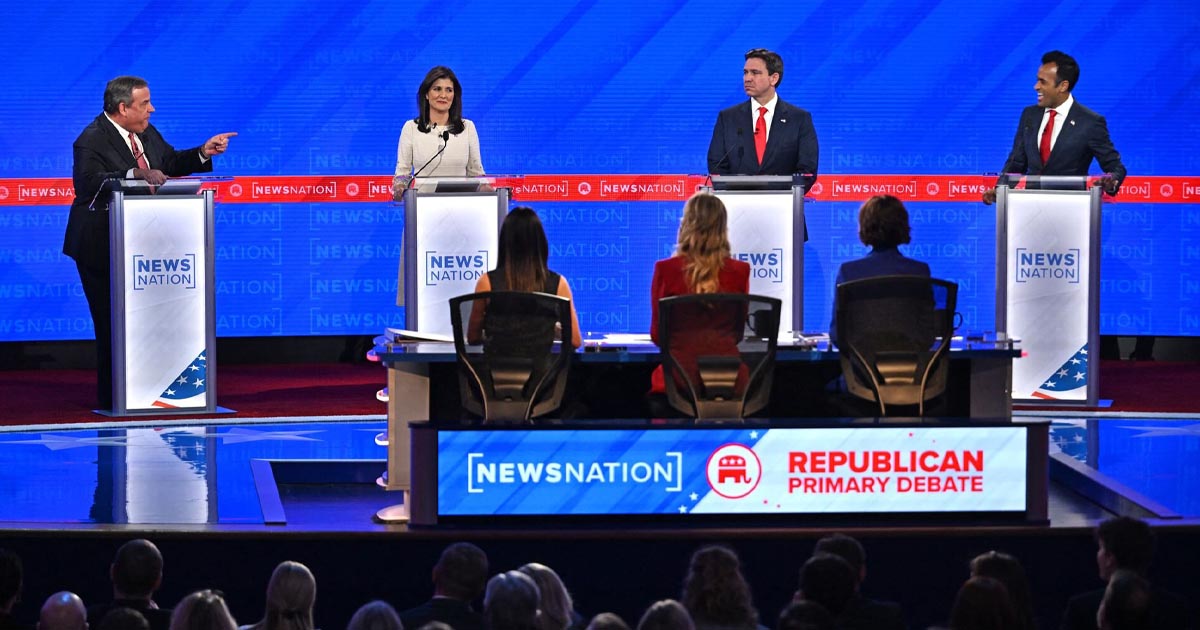 The smallest field yet of GOP candidates faced off Wednesday in the fourth Republican presidential debate of 2023 in Tuscaloosa, Alabama, with the first salvos of the night aimed at former Ambassador to the U.N. Nikki Haley, while former President Donald Trump, who leads the field by a wide margin in the polls, held a closed campaign fundraiser in Florida.
NewsNation hosted the fourth debate with three moderators: NewsNation's Elizabeth Vargas, former Fox News host Megyn Kelly and the Washington Free Beacon's Eliana Johnson.
Four candidates appeared on stage:
Former New Jersey Gov. Chris Christie
Florida Gov. Ron DeSantis
Former U.N. Ambassador Nikki Haley
Businessman Vivek Ramaswamy
The first three debates have not done much to change the dynamics of the race among Republican primary voters. The latest CBS News poll, from early November, showed Trump winning 61% of likely GOP primary voters nationwide, more than all the other candidates combined. DeSantis polled at 18%, Haley at 9%, Ramaswamy at 5%, Sen. Tim Scott at 4% and Christie at 2%.
Here are the highlights from the debate below.
DeSantis and Ramaswamy team up to attack Haley: "I love all the attention, fellas"
DeSantis and Ramaswamy were quick to take shots at Haley, who is rising in the polls as the race for second place heats up.
"She caves anytime the Left comes after her, anytime the media comes after her," DeSantis said.
Ramaswamy later joined in, questioning Haley's wealth since she left government service.
"Nikki, you were bankrupt when you left the U.N. After you left the U.N., you became a military contractor," he said, referring to Haley's stint on the board of Boeing, "whose back you scratched for a very long time and then get foreign multinational speeches like Hillary Clinton is, and now you're a multimillionaire. That math does not add up. It adds up to the fact that you are corrupt."
Ramaswamy also criticized wealthy donors to Haley's campaign, saying they're funding "left-wing causes."
"In terms of these donors that are supporting me, they're just jealous," Haley responded. "They wish that they were supporting them."
DeSantis said, "Nikki will cave to those big donors when it counts."
The pair also went after Haley for proposing that all social media users should be verified by their names online.
"I love all the attention, fellas," Haley said. "Thank you for that."
Christie hammers Ramaswamy in defense of Haley: "The most obnoxious blowhard in America"
Christie offered a forceful defense of Haley against Ramaswamy's insults of her intelligence.
After Ramaswamy claimed that Haley could not name three provinces in eastern Ukraine where she would send U.S. troops, Christie accused the entrepreneur of habitually backing away from comments he makes on the campaign trail when he's confronted by political opponents about his positions.
"This is the fourth debate that you would've been voted in the first 20 minutes as the most obnoxious blowhard in America, so shut the hell up," Christie told Ramaswamy.
The former New Jersey governor accused Ramaswamy of insulting Haley's intelligence, rather than her policy positions — claiming, for example, that she can't identify regions in Ukraine or find Israel on a map.
"If you want to disagree on issues, that's fine, and Nikki and I disagree on some issues," Christie said. "I've known her for 12 years, which is longer than he's even started to vote in the Republican primary, and while we disagree about some issues and disagree about who should be president of the United States, what we don't disagree on is this is a smart, accomplished woman and you should stop insulting her."
Christie went on to criticize Ramaswamy's lack of experience and claimed that while he was serving as the top federal prosecutor in New Jersey, Ramaswamy was "learning about the provinces in Ukraine sitting with his smarta** mouth at Harvard."
"All he knows how to do is insult good people who have committed their lives to public service and not say anything that moves the ball down the field for the United States," Christie said.
Divisions emerge among Republican candidates on parental rights
A question about parental rights and gender-affirming care for young people showed a split between Christie and DeSantis over an issue that has gained traction with Republican voters.
Christie said he favors limited involvement from the government and believes parents should be empowered to make decisions about their children.
"I trust parents," he said.
The former New Jersey governor, who opposes state restrictions on gender-affirming care for transgender youth, asserted it's parents who should be making the decisions about this for their children. He made the point that he and his wife care more for their four children than a government official in a dysfunctional Congress.
"You look at these jokers in Congress — it takes them three weeks to pick a speaker, and up until two days ago, they couldn't promote somebody in the military in the United States Senate who earned their new rank. And we're going to put my children's health and my decisions in their hands for them to make those decisions? For Joe Biden to make those decisions?" Christie said.
He warned parents that if they cede those rights on gender-affirming care for their children to states, it would just be the beginning.
"You start to turn over just a little bit of this authority, the authority they're going to take from you next, you're not going to like," Christie said.
But DeSantis defended restrictions on gender-affirming treatment for minors he signed into law as governor of Florida and warned surgical procedures are "mutilating minors."
"We cannot allow this to happen in this country," he said.
Ramaswamy, meanwhile, suggested the federal government should take action on the issue of gender-affirming surgery.