WATCH: DeSantis Shakes Up California with Packed-Out Speech at Ronald Reagan Library Where He Slams Newsom
Florida Republican Gov. Ron DeSantis ripped California Democrat Gov. Gavin Newsom during a speech Sunday in the Golden State, saying Californians are fleeing the state in droves to live in Florida where he said they can live freely.
DeSantis' remarks on Sunday took aim at policies enacted by California and other liberal states that he claims have led to the hemorrhaging of residents who have migrated to the Sunshine State.
'I know you've got a lot of problems out here, but your governor is very concerned about what we are doing in Florida so I figured I had to come by,' DeSantis joked at the top of his remarks at the Ronald Reagan Library to a crowd of more than 1,300.
Newsom has specifically taken aim at Florida in recent years with the rise of DeSantis in the national limelight.
The Dem governor came under fire this week for leaving California for 'personal travel' on Friday – two days after declaring a state of emergency in the wake of a huge snowstorm which dumped 17 feet of snow. His press office did not disclose where exactly he had traveled to and he was expected to return to California on Sunday.
DeSantis' tour around the country promoting his new book, including the stop in California, is only fueling speculation that he is moving closer toward announcing a candidacy for president. The Florida governor is making a trip to the first-in-the-nation primary contest state of Iowa on Friday.
A big focus of the tour is DeSantis getting the chance to lay out his 'blueprint for America' – a perfect tee-up for a presidential run announcement.
'When I tell you I'm going to do something, I do it,' DeSantis insisted to a sold-out crowd. 'I don't waffle.'
The Florida governor was in Simi Valley at the Ronald Reagan library to promote his new book The Courage to Be Free: Florida's Blueprint for America's Revival. He arrived Sunday afternoon with his wife and Florida first lady Casey DeSantis and their two eldest children Madison, 6, and Mason, 4. Their youngest, Mamie, was not in tow.
DeSantis spent his speech on issues that are likely to be the cornerstone of a presidential platform – education and parental rights, not bowing to 'woke' institutions and taking on spiking crime.
'I'm going on offense on all of these issues,' DeSantis said, claiming that when he first became governor in 2018 he made a pledge to 'not leave any meat on that bone.'
He specifically called out policies in California several times, even mentioning his war with Disney and mentioning how the Golden State handled the 'woke' corporation differently than he did in Florida.
'I'm looking at them through the lens not just a governor – but I'm looking at them through the lens of a dad and I believe parents in the state of Florida should be able to send their kids to elementary school without having an agenda jammed down their throats,' he said, referencing his Parental Rights in Education law, which he signed last year.
'They should not be teaching a second grader that they can choose their gender that is wrong. And that is not going to happen in the state of Florida,' he said to loud cheers.
'And I know you have a company down the road in Burbank that had different ideas about that,' he said, referencing the Disney offices in southern California. 'But I can tell you this – they may have gotten everything they want in Florida for the last 60 years, but there's a new sheriff in town now, and we are not backing down to that.'

⬇️ Top Picks for You ⬇️
Senate Democrats Authorize Supreme Court Ethics Subpoenas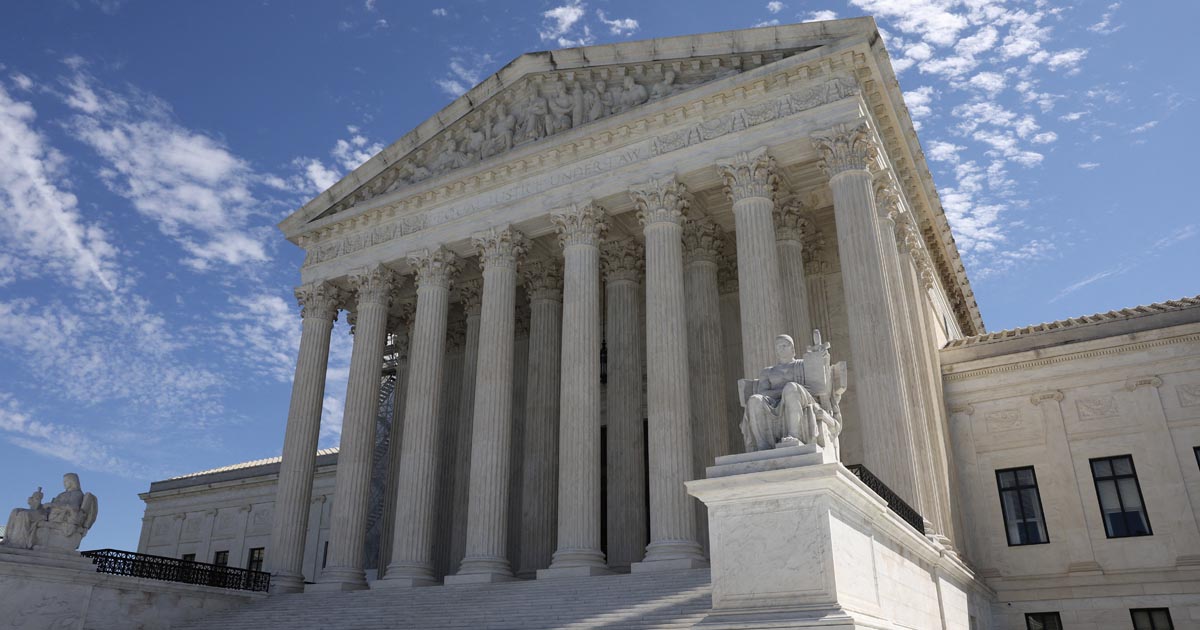 A Democratic-led U.S. Senate panel on Thursday authorized subpoenas to two influential conservatives – Harlan Crow and Leonard Leo – as part of an ethics inquiry spurred by reports of undisclosed largesse directed to some conservative Supreme Court justices.
The Judiciary Committee voted to authorize the subpoenas for Crow, a billionaire Republican donor and benefactor of conservative Justice Clarence Thomas, and Leo, a legal activist who was instrumental in compiling Republican former President Donald Trump's list of potential Supreme Court nominees.
Republican senators walked out of the contentious committee meeting in protest while Democrats cast votes. Some Republicans later questioned the vote's legitimacy, accusing Democrats of violating procedural rules.
"The subpoena clearly wasn't legal," Republican Senator John Kennedy, a committee member, said after the vote.
Senator Dick Durbin, the panel's chairman, said subpoenas were necessary due to the refusal by Crow and Leo for months to voluntarily comply with its previous requests for information. This included itemized lists of all gifts, transportation and lodging provided to any Supreme Court justice.
Durbin also renewed his criticism of a new code of conduct announced by the court on Nov. 13 and promised to continue to pursue the committee's ethics investigation.
"Without an enforcement mechanism, this code of conduct, while a step in a positive direction, cannot restore the public's faith in the court," Durbin said.
Senator Lindsey Graham, the committee's top Republican, told the meeting that Democrats were engaged in a "jihad" against the Supreme Court, whose 6-3 conservative majority has handed major defeats to liberals in recent years on matters including abortion, gun rights and student debt relief.
"When you say you don't want to destroy the Roberts Court, I don't believe you," Graham said, referring to the court under the leadership of conservative Chief Justice John Roberts. "I don't believe a word you're saying."
The committee vote authorized Durbin to issue the subpoenas, which he could do unilaterally, according to a Democratic committee staffer.
If the subpoena recipients fail to comply, Democrats would need 60 votes in the 100-seat Senate to initiate a civil enforcement action, meaning they would need the support of some Republicans. The Democrats also would have the option to make a referral to the U.S. Justice Department, which could choose to pursue criminal contempt proceedings against the subpoena recipients.
Lawyers for Leo and Crow in letters to the committee have criticized the committee's information requests as lacking a proper legal justification. Crow's lawyer had proposed turning over a narrower range of information but Democrats rebuffed that offer, according to the panel's Democratic members.
The news outlet ProPublica reported this year on Thomas's failure to disclose luxury trips and real estate transactions involving Crow, a Texas businessman.
The outlet also reported that Leo helped organize a luxury fishing trip in Alaska attended by conservative Justice Samuel Alito, who failed to disclose taking a private jet provided by billionaire hedge fund manager Paul Singer. Trump chose all three of his appointees to the court from lists of candidates that Leo played a key role in drawing up.
Thomas has said he believed the Crow-funded trips were "personal hospitality" and thus exempt from disclosure requirements, and that his omission of the real estate transaction was inadvertent.
Alito, regarding the flight, said that Singer had "allowed me to occupy what would have otherwise been an unoccupied seat."