Donald Trump gave the keynote speech at CPAC on Saturday afternoon, the former president and 2024 presidential candidate promised to take back the country from the corruption of the Biden administration and the biased corporate media and represent the people's interests.
Trump received a standing ovation upon taking the stage. He spoke of his anti-war record, attacked the enemies of America in the Biden administration, the pro-crime district attorneys, the attacks on free speech and a free press, and his "bold, detailed agenda for how we're going to complete this mission" in his text term.
Trump receives a standing ovation as he takes the stage at @CPAC. pic.twitter.com/c3gzyZkHTi

— The Post Millennial (@TPostMillennial) March 4, 2023
"The sinister forces trying to kill America" who are attempting to "turn this nation into a socialist dumping ground for criminals, junkies, Marxists, thugs, radicals and dangerous refugees that no other country wants," will not win out, Trump said, in the face of his leadership.
"If those opposing us succeed our once beautiful USA will be a failed country that no one will even recognize, a lawless, open borders, crime ridden, filthy communist nightmare. That's where it's going."
Trump said America was now in a "a Marxism state of mind. A Communism state of mind, which is far worse."
"We're a nation in decline. Our enemies are desperate to stop us because they know that we are the only ones who can stop them," Trump said to the attendees, a few of whom he had previously singled out. He thanked Georgia Congresswoman Marjorie Taylor Greene, New York's Elise Stefanik, Florida Representative Matt Gaetz, and Project Veritas founder James O'Keefe, who was recently ousted as CEO, who received a standing ovation.
"They know that we will defeat them, but they're not coming after me. They're coming after you and I'm just standing in their way. That's all I'm doing," Trump said.
Trump says under Biden the US has moved past being a "socialist country." pic.twitter.com/Pf0gC4bNyF

— The Post Millennial (@TPostMillennial) March 4, 2023
"With you and my side we will demolish the deep state we will expel the war mongers," he said and added, "We will drive out the globalists. We will cast out the communists. We will throw off the political class that hates our country. They actually hate our country. No walls, no borders, bad elections, no voter ID."
"We will beat the Democrats," Trump said and promised to expose and appropriately deal with the "fake news media," the RINOs and added later "we are never going back to the party of Paul Ryan, Karl Rove and Jeb Bush."
TRUMP: "We had a Republican Party that was ruled by freaks, neo-cons, globalists, open-border zealots, and fools, but we are never going back to the party of Paul Ryan, Karl Rove, and Jeb Bush." pic.twitter.com/nIEay1gn0N

— The Post Millennial (@TPostMillennial) March 4, 2023
Trump continued and promised to protect Social Security, Medicare, Veterans Benefits.
"We were taking care of our soldiers just a short while ago, but we don't do that anymore. But we'll start doing it again," Trump said.
Trump said under his presidency he would make NATO put up money for Ukraine and put American dollars towards helping places like East Palestine, Ohio.
"We are never going to be a country ruled by entrenched political dynasties in both parties, rotten special interests, China loving politicians of which there are many," Trump said.
"You listening to this Mitch McConnell?" Trump said to the establishment GOP Senate minority leader.
Trump said "I smashed the false idols of the free trade fanatics" and said he took on China, which so many had not tried before.
Trump said "We were strong, we were safe" under his presidency and promised to continue the fight against Critical Race Theory, "Antifa thugs," and those pushing mutilation on children. He brought up those locking in jail awaiting trial for their alleged crimes on January 6, 2021 during the Capitol riot, saying that there is no cause for them to lose their freedom while Antifa who rioted all summer in 2020 were allowed to walk free.
Trump laments the fact that Antifa thugs are free to roam the streets while Jan 6 prisoners are "rotting away" in jail. pic.twitter.com/6CuxVO4iVd

— The Post Millennial (@TPostMillennial) March 4, 2023
"We banned transgender insanity from our military and signed the world's first ban on critical race theory long before anybody had even heard of the term. It was all banned. Everything was good," he said.
"I alone will never retreat," Trump promised and said, "either they win or we win and if they win we no longer have a country."
Trump boasts about banning CRT in schools and doing away with "transgender insanity" in the military. pic.twitter.com/ZCwYLH1hRP

— The Post Millennial (@TPostMillennial) March 4, 2023
Trump touted his record as an anti-war president, who not only didn't start any new wars, but got the US out of the forever war in Afghanistan, though Biden botched the withdrawal.
Trump boasts about being the only president in modern history who didn't start any new wars. pic.twitter.com/P6PlHmth2F

— The Post Millennial (@TPostMillennial) March 4, 2023
He took aim at the pro-crime district attorneys who are allowing America's shining cities to turn into crime-ridden cess pools where citizens are fleeing and illegal immigrants are housed in luxury hotels at tax payer expense.
Trump SLAMS far-left Manhattan DA Alvin Bragg for going after him while ignoring rampant crime in NYC. pic.twitter.com/lnl3F2dM9H

— The Post Millennial (@TPostMillennial) March 4, 2023
But it wasn't just the problems facing America that he broached on stage, but his plans to solve them. Trump said he will abolish the deep state, remove those who relish war from the US government, get rid of the globalists who use unity of the world to deplete the resources and power of the United States.
"With Obama they took Crimea," he said of the Russians, "with Biden they're trying to take everything, and he won't even know they took it." The crowd erupted with cheers of "Let's go Brandon!"
"With me they took nothing," he said.
Chants of "Let's Go Brandon" ring out as Trump BLASTS Biden for allowing Russia to invade Ukraine. pic.twitter.com/8dAiYH5evH

— The Post Millennial (@TPostMillennial) March 4, 2023
Under Biden, he said, China and Russia have gained more power, and have come together. This, he said, never should have happened. An allied Russia and China is not a good thing for US power.
In fact, he pledged to make US manufacturing independent from China and their interests.
TRUMP: "Never allow China and Russia to get together … We've not only allowed it, we've made them bosom-buddies." pic.twitter.com/uQOlp21Ku9

— The Post Millennial (@TPostMillennial) March 4, 2023
"This is the most dangerous time in the history of our country and Joe Biden is leading us into oblivion." He lamented Biden's mental state.
"I will prevent World War III, and very easily. And you're gonna have World War III if something doesn't happen fast."
TRUMP: "I will prevent, very easily, World War III." pic.twitter.com/JhvEeJypii

— The Post Millennial (@TPostMillennial) March 4, 2023
When speaking of war, Trump showed his own breadth of knowlegde, the deep wounds and injuries on US soldiers, the sheer amount of high-tech military equipment left behind, and the fact that Afghan soldiers fighting the Taliban on behalf of the US were not loyal, they were instead highly paid.
The Taliban, he said, is now selling US weapons on a black market. "They are the second largest arms dealer in the world, second to us, selling off all the beautiful equipment we made."
He promised to end the war in Ukraine. "I will get the problem solved in rapid order and it will take me no more than one day," he said.
Insetad of fighting to protect Ukraine's borders, Trump will protect American borders and stop the border crisis. He will finish the wall that he began to build along the US Mexico border and cool the insanely large stream of illegal immigrants coming into the US.
Not just illegal immigrants, but human traffickers, drug smugglers, terrorists and gang members would be kept out, deported, and removed as a threat to US citizens.
"I will fight for parents' rights, including universal school choice, and the direct election of school principals by the parents. If any principal is not getting the job done, the parents should be able to vote to fire them and select someone who will," he said. He said he would continue "the work of the 1776 Commission," and "will revoke every Biden policy promoting the chemical castration and sexual mutilation of our youth—and ask Congress to send me a bill prohibiting child sexual mutilation in all 50 states. We will keep men out of women's sports."
Trump promised to stop crime, illegal immigration, homelessness, war, and horrible policies of the Biden administration, and to clean up the country and put Americans, and America first.

⬇️ Top Picks for You ⬇️
"Allahu Akbar": Paris Attack Near Eiffel Tower Leaves One Dead and Two Injured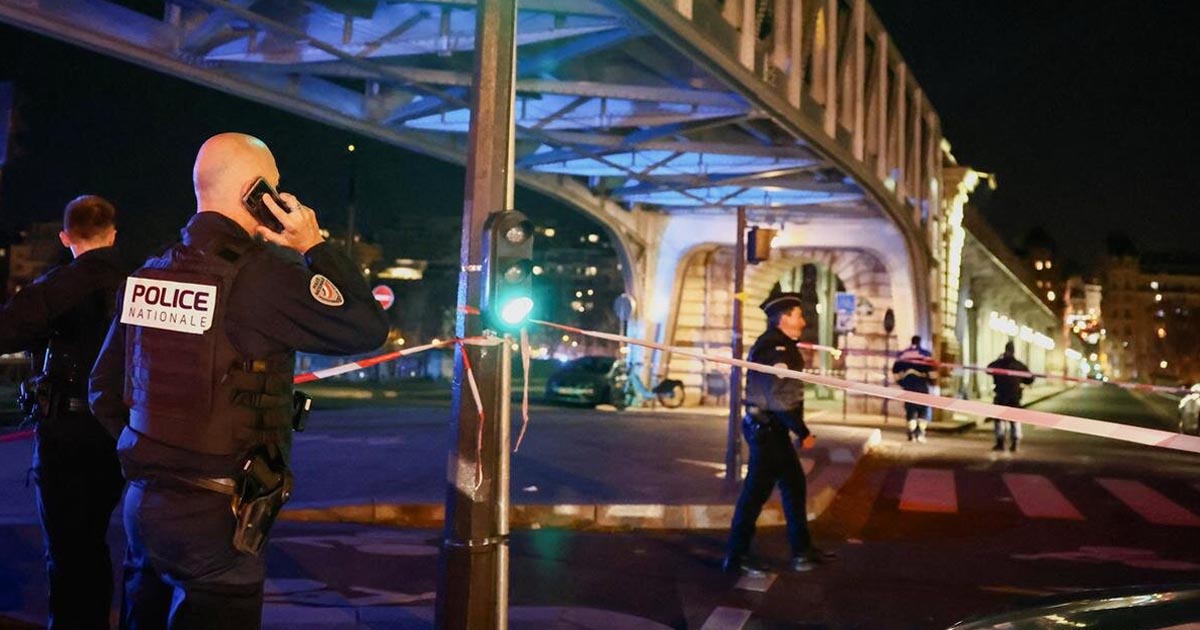 A tourist has been stabbed to death while a British man is reportedly among two others badly injured after a knifeman screaming 'Allahu Akbar' launched a frenzied attack in central Paris last night.
Witnesses reported hearing people screaming for 'help' as they ran away from the hammer and knife-wielding man.
One victim, a tourist with dual German and Filipino nationality, was slashed in the back and shoulder by the attacker last night. The man, who had not been named, was found in cardiorespiratory arrest before he passed away.
The second victim of the attack was British, and was out walking with his wife when Armand R. attacked him from behind.
'The family were on the Avenue President Kennedy when they were set upon,' said an investigating source, who added: 'A hammer was used to hit the man over the head.'
The Englishman was rushed to hospital, where his condition was later described as 'stable'. A third victim was also badly hurt in a hammer attack, said the source.
Sources said the arrested man was 'immobilised with an electric stun gun' as he ran up the Avenue du Parc de Passy – as French prime minister Elisabeth Borne vowed: 'We will not give in to terrorism. Never.'
The bloodbath happened on the Grenelle quay, close to the Eiffel Tower in the 15th arrondissement of the French capital.
Joseph S., 37 years old, a supermarket manager who asked not to give his last name, was sat in a bar when he heard screams and people shouting 'help, help' as they ran.
A man wielding an object attacked a man who had fallen down, and within 10 minutes the police arrived, he told AFP.
The Paris prosecutor's office said the attacker is French and was born in 1997, and has been arrested in an investigation into murder and attempted murder. The anti-terrorism prosecutor's office has been put in charge of an investigation.
The suspect had already been sentenced to four years in prison in 2016 for planning another attack, French Interior Minister Gerald Darmanin revealed.
'A man attacked a couple who were foreign tourists. A German tourist who was born in the Philippines died from the stabbing,' he said.
A taxi driver who witnessed the scene intervened, Darmanin said. The attacker then crossed the Seine attacking others and injuring one with a hammer, while police chased in pursuit.
'He had threatened them very violently… he will now have to answer for his actions before justice,' Darmanin said.
The attacker was reportedly known to police for 'radical Islamism'. He was on an 'S-File' which means he should have been under surveillance, after telling people that he wanted to die as a martyr.
A police source said that the attacker was known for psychiatric disorders and had said he could not stand Muslims being killed in the world. It's understood he was upset about the situation in Gaza between Israel and Hamas.
In 2016, he was arrested by the French national security agency before carrying out an attack.
Interior Minister Gerald Darmanin confirmed last night that one person died and another was injured. The minister wrote on X: 'The police have just courageously arrested an assailant attacking passersby in Paris, around the Quai de Grenelle.
'One deceased person and one injured person treated by the Paris fire brigade. Please avoid the area.'
French President Emmanuel Macron on Saturday said he was sending his condolences to the family of a German killed in a 'terror attack' in Paris.
The suspected attacker was 'quickly' arrested and justice should now be done 'in the name of the French people', he wrote on X.
Transport Minister Clement Beaune said that Paris was 'in mourning'. He wrote on X: 'Thoughts and solidarity with the families and loved ones of the victims. Thank you to our security and emergency forces for their rapid and decisive intervention.'
The attacker was arrested soon afterwards, and is currently in custody and facing a possible murder charge.
Officers said there was no early indication as to the motive of the stabbing, but it follows a series of bomb, gun and knife attacks carried out by Islamic State and al-Qaeda operatives in France, dating back to early 2015 – many of whom have shouted 'Allahu Akbar' while carrying out their crimes.
The deadliest single terrorist attack ever in the country came in November 2015 when 130 people were killed in Paris.
Suicide bombers pledging allegiance to ISIS targeted the Stade de France, cafes, restaurants and the Bataclan music venue, where 90 died.
Earlier in the year, two Paris-born gunmen linked to Al-Qaeda broke into the offices of the Charlie Hebdo satirical magazine, leaving 17 people dead inside and three outside.
In July 2016, 86 people were called and more than 400 injured when a 19 tonne truck was deliberately driven into crowds on the seafront promenade at Nice, which is just 20 miles from Cannes.
The terrorist turned out to be a Tunisian immigrant who was shot dead by police.
During the same month, two Isis terrorists murdered an 86-year-old Catholic priest during a church service in Normandy.
And in October 2020, three people were stabbed to death by a Tunisian immigrant in the Notre Dame basilica in Nice.
There have also been frequent knife attacks on the forces of law and order, leading to the deaths of serving police.
Saturday night's incident in central Paris occurred less than eight months before the French capital hosts the Olympic Games and could raise questions about security at the global sporting event.
Paris plans an unprecedented opening ceremony on the Seine river that may draw as many as 600,000 spectators.