A Seattle-based plastic surgeon who performs medically unnecessary bilateral mastectomies on teenage girls as young as 15 advertises his experimental sex change services on TikTok to young, impressionable minds.
Dr. Tony Mangubat of La Belle Vie Cosmetic Surgery Center and Med Spa in Seattle goes by the name TikDocTony and has more than 220,000 followers on the popular social media platform.
In an advertising style reminiscent of Dr. Sidhbh Gallagher, the Miami-based gender surgeon who refers to bilateral mastectomies as "yeet the teets" as a way to engage with her mostly adolescent followers, TikDocTony posts endless videos dishing out information about "top surgery," the irreversible effects of testosterone, and how to wear a binder.
"What is the perfect age to have top surgery?" asks the popular gender surgeon in one video. The answer, according to Mangubat, is "when it's right for you." Mangubat informs his legions of young followers that the youngest patient he has performed a mastectomy on was 15-years-old and was referred to him by a Children's Hospital.
The gender surgeon felt this was the ideal age for this patient who had apparently been identifying as a member of the opposite sex since age 5 or 6.
The oldest was a 74-year-old who had been binding for "many, many, many years," and wanted a double mastectomy in order to be able to go topless on the beach during an upcoming holiday in Hawaii.
In another video, Mangubat talks about nipples and three separate requests he recently had from patients. One found nipples to be a source of dysphoria so had them removed entirely. Another patient, who was non-binary, wanted slightly larger nipples which were for some reason necessary to feel more feminine. The last was just a straightforward "reconstruction masculine surgery."
The TikTok gender doctor also offers information about what he calls "bottom growth," which is a less-frequently discussed side effect of taking testosterone. This refers to the clitoral growth women on large doses of cross-sex hormones experience that is colloquially referred to as "T d*ck."
Mangubat informs his followers that "bottom growth" is irreversible, as is the growth of facial and body hair, and the deepening of the voice.
On his website, Mangubat says he has been in private practice since 1987 and has proudly served over 10,000 patients. The "transgender affirming surgeries" offered at his clinic include the usual "chest reconstruction," aka bilateral mastectomies, and "breast augmentation," aka breast implants for men who identify as women.
Also on offer is facial masculinization for young women who identify as men, which includes forehead lengthening/augmentation, cheek augmentation, rhinoplasty, chin recontouring, jaw contouring, and thyroid cartilage enhancement (Adam's Apple surgery). Then there's facial feminization for men who identify as women, involving sculpting the bones of the face to appear more feminine, as well as cheek implants and tracheal shaves.
Mangubat even offers body masculinization that involves using liposuction to remove fat from the hips and thighs to create a more masculine physique, as well as body feminization where fat is taken from another part of the body and injected into a trans-identified male's buttocks to give the illusion of a shapely female figure.
WATCH:

⬇️ Top Picks for You ⬇️
Biden Dog Bites Another Secret Service Agent; 11th Incident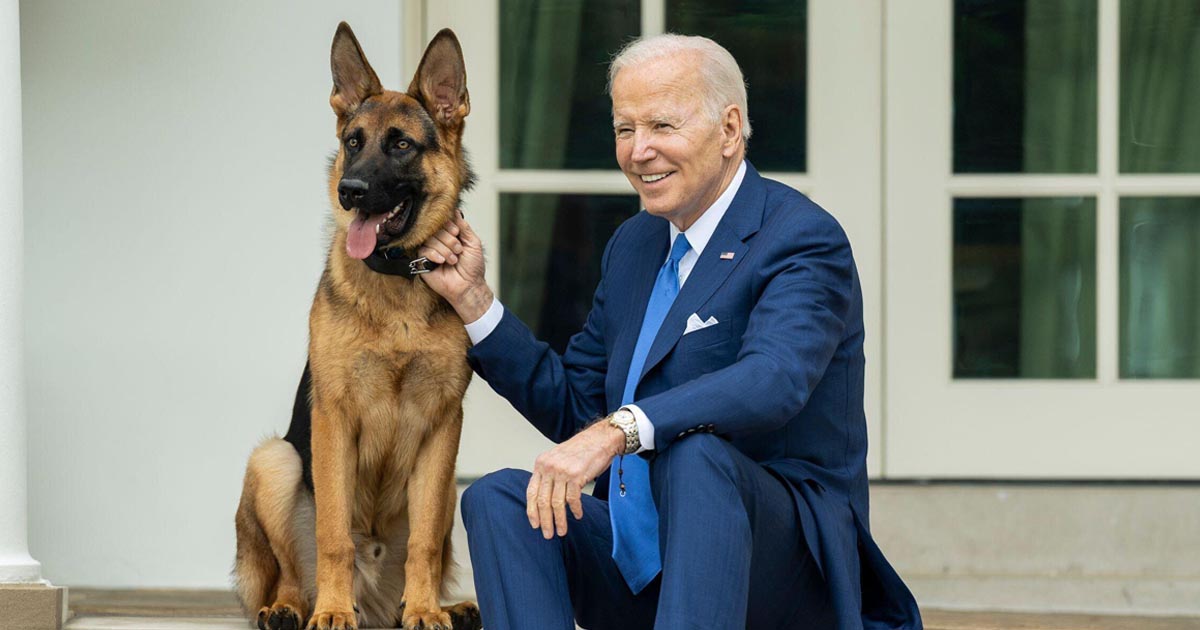 President Joe Biden's younger dog, Commander, bit another US Secret Service agent at the White House Monday evening, CNN has learned, the 11th known biting incident involving the 2-year-old German Shepherd.
"Yesterday around 8 p.m., a Secret Service Uniformed Division police officer came in contact with a First Family pet and was bitten. The officer was treated by medical personnel on complex," USSS chief of communications Anthony Guglielmi told CNN in a statement.
The injured officer spoke with Secret Service Uniformed Division Chief Alfonso M. Dyson Sr. on Tuesday and is doing OK, Guglielmi said.
Commander has been involved in at least 11 biting incidents at the White House and in Delaware, according to CNN reporting and US Secret Service email correspondence, including a November 2022 incident where an officer was hospitalized after the dog clamped down on their arms and thighs.
White House officials said in July that the Bidens were working through new training and leashing protocols for the family pet following the incidents.
Asked by CNN whether the new training had taken place or if any further action would be sought, Elizabeth Alexander, communications director for the first lady, said in a statement that "the First Family continues to work on ways to help Commander handle the often unpredictable nature of the White House grounds."
"The President and First Lady are incredibly grateful to the Secret Service and Executive Residence staff for all they do to keep them, their family, and the country safe," she continued.
Another of Biden's dogs, Major, was involved in biting incidents at the White House. The German Shepherd later moved out of the White House, and Commander arrived at the White House in 2021.
The July email correspondence, obtained through Freedom of Information Act requests by the conservative group Judicial Watch, reflected 10 incidents.
In one incident in October, first lady Dr. Jill Biden "couldn't regain control" of the dog as it charged a member of Secret Service staff.
"I believe it's only a matter of time before an agent/officer is attacked or bit," the staff member warned in an email.
While Secret Service agents are not responsible for the handling of the first family's pets, they can come into frequent contact with the animals.
"This isn't a Secret Service thing. This is a this is a workplace safety issue," CNN contributor and former USSS agent Jonathan Wackrow told CNN.
"There's uniqueness here where it's the residence of the president of the United States, but it's also the workplace for hundreds, thousands of people. And you can't bring a hazard into the workplace. And that's what is essentially happening with this dog. One time you can say it's an accident, but now multiple incidents, it's a serious issue," he added.
Wackrow called it a "significant hazard" for agents on duty at the White House residence.
"I'm sure that the Bidens love the dog. I'm sure that it's a member of the family like every dog is, but you're creating a significant hazard to those who support you – support the office of the president," he said.