A Seattle-based plastic surgeon who performs medically unnecessary bilateral mastectomies on teenage girls as young as 15 advertises his experimental sex change services on TikTok to young, impressionable minds.
Dr. Tony Mangubat of La Belle Vie Cosmetic Surgery Center and Med Spa in Seattle goes by the name TikDocTony and has more than 220,000 followers on the popular social media platform.
In an advertising style reminiscent of Dr. Sidhbh Gallagher, the Miami-based gender surgeon who refers to bilateral mastectomies as "yeet the teets" as a way to engage with her mostly adolescent followers, TikDocTony posts endless videos dishing out information about "top surgery," the irreversible effects of testosterone, and how to wear a binder.
"What is the perfect age to have top surgery?" asks the popular gender surgeon in one video. The answer, according to Mangubat, is "when it's right for you." Mangubat informs his legions of young followers that the youngest patient he has performed a mastectomy on was 15-years-old and was referred to him by a Children's Hospital.
The gender surgeon felt this was the ideal age for this patient who had apparently been identifying as a member of the opposite sex since age 5 or 6.
The oldest was a 74-year-old who had been binding for "many, many, many years," and wanted a double mastectomy in order to be able to go topless on the beach during an upcoming holiday in Hawaii.
In another video, Mangubat talks about nipples and three separate requests he recently had from patients. One found nipples to be a source of dysphoria so had them removed entirely. Another patient, who was non-binary, wanted slightly larger nipples which were for some reason necessary to feel more feminine. The last was just a straightforward "reconstruction masculine surgery."
The TikTok gender doctor also offers information about what he calls "bottom growth," which is a less-frequently discussed side effect of taking testosterone. This refers to the clitoral growth women on large doses of cross-sex hormones experience that is colloquially referred to as "T d*ck."
Mangubat informs his followers that "bottom growth" is irreversible, as is the growth of facial and body hair, and the deepening of the voice.
On his website, Mangubat says he has been in private practice since 1987 and has proudly served over 10,000 patients. The "transgender affirming surgeries" offered at his clinic include the usual "chest reconstruction," aka bilateral mastectomies, and "breast augmentation," aka breast implants for men who identify as women.
Also on offer is facial masculinization for young women who identify as men, which includes forehead lengthening/augmentation, cheek augmentation, rhinoplasty, chin recontouring, jaw contouring, and thyroid cartilage enhancement (Adam's Apple surgery). Then there's facial feminization for men who identify as women, involving sculpting the bones of the face to appear more feminine, as well as cheek implants and tracheal shaves.
Mangubat even offers body masculinization that involves using liposuction to remove fat from the hips and thighs to create a more masculine physique, as well as body feminization where fat is taken from another part of the body and injected into a trans-identified male's buttocks to give the illusion of a shapely female figure.
WATCH:

⬇️ Top Picks for You ⬇️
Trump Suggests Manhattan DA Bragg 'Dropped' Case Against Him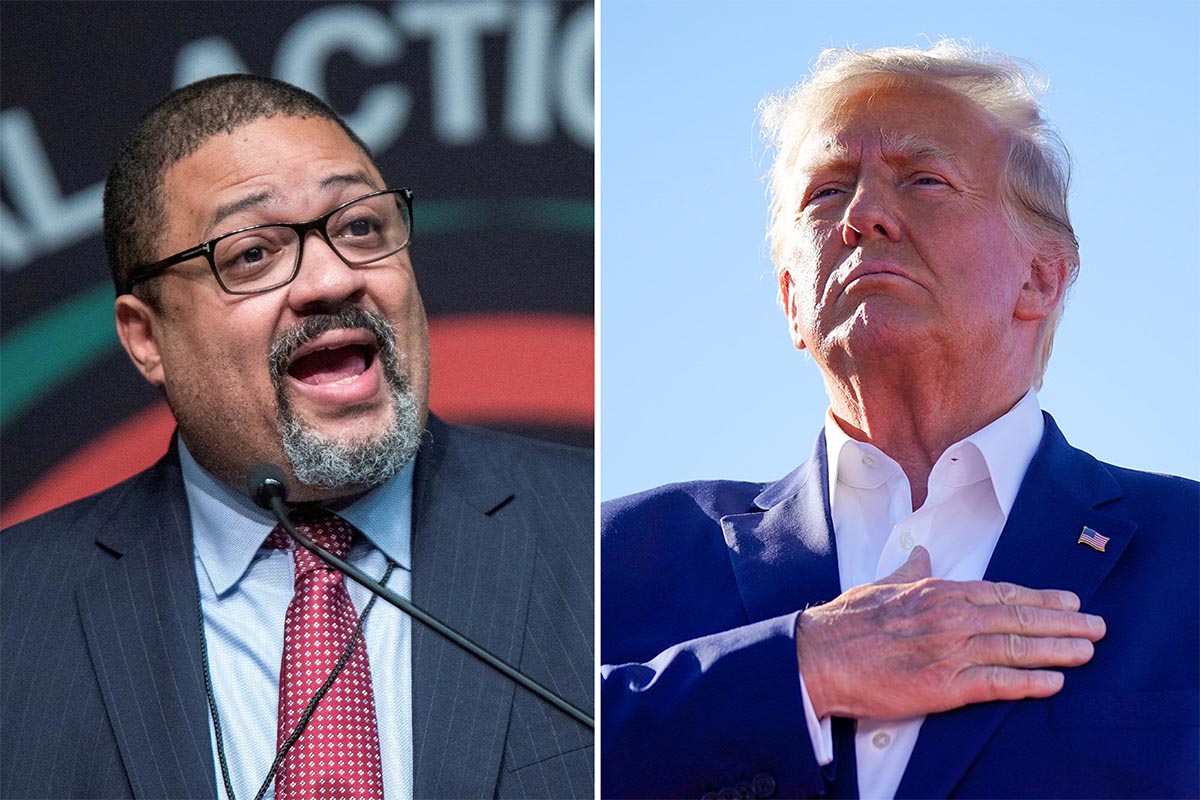 Former President Donald Trump is now suggesting Manhattan District Attorney Alvin Bragg may have dropped his case against him, about a week after he claimed he would be arrested.
After a rally in Waco, Texas, on Saturday, Trump told reporters on his plane, "I think they've already dropped the case … they have absolutely nothing." Trump did not provide evidence for his assertion Saturday.
"It's a fake case. Some fake cases, they have absolutely nothing," the former president said. Trump also reiterated his criticism of Michael Cohen, a former Trump lawyer who has testified against him in the Manhattan grand jury case and previously served time in federal prison on tax fraud and other charges.
Trump also denied mainstream media reports that suggested he was trying to incite violence with his Truth Social posts that criticized Bragg's investigation: "No, I don't like violence and I'm not for violence. But a lot of people are upset."
On Truth Social, the former president made a similar statement regarding his belief Bragg's case is "DEAD." He wrote that the "Witch Hunt against me is DEAD, no evidence at all, & it has been conclusively proven that I did nothing wrong." He dismissed Cohen as a "disbarred lawyer & convicted Felon."
Last week, an attorney in Trump's circle, Robert Costello, told media outlets that he testified before the grand jury and sought to denigrate Cohen's testimony against the 45th president in the investigation, which reportedly is connected to so-called hush money payments that were given to adult performer Stormy Daniels during the 2016 presidential campaign. A lawyer for Cohen, when reached for comment, declined to issue a statement, although Cohen told MSNBC last week that Costello never represented him and disputed his testimony.
Bragg's has not returned a request for comment, and The Epoch Times cannot verify the authenticity of Trump's claims. Previous Epoch Times requests for comment from the DA's office have gone unanswered.
Over the past week, Bragg's office has issued one public statement on the case, and that came in response to a House Republican letter seeking testimony and information about the DA's case or whether his office would arrest Trump. A letter sent by his general counsel said that it was Trump who created a "false expectation" he would be indicted last week, although he provided no other details.
Responding to the House GOP's letter, Bragg's counsel wrote that it "only came after Donald Trump created a false expectation that he would be arrested the next day, and his lawyers reportedly urged you to intervene. Neither fact is a legitimate basis for congressional inquiry."
During the Waco rally, Trump declared that his "enemies are desperate to stop us" and that "our opponents have done everything they can to crush our spirit and to break our will," and that the Manhattan district attorney was investigating him "for something that is not a crime, not a misdemeanor, not an affair."
He added: "But they failed. They've only made us stronger. And 2024 is the final battle, it's going to be the big one. You put me back in the White House, their reign will be over and America will be a free nation once again."
Trump did not make any direct references in his speech to Waco's history, telling the crowd of thousands that he told Lt. Gov Dan Patrick he wanted to hold his rally in a place with overwhelming support, not "one of those 50-50 areas," and said he told Texas officials, "Let's go right into the heart of it."
At several points, Trump criticized Florida Gov. Ron DeSantis, who, despite not announcing it, has long been expected to run for president in 2024 and is seen as Trump's strongest potential challenger for the GOP nomination. Trump called his onetime ally disloyal and said he was "dropping like a rock" in the polls.
In addition to the Manhattan case, Trump is also facing an investigation in Georgia as well as federal investigations into his handling of allegedly classified documents and possible obstruction, as well as statements he made on Jan. 6, 2021. The former president has denied wrongdoing in those instances.