"Saturday Night Live" took aim at President Biden's age and newly-elected Speaker Mike Johnson (R-La.) in its Halloween-themed cold open.
The skit features Biden, played by Mikey Day, delivering a Halloween message from the Oval Office where he attempts to hang up spooky decorations while climbing a ladder.
"Nothing puts people at ease, like an 80-year-old man hanging Halloween decorations," the fake Biden says before climbing the ladder.
After the ladder starts to shake, the impersonated Biden gives up on hanging up the Halloween décor and climbs back down while joking about how ladders were "cutting-edge" technology when he was a kid.
"This is like an iPad," he says, gesturing to the ladder.
After giving up on hanging his decorations on the windows, he picks up a severed-arm prop before poking fun at Biden's dog Commander, which is no longer at the White House after several biting incidents involving Secret Service agents.
"What are these spooky decorations?" the fake Biden asks, picking up the prop. "That's a severed arm. Oh, shoot. Oh no. That's not a decoration. That's an arm our dog Commander ripped off a secret service agent. Oh well."
He then returns to take jabs at Biden's age, saying that he loves Halloween so much because "a lot of my closest friends are ghosts."
"I got a plan for Halloween. It's called Boo Back Booer with all the classics, goblins, ghouls and of course, the Grim Reaper, who I physically fight every single day," he comments, before Johnson, played by Michael Longfellow, walks in.
The cast members take aim at Johnson for not being a well-known member of Congress before being elected Speaker. The impersonated Biden mistakes Johnson for a White House aide.
"So how did you become Speaker?" Day, playing Biden, asks.
"Nobody knows!" Longfellow replies, before Devon Walker, playing Johnson's son, walks in.
"Hey guys, I'm his adult Black son. I'm only 11 years younger than him and I'm kind of a secret. It's normal. Don't look into that at all," Walker says.
"When Speaker Johnson first ran for Congress in 2016, he and his wife, Kelly, spoke to their son Michael—who they took in as newlyweds when Michael was 14 years old," Corinne Day, communications director for Johnson, first said in a statement to Newsweek.
"At the time of the Speaker's election to Congress, Michael was an adult with a family of his own," the statement said. "He asked not to be involved in their new public life. The Speaker has respected that sentiment throughout his career and maintains a close relationship with Michael to this day."

⬇️ Top Picks for You ⬇️
Senate Democrats Authorize Supreme Court Ethics Subpoenas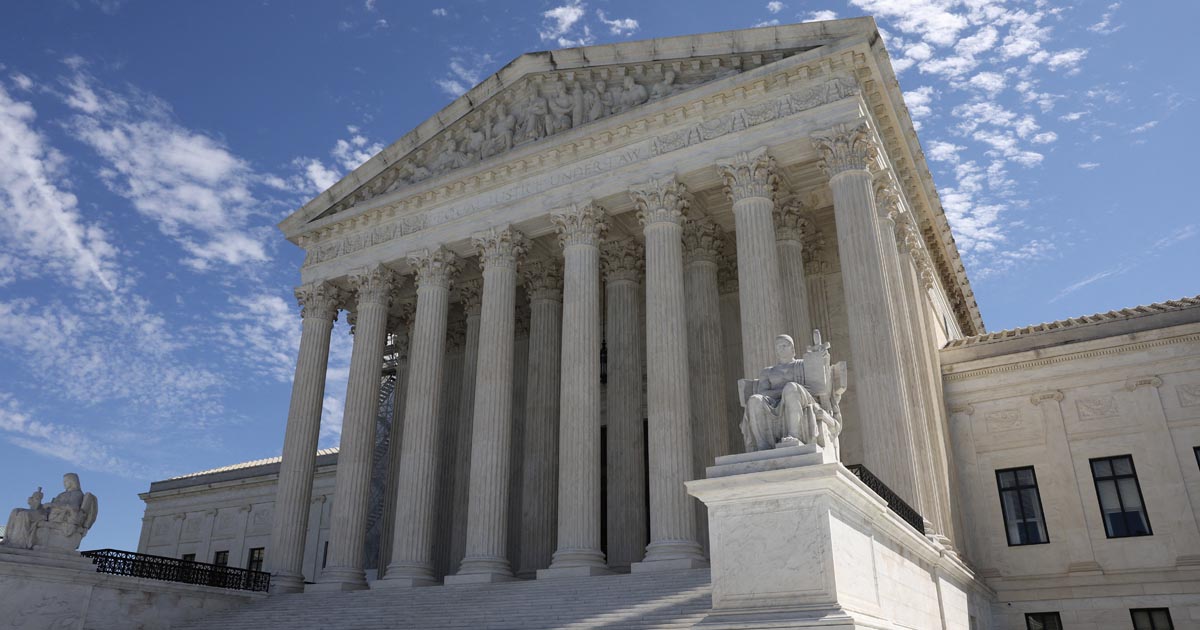 A Democratic-led U.S. Senate panel on Thursday authorized subpoenas to two influential conservatives – Harlan Crow and Leonard Leo – as part of an ethics inquiry spurred by reports of undisclosed largesse directed to some conservative Supreme Court justices.
The Judiciary Committee voted to authorize the subpoenas for Crow, a billionaire Republican donor and benefactor of conservative Justice Clarence Thomas, and Leo, a legal activist who was instrumental in compiling Republican former President Donald Trump's list of potential Supreme Court nominees.
Republican senators walked out of the contentious committee meeting in protest while Democrats cast votes. Some Republicans later questioned the vote's legitimacy, accusing Democrats of violating procedural rules.
"The subpoena clearly wasn't legal," Republican Senator John Kennedy, a committee member, said after the vote.
Senator Dick Durbin, the panel's chairman, said subpoenas were necessary due to the refusal by Crow and Leo for months to voluntarily comply with its previous requests for information. This included itemized lists of all gifts, transportation and lodging provided to any Supreme Court justice.
Durbin also renewed his criticism of a new code of conduct announced by the court on Nov. 13 and promised to continue to pursue the committee's ethics investigation.
"Without an enforcement mechanism, this code of conduct, while a step in a positive direction, cannot restore the public's faith in the court," Durbin said.
Senator Lindsey Graham, the committee's top Republican, told the meeting that Democrats were engaged in a "jihad" against the Supreme Court, whose 6-3 conservative majority has handed major defeats to liberals in recent years on matters including abortion, gun rights and student debt relief.
"When you say you don't want to destroy the Roberts Court, I don't believe you," Graham said, referring to the court under the leadership of conservative Chief Justice John Roberts. "I don't believe a word you're saying."
The committee vote authorized Durbin to issue the subpoenas, which he could do unilaterally, according to a Democratic committee staffer.
If the subpoena recipients fail to comply, Democrats would need 60 votes in the 100-seat Senate to initiate a civil enforcement action, meaning they would need the support of some Republicans. The Democrats also would have the option to make a referral to the U.S. Justice Department, which could choose to pursue criminal contempt proceedings against the subpoena recipients.
Lawyers for Leo and Crow in letters to the committee have criticized the committee's information requests as lacking a proper legal justification. Crow's lawyer had proposed turning over a narrower range of information but Democrats rebuffed that offer, according to the panel's Democratic members.
The news outlet ProPublica reported this year on Thomas's failure to disclose luxury trips and real estate transactions involving Crow, a Texas businessman.
The outlet also reported that Leo helped organize a luxury fishing trip in Alaska attended by conservative Justice Samuel Alito, who failed to disclose taking a private jet provided by billionaire hedge fund manager Paul Singer. Trump chose all three of his appointees to the court from lists of candidates that Leo played a key role in drawing up.
Thomas has said he believed the Crow-funded trips were "personal hospitality" and thus exempt from disclosure requirements, and that his omission of the real estate transaction was inadvertent.
Alito, regarding the flight, said that Singer had "allowed me to occupy what would have otherwise been an unoccupied seat."