The latest chapter in the Joker's nefarious story arc may be the DC Comics arch villain's most unusual yet: He becomes pregnant.
In the latest issue of DC Comics' series, "The Joker: The Man Who Stopped Laughing," Batman's nemesis actually carries and gives birth to a child.
If that sounds strange, that's the way the graphic novel company intended it. On its website, DC Comics advertised the issue as containing Joker's "most bizarre caper yet."
Readers may be tempted to think this is part of DC's attempt to do some woke, LGBTQ-inclusive storytelling with The Joker being a transgender man undergoing a typical pregnancy, though it's not quite that simple.
In this volume, created by Matthew Rosenberg and Carmine Di Giandomenico, the "Clown prince of Crime" becomes pregnant by some unnatural curse and gives birth in a vomit-inducing way, literally.
Backstory on this latest issue detailed how Joker wanted to pursue an heir in a more traditional way, by courting the super-heroine Zatanna into starting a family with him. Though his advances are rebuffed, and the tables are turned on Joker in a surprisingly disturbing manner.
In DC's universe, Zatanna is a magic user who can bringing can cast spells by speaking in reverse. Disturbed by the Joker's attempt to court her, she casts a spell on him to ensure that "no one else will ever have [the Joker's] baby," the comic reads.
Though as with many magic spells in fiction, the hex doesn't work as envisioned. Rather than turning Joker into female-repellant as one would expect, the spell makes it so that the villain himself becomes pregnant and has his own baby.
The manner in which this happens during the issue may be one of the strangest DC Comics moments in recent memory. Joker gives birth by vomiting a sort of brown goo that, upon leaving his body, forms into a young boy that looks just like Joker.
The comic depicts Joker and his progeny staring at each other, enamored. A shared thought-bubble between the Jokers reveals both simultaneously thinking, "He's so handsome."
Needless to say, not everyone is a fan of this new Batman storyline. Critics have voiced their discomfort on Twitter in recent days, with many hammering what they view as its strange political implications.
Former GOP congressional candidate Robby Starbuck weighed in on the new issue, tweeting, "In the new Joker comic he gets pregnant and gives birth. Yep, the Joker is trans now. At least the character is the joker because a pregnant woman thinking they're a pregnant man is the definition of a joker. Who else is sick of this lunacy?"
Conservative influencer Nick Adams remarked, "The latest issue of 'The Joker: The Man Who Stopped Laughing' comic book features a scene where The Joker—a MAN—becomes pregnant. That's NOT how it works! I am calling for a Complete & Total BOYCOTT of The Joker until further notice. What's next, a fully-electric Batmobile?!"
JUST IN: DC Comics has made The Joker pregnant in it's latest issue because of course they did. pic.twitter.com/V85OrKKuCG

— Steven Steele (@MrStevenSteele) January 6, 2023
Seemingly exasperated with the ridiculousness, YouTube talk show host Steven Steele tweeted, "JUST IN: DC Comics has made The Joker pregnant in its latest issue, because of course they did."
DC Comics is getting weirder and weirder, allowing more perverts and fetishists to make grotesque filth out of their classic characters.

Fellows, BATMAN is your last sellable comics franchise.

Normal readers might not enjoy Atomic Skull giving Joker a prenatal pelvic exam. pic.twitter.com/dr8yXOyJQv

— ETHAN VAN SCIVER (@EthanVanSciver) January 4, 2023
YouTuber and comic book commentator Ethan Van Sciver annihilated the entry, writing, "DC Comics is getting weirder and weirder, allowing more perverts and fetishists to make grotesque filth out of their classic characters. Fellows, BATMAN is your last sellable comics franchise."
Speaking of one of the more disturbing scenes depicted in the issue, he added, "Normal readers might not enjoy Atomic Skull giving Joker a prenatal pelvic exam."
This outlandish new entry in the Batman/Joker saga is available now at most major comic book stores and at Amazon and Apple.

⬇️ Top Picks for You ⬇️
Pro-Life Father Arrested by FBI Acquitted on Federal Charges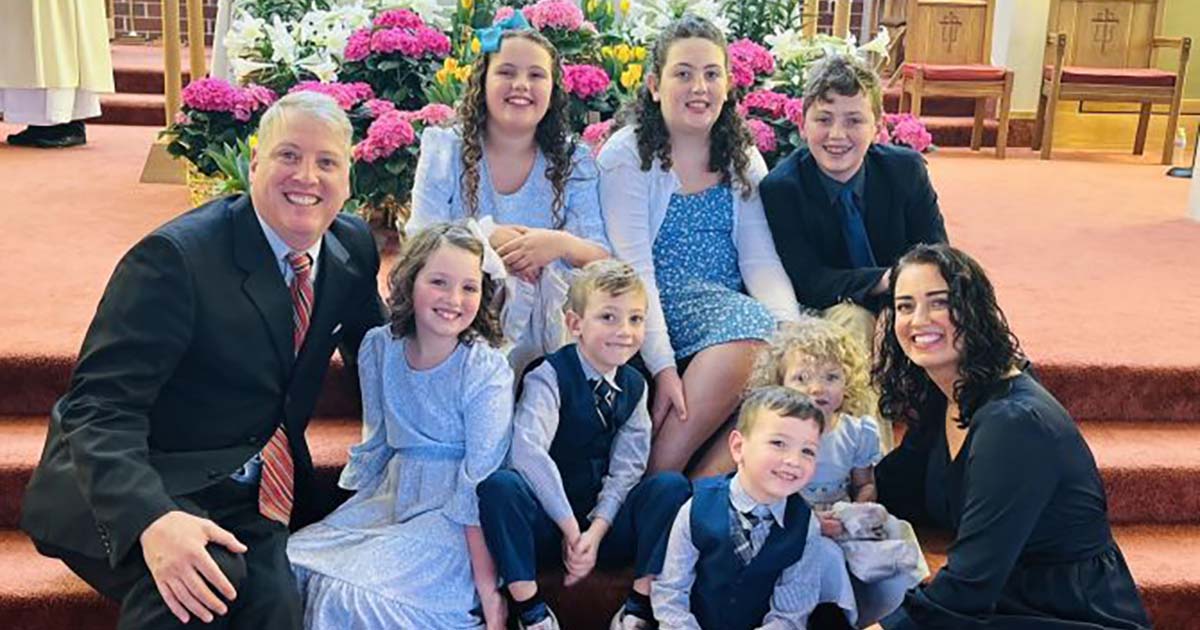 A Catholic pro-life activist facing 11 years in prison for allegedly violating a federal law prohibiting people from blocking others from entering an abortion clinic was acquitted on Monday following a week-long trial.
Mark Houck leads a nonprofit group that counsels women outside of abortion clinics in Philadelphia, Pennsylvania. He was providing sidewalk counseling when, the Department of Justice says, he assaulted an abortion escort twice "because he was a volunteer reproductive health care clinic escort."
"Assault is always a serious offense, and under the [Freedom of Access to Clinic Entrances] FACE Act, if the victim is targeted because of their association with a reproductive healthcare clinic, it is a federal crime," U.S. Attorney Jacqueline Romero said in a DOJ press release. "Our Office and the Department of Justice are committed to prosecuting crimes which threaten the safety and rights of all individuals."
The FACE Act makes it a federal crime to injure, intimidate, or interfere with anyone due to their status as a provider of reproductive health care.
Houck and his attorneys at the Thomas More Society argued, however, that this was "a political prosecution" meant to "send a message" to pro-life Americans.
"And what's clear from the Department of Justice at its highest levels, which is directing this case, [is] that they are trying to send a message to pro-life and people of faith: 'Don't mess with us,'" Thomas More Society vice president Peter Breen told Fox News. "They want to intimidate — they want to cause good people like Mark to stop praying and counseling at the abortion clinics of our country. And that's not going to happen."
Breen told the outlet that the case was thrown out of state court but revived by the Biden administration nearly a year after the incident. Further, Breen said, some 20 FBI agents raided Houck's home when they arrested him, treating him "as if he was a drug lord or a mafia boss."
"If he was truly a danger to the community, they wouldn't have waited a year to prosecute," Breen said. "Serious questions need to be asked of the attorney general. What was he thinking? Why did they do this obscene show of force against a peaceful pillar of the community?"
Houck's lawyers also argued that the DOJ's claim that the FACE Act protects anyone associated with an abortion clinic is inaccurate.
"The FACE Act was never intended to cover disputes between advocates on the public sidewalks outside of our nation's abortion clinics," Breen said in a statement earlier this month. "This new evidence shows clearly that Congress intended to limit the FACE Act to patients and staff working in the clinic, and not to take sides between pro-life and pro-choice counselors and escorts on the sidewalk. The Biden Department of Justice's prosecution of Mark Houck is pure harassment, meant solely to intimidate our nation's pro-life sidewalk counselors who provide vital resources to help pregnant women at risk for abortion."
Houck pleaded not guilty to the charges against him and testified at trial that he and the clinic escort, Bruce Love, had two altercations on the day in question. The first occurred while Houck was counseling two women crossing the street who left Planned Parenthood, Catholic News Agency reported. Love allegedly chased Houck about 100 feet in an attempt to stop him from counseling the women, Life News reported. Houck claimed that Love surprised and made contact with him, causing him to ask, "What are you doing?" and reflexively elbow the escort in the hip to move him out of the way. The prosecution argued that Houck elbowed Love unprovoked because of his status as a clinic escort.
After this, Houck said Love left the clinic and stood near Houck's 12-year-old son while taunting Houck Sr., saying, "You're hurting women. You don't care about women."
Houck said Love also repeatedly disparaged him to his son, who testified on Friday that Love stood about an arm's length away from him near the clinic.
"I moved away… because I was scared," the younger Houck testified, adding that Love told him, "Your dad's a bad person. Your dad's harassing women."
It was after Houck repeatedly told Love to stop harassing his son that Houck said he pushed Love away.
The jury deadlocked on Friday after two-and-a-half hours of deliberation, telling U.S. District Judge Gerald Pappert that they didn't think they could come to a conclusion given more time. Pappert sent the jury home but instructed them to return Monday morning and continue deliberations anyway.
On Monday, the jury acquitted Houck. Following the verdict, Breen released a statement condemning the Biden administration for pursuing his client.
"We are, of course, thrilled with the outcome," Breen said. "Mark and his family are now free of the cloud that the Biden administration threw upon them. We took on Goliath – the full might of the United States government – and won. The jury saw through and rejected the prosecution's discriminatory case, which was harassment from day one. This is a win for Mark and the entire pro-life movement. The Biden Department of Justice's intimidation against pro-life people and people of faith has been put in its place."