Special counsel John Durham's long-awaited report on his investigation into the Trump-Russia report states the FBI and DOJ had no proper basis to launch the controversial investigation.
Durham's 306-page report, which he described as "sobering," cast doubt on the idea that the FBI should have ever even launched its Crossfire Hurricane investigation into allegations of collusion between former President Donald Trump and the Russian government during the 2016 election. The special counsel concluded: "Based on the evidence gathered in the multiple exhaustive and costly investigations of these matters, neither U.S. law enforcement nor the Intelligence Community appears to have possessed any actual evidence of collusion in their holdings at the commencement of the Crossfire Hurricane investigation."
Durham also highlighted the double standard in how the FBI investigated election-related matters tied to Trump versus Clinton.
The report found that "upon receipt of unevaluated intelligence information from Australia, the FBI swiftly opened the Crossfire Hurricane investigation" and that at the direction of since-fired FBI Deputy Director Andrew McCabe, since-fired Deputy Assistant Director for Counterintelligence Peter Strzok "opened Crossfire Hurricane immediately." Durham noted that "Strzok, at a minimum, had pronounced hostile feelings toward Trump."
The special counsel concluded that "the matter was opened as a full investigation without ever having spoken to the persons who provided the information" and that the FBI launched this Trump-Russia investigation without "any significant review of its own intelligence databases" and without "collection and examination of any relevant intelligence from other U.S. intelligence entities." The investigation was also launched without conducting any interviews of "witnesses essential to understand the raw information" the FBI had received, as well as without using "any of the standard analytical tools typically employed by the FBI in evaluating raw intelligence."
The report asserted that if the bureau had taken these basic steps, "the FBI would have learned that their own experienced Russia analysts had no information about Trump being involved with Russian leadership officials, nor were others in sensitive positions at the CIA, the NSA, and the Department of State aware of such evidence concerning the subject."
The special counsel also highlighted that "FBI records prepared by Strzok in February and March 2017 show that at the time of the opening of Crossfire Hurricane, the FBI had no information in its holdings indicating that at any time during the campaign anyone in the Trump campaign had been in contact with any Russian intelligence officials."
Beyond the specific problems with the launch of the Trump-Russia investigation, which soon transformed into special counsel Robert Mueller's sprawling investigation, Durham also detailed how differently the FBI handled similar Clinton-related controversies.
"The speed and manner in which the FBI opened and investigated Crossfire Hurricane during the presidential election season based on raw, unanalyzed, and uncorroborated intelligence also reflected a noticeable departure from how it approached prior matters involving possible attempted foreign election interference plans aimed at the Clinton campaign," Durham wrote.
In one instance, FBI headquarters and Justice Department officials "required defensive briefings to be provided to Clinton and other officials or candidates who appeared to be the targets of foreign interference." In another, the FBI "elected to end an investigation after one of its longtime and valuable confidential human sources went beyond what was authorized and made an improper and possibly illegal financial contribution to the Clinton campaign on behalf of a foreign entity as a precursor to a much larger donation being contemplated." And in a third example related to investigating the Clinton Foundation, both senior FBI and DOJ officials "placed restrictions on how those matters were to be handled such that essentially no investigative activities occurred for months leading up to the election."
Durham called this "markedly different from the FBI's actions with respect to other highly significant intelligence it received from a trusted foreign source pointing to a Clinton campaign plan to vilify Trump by tying him to Vladimir Putin so as to divert attention from" her own problematic use of a private email server.
"Unlike the FBI's opening of a full investigation of unknown members of the Trump campaign based on raw, uncorroborated information, in this separate matter involving a purported Clinton campaign plan, the FBI never opened any type of inquiry, issued any taskings, employed any analytical personnel, or produced any analytical products in connection with the information," Durham wrote. "This lack of action was despite the fact that the significance of the Clinton plan intelligence was such as to have prompted the Director of the CIA to brief the President, Vice President, Attorney General, Director of the FBI, and other senior government officials about its content within days of its receipt."
Durham noted that "it was also of enough importance for the CIA to send a formal written referral memorandum" to since-fired FBI Director James Comey and to Strzok for their consideration and action, with the special counsel noting the investigative referral provided examples of information the Crossfire Hurricane fusion cell had "gleaned to date."
DOJ Inspector General Michael Horowitz's report in December 2019 criticized the Justice Department and the FBI for at least 17 "significant errors and omissions" related to the Foreign Intelligence Surveillance Act warrants against former Trump campaign associate Carter Page, for concealing potentially exculpatory information from the FISA court related to collusion denials by a number of Trump associates, and for the bureau's reliance on the Democratic-funded dossier by British ex-spy Christopher Steele.
The DOJ later told the FISA court it believed at least some of the Page FISA warrants were "not valid." FBI Director Christopher Wray agreed there had been at least some illegal surveillance and said he was working to "claw back" that FISA information.
The new report by Durham did not include new criminal charges.
Trump's Response
Former President Trump celebrated the findings in the report in a post to his Truth Social account Monday afternoon.
'WOW! After extensive research, Special Counsel John Durham concludes the FBI never should have launched the Trump-Russia Probe!'
'In other words, the American Public was scammed, just as it is being scammed right now by those who don't want to see GREATNESS for AMERICA!' the former president continued.
FBI's Response
In a statement to Fox News Digital, the agency touted what it said were "dozens of corrective actions" already implemented as a result of the Durham investigation.
"The conduct in 2016 and 2017 that Special Counsel Durham examined was the reason that current FBI leadership already implemented dozens of corrective actions, which have now been in place for some time. Had those reforms been in place in 2016, the missteps identified in the report could have been prevented," the FBI said.
"This report reinforces the importance of ensuring the FBI continues to do its work with the rigor, objectivity, and professionalism the American people deserve and rightly expect," it added.

⬇️ Top Picks for You ⬇️
Nancy Pelosi, 83, Confirms She Is Running Again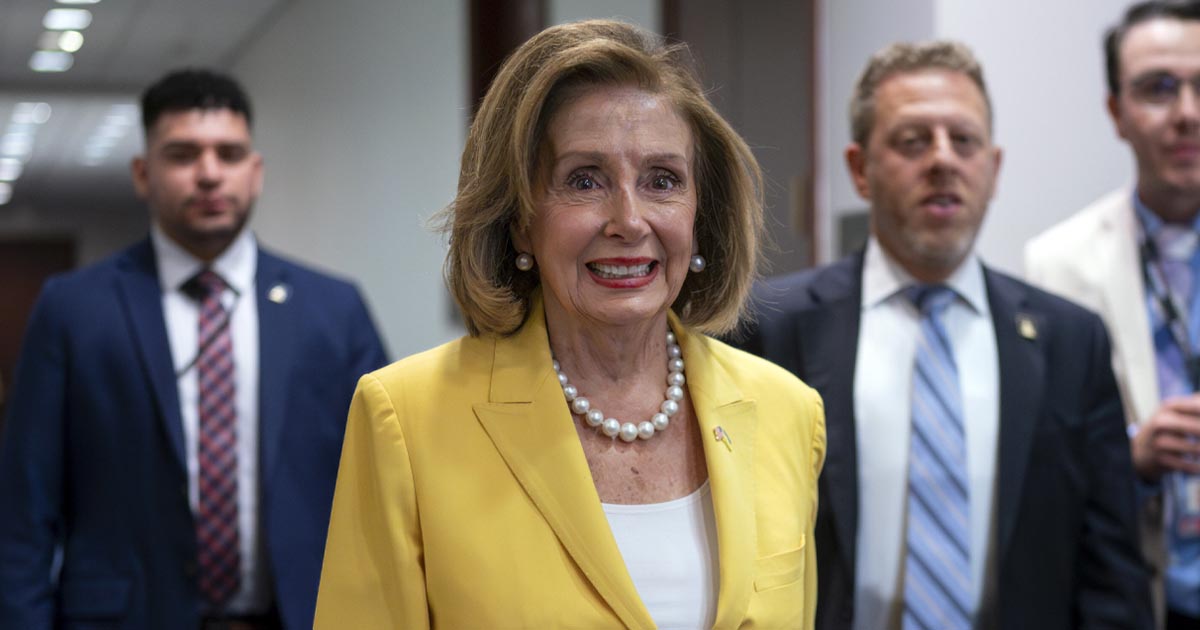 Former House Speaker Nancy Pelosi announced she will seek reelection in 2024, despite stepping down from her leadership position last Congress.
'Now more than ever our City needs us to advance San Francisco values and further our recovery,' Pelosi wrote on X, formerly known as Twitter, Friday.
'Our country needs America to show the world that our flag is still there, with liberty and justice for ALL. That is why I am running for reelection — and respectfully ask for your vote.'
San Francisco is experiencing a major crime wave including smash-and-grab robberies and carjackings.
Now more than ever our City needs us to advance San Francisco values and further our recovery. Our country needs America to show the world that our flag is still there, with liberty and justice for ALL. That is why I am running for reelection — and respectfully ask for your vote.…

— Nancy Pelosi (@TeamPelosi) September 8, 2023
In August, the San Francisco Police Department said the city had nearly 1,670 car break-ins over 30 days, and there have been nearly 10,000 thefts from vehicles in the city so far this year.
Signs can be seen throughout the city warning residents and tourists not to leave anything inside their cars, but the crime rate has remained stubbornly high.
Pelosi, who was the first-ever woman speaker, was first elected to represent the people of San Francisco, California, in 1987.
It was unclear whether the former speaker would seek reelection after her husband Paul Pelosi was attacked in their California home last fall.
A man entered their house saying he was looking for Pelosi, and then hit Paul over the head with a hammer. The incident was captured on police body camera footage.
But Pelosi said the attack on her husband wouldn't impact her decision about whether to run for reelection.
Last November, after Democrats lost the majority in the House, Pelosi decided to step down from her leadership role.
She passed the baton to now-House Minority Leader Hakeem Jeffries.
Her announcement for reelection comes as there is heightened concerns about the age of politicians in general.
83-year-old Pelosi is one of the longest-serving members of Congress.
Senate Minority Leader Mitch McConnell, 81, suffered two bizarre 'freezing' episodes in recent weeks during public press conferences.
His latest episode has led to renewed calls for term limits in the House and Senate – even from those within the walls of Congress.
Rep. Dean Phillips, D-Minn., said term limits would help restore 'human decency' for elderly politicians like McConnell and Democratic California Sen. Dianne Feinstein, 90, who is also suffering public health scares.
GOP presidential hopeful Nikki Haley called the Senate the 'most privileged nursing home in the country' after McConnell's recent episode.
'What I will say is, right now, the Senate is the most privileged nursing home in the country,' she said last week. 'I mean, Mitch McConnell has done some great things and he deserves credit. But you have to know when to leave.'